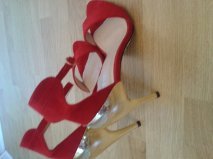 Add a caption
One of the items I sold with very quick payment and great feedback!
I have done a lot of buying on Ebay but not as much selling until more recently. I found the process of selling quite easy and first couple of items progressed with no problems. I have never had a problem receiving payment until just recently. I had 2x clothing items that were bid on by lots of Ebay buyers with the same closing date and time! Great I thought, then the auction ended the items were won by 2 separate Ebay buyers. No payment, which I have always found is quite quick after auction if live auctioning is taking place (could tell it was not automatic bidding). Never mind, I thought... payment in the morning so I can post tomorrow. No payment for a further 2 days. I decided to contact buyers directly and sent them both an invoice to request payment that day so I could post. Payment received! Happy Ebay Seller here. I always aim to pay within a very short timescale- have learned not everyone is the same so I will always use invoicing from now on where payment doesn't come naturally. Little tip for anyone else who hasn't experienced speedy payment before. Hope it helps someone else. No everyone uses Ebay in the same way but it is here to help us as sellers and buyers so use the options available to you.

Here's how to send an invoice to a buyer:
Click My eBay at the top of most pages.
In the left hand column, click the Sold link under Selling.
Find the item you sold to the buyer. To the right of the item, in the Action drop-down menu, click Send Invoice.
Complete information about shipping, handling, payment methods, and any discounts you might be offering the buyer.
Click Send Invoice.