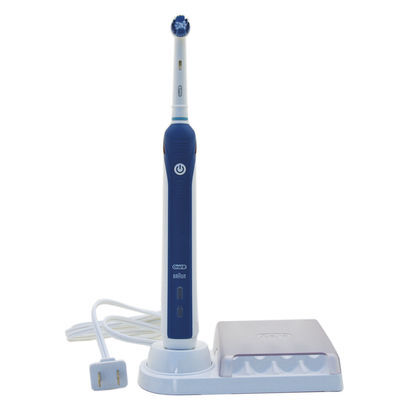 With the marketplace containing such a wide variety of rechargeable electric toothbrushes, manufacturers are constantly looking for ways to distinguish their products from the remainder of the field. This can present shoppers with a bewildering array of choices. They come in different colours, with different features, and are designed in every size, shape, and style. When choosing a new or replacement toothbrush, there are a number of factors that can influence a purchasing decision. The most important aspect of a rechargeable toothbrush is the movement of its brush heads. Understanding the differences between the types of movements can lead a shopper to favor one model over others. Closely associated with this is the cost of replacing toothbrush heads.
Once buyers clearly understand these criteria, they can then take into account the importance of a wide range of other features designed to help keep teeth clean and plaque-free. They can compare models before making that all important, informed purchase.
Electric Toothbrush Batteries
Electric toothbrushes are powered by either standard AA or AAA batteries. Buyers wishing to be more environmentally friendly can select rechargeable AA or AAA batteries. Chargers for these types of batteries are readily available, and can be purchased at very reasonable prices. This technology is also widely available through online retailers.
Many electric toothbrushes come with a rechargeable battery built in. The design incorporates a battery, usually Li-Ion, into the handset. The stand that holds the toothbrush when not in use doubles as a battery charger. Batteries of either type should never be charged in a bathroom, since the combination of water and electricity can be dangerous. For health and safety reasons, toothbrush batteries should be charged outside the bathroom.
AA battery operated toothbrushes are usually cheaper than those with built-in batteries, and are a good introduction for buyers new to electric toothbrushes. If you are unsure of your requirements, a trial period with one of the cheaper models may help users decided whether to invest in one of the more expensive models.
Types of Cleaning Motion
One of the most important things to consider about a rechargeable electric toothbrush is the cleaning motion of its brush head. An electric toothbrush uses its motor to power the cleaning head with a range of different movements, and brushes feature several different cleaning motions. Some of the most common are discussed in the table below.
Type of Motion

How it Works

Rotating

Bristles in circles or tufts

Head spins in one direction

Rotating and Oscillating

Small heads

Bristles in circles or tufts

Heads change direction

Pulsing

Bristles in circles or tufts

Heads pulse forwards and backwards

Counter Oscillating

Bristles in circles or tufts

Bristles in rows

Rows move in different directions

Side to Side

Bristles in circles or tufts

High speed, side to side movement

Vibrates against teeth

Dual Head

Bristles in circles or tufts

Two heads one rotating one side to side

Sonic and Ultrasonic

High speed vibrations

Drive toothpaste between teeth
Whatever the cleaning action, all rechargeable electric toothbrushes have replaceable heads. Most brush heads are made with bristles that change colour as they wear out. This makes it easy to identify when the heads should be changed. Replacement heads can be expensive, so it is a good idea to investigate the price of replacement heads when choosing between models.
More complicated brush movements require larger toothbrush heads. This is something else buyers should be aware of. A large brush head can make it more difficult to clean teeth that are hard to reach. However, because of this fact, many manufacturers now offer toothbrush heads in a range of sizes, so that their models are suitable for both adults and children. Children, of course, have smaller mouths, and therefore need a smaller toothbrush head for maximum cleaning. Smaller brush heads are also useful for adults who wish to clean hard-to-reach teeth more easily.
Other Features
Rechargeable electric toothbrushes also come with other features designed to make dental hygiene easier and more effective.
Brushing Timers
Dentists recommend two minute cleaning session in the morning and at night. Consequently, many electric toothbrushes have a two-minute timer built into their mechanism. Once the two minutes are up, a warning beep goes off. More sophisticated brushes have a feature known as a "quad pacer", which is designed to help users spend the same amount of time cleaning each quadrant of the mouth. A quad pacer issues a beep every 30 seconds, which ensure that the same amount of care is paid to all four quadrants.
Pressure Sensors
Many dentists feel that applying too much pressure to teeth and gums during cleaning is detrimental to overall dental health. Too much pressure can lead to gingivitis, which is an unpleasant type of gum disease. Excess pressure can also damage the enamel. The right amount of pressure promotes gum health, as it massages the gums and stimulates blood flow. Therefore, many electric toothbrushes come with a pressure sensor that isolates the head or shuts off the electric motor if too much pressure is applied. Some toothbrush models also feature gentle brushing modes. Brush heads vibrate more slowly, which makes them easier to use for those with the most sensitive teeth.
Soft Grip Handles
Many electric toothbrushes come with a soft grip casing on their handles. Casings of this type are important for those suffering from conditions such as arthritis or rheumatism. They are softer and easier to grip. This type of grip also absorbs some of the vibration from the toothbrush motor, which makes them more comfortable to use. Grip handles of this type also make an electric toothbrush easier for young children to use.
Ultraviolet Sanitisers
The whole purpose of brushing the teeth is to remove bacteria. During brushing, much of that bacteria is left on the bristles of a any toothbrush. Therefore, top end electric toothbrush models come with an ultraviolet sanitiser that kills off any bacteria that may be present. Sanitisers are usually built into the base unit. Technology of this type provides relief to users susceptible to gum infections. If a particular toothbrush does not have an ultraviolet sanitiser, such devices can be purchased separately to keep toothbrush heads germ free.
Childrens Toothbrushes
A whole range of rechargeable electric toothbrushes are aimed at children. Children's electric toothbrushes have features designed to ensure children are brushing correctly; some even educate kids about good dental hygiene practices. They are often be moulded in bright colours, and feature smaller handles and soft grip casings, which make them easier for children to use. Musical tunes replace two minute beeps, quad pacer warnings, and pressure sensor notifications. Children often look forward to hearing these little tunes, which make them particularly effective at encouraging good dental practices.
How to Buy a Rechargeable Toothbrush on eBay
Finding rechargeable electric toothbrushes on eBay is a straightforward process. From any eBay page, simply enter "rechargeable electric toothbrushes" into the search bar, and let eBay do the rest for you. You might find the number of listings too large, so you can narrow things down by typing in additional details, such as "rechargeable electric toothbrushes dual head"
eBay also offers you a way to narrow a search down using filters. Once you have a list of rechargeable electric toothbrushes, you can narrow the results by viewing only new or used listings, listings from a particular manufacturer, or only listings priced within a certain range.
Before committing to your purchase, it is always worth looking at an item's description to see what a particular seller's returns policy is. Be sure to look at the seller's feedback score and read comments left by previous buyers. Sellers with a lot of positive feedback are likely to provide a great product, quick shipping, and conscientious customer service. Sellers with a lot of negative feedback, on the other hand, should be avoided. eBay offers these features and more to make shopping on their site easy, convenient, and secure, so that you can shop on eBay with confidence.
Conclusion
Toothbrushes are necessary to maintain good dental health, and modern technology provides a raft of additional features to help users achieve it. There are several important things to consider before purchasing a rechargeable electric toothbrush. Price is an important factor in any purchasing decision, and the range of features on a toothbrush is often linked to its price. Traditional High Street retailers only stock a limited number of makes and models, since they are limited by the need for physical space. eBay, on the other hand, is able to list a huge range of models from a vast number of sellers, so shoppers have a much greater opportunity to compare different models.
There is also an opportunity to ask specific questions of a seller if their description does not contain the information required and new listings are being added to the site on a regular basis. By using these and other features that eBay provides to buyers it is possible to purchase an item such as a rechargeable electric toothbrush with confidence.