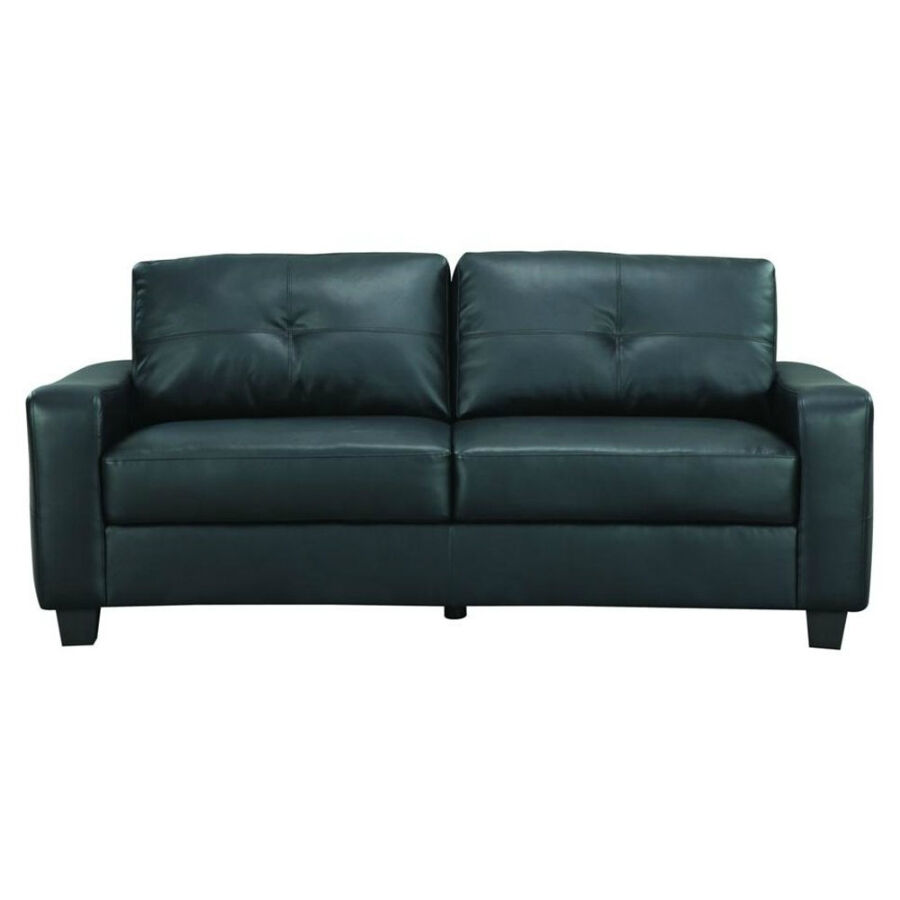 Whether entertaining guests or watching movies, a reclining leather sofa is an excellent addition to the home. Reclining leather sofas come in a variety of sizes to best fit the available space and seating needs of different households, whether this is a loveseat, a three-seater, or a sectional sofa. Reclining leather sofas easily turn a living room into a personal movie theatre that has the added benefit of no strangers talking through the film. Some models of reclining leather sofas even have cup holders built into the armrests. When looking for a new sofa, there are several things that should be taken into consideration in addition to the size. Buyers should decide if they want a manual reclining sofa or an automatic sofa, what colour of sofa will best suit their decor, and if they are looking for a suede sofa or a leather sofa. Regardless of the desired style, eBay offers a wide variety of new and pre-owned sofas at affordable prices.
What is a Reclining Leather Sofa
A reclining leather sofa has a mechanism that allows the back of the sofa to lean back and a footrest to pop out. Some reclining leather sofas are automatic and can be controlled with a button, while others require a manual lever. Many reclining sofas have an adjustable setting so that each seat will recline separately to the degree that the person sitting in the chair is most comfortable with. Many styles of reclining leather sofas have armrests between each seat that house the reclining controls. Because of the reclining feature, these styles of sofas require additional space both in front of the sofa and behind it and are therefore ill-suited for smaller rooms.
Choosing the Right Reclining Leather Sofa
There are many customisable features available when selecting a reclining leather sofa. There are modern styles of sofas with sharp angles and polished leather as well as more rustic sofas that invite people to sink into their plush, suede seats. Prospective sofa buyers should decide what type of sofa will best go with the decorative style of their living room before beginning to make their selection. If the sofa is the first piece of furniture purchased and will be setting the stylistic mood for the rest of the room, it is still equally important to decide on the decorative scheme. Reclining leather sofas with a modern chrome legs and automatic controls will look out of place with distressed wooden furniture.
Styles of Reclining Leather Sofas
There are two different control mechanisms for reclining leather sofas. There are automatic controls and manual controls. Automatic reclining sofas have a button that is pressed to move the seat position. These styles of controls are typically more discreet than manual control mechanisms, but may require access to an outlet. Manual control mechanisms are usually in the form of a lever on the outside of the sofa. However, this works better for loveseats than three-seaters or sectionals. For those styles of reclining sofas, there are frequently hidden release levers in the cushions. Manual reclining sofas are usually returned to their upright position by pressing down on the footrest with the legs.
Size of Sofa
Choosing the right size of sofa for the available space is important. A sofa that is too large or too small will look out of place in the room. Selecting a sectional sofa for a small room will leave the space looking crowded and may leave room for little else to fit in the room. Whereas a sofa that is too small for the space will not provide adequate seating and will still look out of place. Before purchasing a new sofa, it is a good idea to take accurate measurements of the room and mark down the positioning of windows, doors, power outlets, and furnishings that will need to fit into the available space. Buyers should decide if a loveseat, three-seater, corner recliner, or a combination will best fill the allocated space and then begin their search from there.
Style

Description

Loveseat

Designed to sit two people comfortably

Likely to have individual cushions rather than one long cushion

Less less likely to have an armrest in the middle than other styles of reclining sofa

Three-Seater

Designed to seat three people

Without armrests, this style of sofa is long enough to double as a bed for company

All three seats may recline, or it may just be the outer two seats

Corner Recliner

Typically designed in an L-shape, though there are also sectionals that have a gently curved U-shape

L-shaped corner recliners either fit into a corner or fit against a wall and extend into the middle of the room

Several seats that may not have a foot rest
Once a style of reclining sofa has been selected, it is important to receive accurate measurements of the sofa's dimensions, both when reclined and when upright. Pay attention to if the sofa leans back when it is reclined, as if it does, the sofa will need to be positioned further away from the wall, because that will need to be taken into consideration when selecting the appropriate size of a sofa.
Leather vs. Suede
Smooth leather and suede are popular choices for sofas but they have different pros and cons to them. One of the downsides to smooth leather sofas is that they have a tendency to stick to bare flesh, which can be uncomfortable during warm summer months. They are also not ideal for households with animals that get on the furniture, as claws will scratch and damage the leather. Suede sofas hide scratches better and will not stick to bare skin as easily. However, they are more difficult to clean and will show stains more easily, especially with light colours.
Colour of Sofa
Sofas come in a variety of customizable colours. There is no one right colour for any household. Rather, the colour should reflect the personality and decorative taste of the person making the purchase. Sofas come in neutral colours like black, tan, brown, and grey, but they also come in bold statements like red, blue, and green. Darker colours of sofa will hide stains better and may be a wise choice for families with pets or small children. If going for a neutral choice, a splash of colour can easily be added with accent pillows.
How to Care for a Leather Sofa
Regardless of if the sofa is made from leather or suede, appropriate cleaning measures should be taken to ensure its longevity. Vacuum any crumbs from the cushions and the corners of the sofa and routinely dust the sofa with a soft cloth. Avoid using water and harsh cleaners on the sofa. Any spills should be cleaned as soon as possible to prevent stains from setting in. Cleaners and conditioners are sold for both leather and suede sofas, so be sure to pick up the appropriate bottles and use them regularly. These cleaners can be purchased alongside sofas at most furniture shops, both online and locally.
How to Buy a Reclining Leather Sofa on eBay
When looking for a reclining leather sofa on eBay, begin by typing "reclining leather sofa" into the search bar on the main page. From this point, you will be able to filter the search options to further narrow down the style of sofa you are looking to purchase. You will be able to modify the search from any page either by changing the search description in the search bar on any page or by using the customizable search options such as to search for a sofa in a particular colour or a loveseat.
Because shipping costs on sofas are typically expensive, look for sellers that offer free local shipping or free local pickup as this will cut down on costs. If a local pickup is not arranged, it is important to know what the seller's return policy is so that it can be returned if the sofa does not fit in the allocated space. If the dimensions of the sofa are not provided in the listing, email the seller and ask questions. Finally, pay attention to the sellers' feedback scores. Sellers who have gold medals by their names are known as top-rated sellers and have a long history of positive transactions.
Conclusion
A new sofa can spruce up a room, but it is important to select a sofa that is appropriately sized for the available space. Reclining leather sofas can turn any living room into a private home theatre. Reclining sofas can be purchased as loveseats, three-seaters, as well as sectionals. Find a style of sofa that fits within the decorative scheme of the room. Customizable features include colour, material and controls. Leather sofas are available in both smooth leather and suede. There are both automatic and manual recliner controls for sofas which operate similarly and are generally a stylistic preference.
A well-cared for leather sofa will last many years, so prospective buyers should be sure to purchase appropriate cleaners and leather conditioners and maintain a regular cleaning regime. While reclining leather sofas can be purchased at local furniture shops, a larger selection at more affordable prices can be located through eBay.