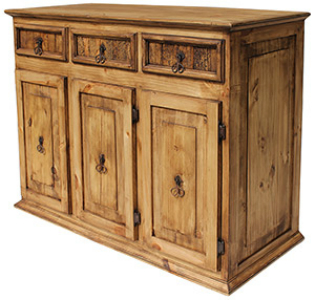 Dating back to the 17th and 18th centuries, rectangular sideboards have made quite a comeback and are now looked upon as extremely important pieces of furniture. Although sideboards are primarily found in dining rooms where they hold and display one's crockery, they can also be found in hallways, living rooms, kitchens, and even bedrooms.
The versatility that most sideboards offer makes them truly sought after, and this has led to a number of options being made available to buyers. Modern day rectangular sideboards come in various sizes, some with drawers, some with doors, and some with both.
Rectangular sideboards can be purchased in various brick-and-mortar shops, and the online world also presents buyers with alternatives, eBay being an example in case. Buying a sideboard requires certain considerations, and a buyer should know what to look for in terms of different types of sideboards, different materials used in their making, the variation in drawers and doors, as well as the design's overall effect.
About Rectangular Sideboards
Although sideboards seem like fairly simple pieces of furniture, knowing what to expect when looking for one is always suggested. A sideboard, after all, can be used in different ways and buyers have different options from which to select.
The Varied Uses of Rectangular Sideboards
Traditionally, sideboards have been a part of dining room storage where one can find the home's cutlery, crockery, and serving dishes, while the top is often used to display pictures and personal items. They can be used in bedrooms to serve as extra storage space, and using them in children's bedrooms can solve many space problems. Sideboards are also found in kitchens, again, to serve as additional storage space, and are ideal to store just about anything in the kitchen.
The use of sideboards to increase any given space's aesthetic appeal is not uncommon. For example, a nicely designed sideboard can be placed in a hallway, not only making it seem less bare but also serving as storage space, if so required.
Different Types of Sideboards
Sideboards come in an assortment of shapes and sizes, and while rectangular sideboards continue to be the norm, not all sideboard designs in today's world stick to this pattern. The different types of sideboards one can expect to see include traditional sideboards, ones with open shelves, and corner sideboards.
| Type of Sideboard | Primary Characteristics |
| --- | --- |
| Traditional Sideboards | Combination of wooden doors and drawers |
| Open Shelved Sideboards | Wooden drawers and open-air shelves |
| Glass Door Sideboards | Glass doors and wooden drawers |
| Corner Sideboards | Designed to fit in room corners |
These, in turn, offer further alternatives, and these come in the form of materials used, how big or small they are, as well as design, style, and colour.
Buying Rectangular Sideboards
Given the variety on offer, buying a sideboard requires some considerations, and the following details what a buyer should address before making a purchase.
The Budget
New sideboards can be found to suit just about any type of budget, wherein while a buyer can look for something minimalistic, the option to splurge exists as well. Consequently, buyers looking for rectangular sideboards who set budgets do not usually have a problem sticking to it just as long as they do the required groundwork.
The Size of Rectangular Sideboards
Sizes of rectangular sideboards vary considerably, and these include the more commonly found two- and three-door variants to the more contemporary four- to five-door alternatives. As a result, establishing just how much space can be made available to bring in a new sideboard becomes essential at the very onset. In addition to making enough room for the new addition, one also needs to establish that the size should not be large enough to dwarf the room or the dining table. Dining room sideboards are normally waist-high, and this allows for effective use of their top surfaces.
Rectangular Sideboard Doors and Drawers
This is one aspect that begs for one's attention, and the intended use of the sideboard plays a key role in this regard.
Rectangular Sideboard Doors
Wooden doors ensure that what is inside the sideboard remains out of plain view and glass doors have the opposite effect. As a result, if one wishes to display what is stored inside the sideboard, glass doors are the obvious choice. Buyers have a choice when it comes to the kind of glass they wish to use, wherein plain glass, painted glass, and translucent glass are a few options. Sideboards with glass doors can also be found with illuminated interiors.
The use of sliding doors in sideboards is a new trend and finds favour with some furniture buyers. Sideboards without doors are also available, and in addition to drawers, they can come with open shelves.
Rectangular Sideboard Drawers
Drawers are a fairly staple feature when it comes to rectangular sideboards, and buyers are given alternatives in terms of the number of drawers as well as drawer size. Just what one intends to store in these drawers should help decide how many drawers should suffice.
The Construction of Rectangular Sideboards
Checking how well a sideboard is made is imperative, especially if an inspection is possible. The drawers should glide smoothly. The doors should hang, open, and close firmly and evenly. The same quality of wood should be used throughout the sideboard, on the outside as well as the inside, and all of the hinges, nuts, and bolts should be firmly in place. If the sideboard comes with legs, they should not be wobbly and should be strong enough to take the unit's weight.
Rectangular Sideboard Material
The most common kinds of wood used to make sideboards include oak, pine, acacia, teak, and walnut. When buying a sideboard, one needs to take into account how often the sideboard is used and how long one intends to use it. An option, like teak, translates into long life and durability, and oak wood is a good alternative as well.
A cheaper and newer alternative comes in the form of wood veneers. These veneers are made using real slices of wood amalgamated with the surface of the sideboard, giving it the appearance of a singular surface. The use of veneers results in reducing production costs as well as shipping costs, and in some instances veneers are used in expensive sideboards to lay focus on a given pattern.
Heat-Resistant Tops
A number of sideboards come with heat-resistant tops. These tops are made using different kinds of stone and glass. If one intends to use the top of the sideboard as a serving surface, these make for ideal alternatives.
Do-It-Yourself Rectangular Sideboard
Relatively new alternatives made available to buyers are those of do-it-yourself rectangular sideboards and DIY cabinets. Orders of DIY sideboards come with all of the parts that are needed to put them together, nuts and bolts included. Do-it-yourself rectangular sideboards, like regular sideboards, are also made available in different kinds of wood, and the main reason these find favour with buyers is because they tend to be more affordable alternatives.
The Design and Its Effect
Rectangular sideboards come in various designs, and what may look good in a shop or online may not necessarily have the desired effect inside one's home. Paying attention to the decor of the space in which one wishes to place the sideboard, therefore, becomes just as important as the design of the sideboard, itself. When it comes to sideboard designs, buyers have the option to choose from real antique sideboards, new sideboards that come with the antique feel, and a host of contemporary sideboard design alternatives.
When it comes to new sideboards which exude an antique feel, buyers have the option to go through sideboards made using reclaimed, distressed wood that works very well in creating an aged effect. Some contemporary designs offer more flexibility in usage, an example in case being designs that offer wine racks as part of the unit's overall design. The variation in the number of drawers, doors, and open space is also something that is addressed in the designing of sideboards, and buyers ought to address these aspects as well.
Finding a rectangular sideboard for a traditional room can be straightforward, but the same is not the case with a contemporary setting. While choosing a sideboard that one finds most appealing often works with traditional spaces, with a contemporary setting care needs to be taken so that the sideboard does not draw attention away from everything else in the room. The ideal thing to do, in such a scenario, is to go with the existing styles and textures within the given space and look for something that blends with them.
Buying Rectangular Sideboards on eBay
eBay offers buyers a wide variety of rectangular sideboards to search through, and the choice herein includes sideboards made for different spaces. The choice on offer includes sideboards for dining rooms, living rooms, kitchens, and so on. When buying through eBay, buyers have the alternative to buy new as well as used sideboards, providing them with even more alternatives to search through. In terms of materials, buyers can find rectangular sideboards made using oak, pine, beech, among others, and designs range from antique to retro to modern.
The sideboards on offer through eBay are sold through different sellers and different sellers are known to price their wares differently. From a buyer's perspective, this means going through as many options as possible to find if similar alternatives are on offer for cheaper prices. Finding rectangular sideboards on eBay is simple; users can either use the search option or the website's navigation panel.
Conclusion
Before buying a rectangular sideboard, establishing the role it plays is very important. The look and the feel of the sideboard play an important role as well, although this has to be in line to the given space's existing setting. Given that buyers now have the option to buy sideboards, which look as good as real antique furniture for a fraction of the price of an actual antique certainly helps, and so does the fact that there are a number of affordable, yet stylish, contemporary designs from which to choose as well.
Setting a budget is a good place to start and this is because one has scores of alternatives to choose from in terms of materials, sizes, styles, and designs. Irrespective of the type of space for which one needs a rectangular sideboard, finding the right one does not have to be a mammoth task; just as long as one can use these pointers to narrow down the options.