Buyers - So you want to lower your carbon footprint .... then look out for the sellers who offer recycled packaging.
Sellers - So you want your item to have a low, low mailing cost ??? Then recycle and reuse ... but remember skimpy packaging can also mean broken or damaged on arrival.
Even with the new UK postal rating system - thin/small letter, slightly less thin/medium letter, fatter large letter and packet - you may often find that a light weight but bulkier packet is actually cheaper to send than it used to be.

A layer of bubblewrap plus a polythene mailing bag (both preferably recycled) is a great way to send a used paperback book. Saves on packaging and on postage - as it usually qualifies for the large letter rate! Anyway - it is better to have a little more padding than a bent or damaged item on arrival, just for the sake of saving a few pennies in postage costs!
So... re-using jiffy bags; bubblewrap; mailing boxes; plastic and other mailing envelopes is the first step. But why not go that little bit further in your quest for a happy customer, a lower carbon footprint and a better planet?
CONTENTS NOT INCLUDED!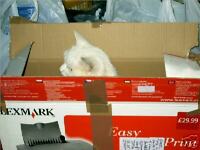 There are all sorts of boxes and packaging materials around the home that can easily be recycled for mail-outs. Cardboard boxes are an obvious choice for items of a fragile nature that you want to arrive safely.
Lots of space to fill ? - use the instant protective filler you generate from your paper shredder.

Save and reuse the polystyrene foam beads/peanuts that are used by some companies. Some places are using brown paper as packaging - flatten it out, it can be reused as wrapping for both inside and outside.
Even the blocks of polystyrene foam or cardboard preformed shapes that electrical items etc come packaged inside their boxes with can be adapted for reuse.
Got some offcuts of furnishing foam or left over stuffing from making plush toys or filling cushions - another great wrap/stuff material.
I have even found that catfood cartons, the kind the pouches come in, can be great little mailing boxes.
Save some of your cereal boxes ... a snip or two with a pair of sissors and ... hey presto - instant stiffening for an envelope that needs to go marked 'do not bend'!
So take a look around and rather than bin bags and boxes and bubblewrap etc - recycle them, save money and then the Buyer is Happy, the Seller is Happy .... EVERYONE's HAPPY!
Maybe eBay could come up with a little symbol for sensible sellers who recycle packaging stuff ?