A home makeover doesn't have to be time-consuming or expensive. A little forward planning goes a long way towards making the process easier and keeps you to a timetable. This philosophy also applies when buying new curtains. Here's what you need to know for when you refresh your home.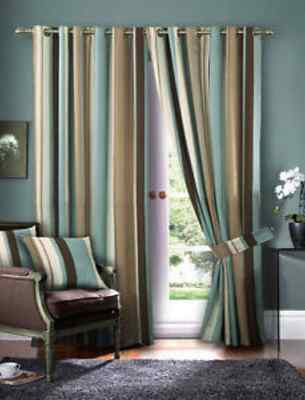 Table of Contents
Considerations before buying curtains
How to measure accurately for new curtains
Lined or unlined?
Buying pre-loved curtains
Fixtures and fittings: what you might need
How to hang curtains
Curtain care
Curtain track or pole? The choice is yours, but it determines the type of curtains you can buy. Make sure you measure your curtain pole accurately and don't forget to measure the drop too. Will your curtains be functional or decorative, lined or unlined? And, of course, select a colour that complements your room and existing furnishings.
Fix your pole
The most important thing to remember is that you are measuring the curtain track or pole, not the window. This is why you should have the track or pole fixed in place first, as its height will dictate the 'drop' of the curtains.
The track should be at least 15cm (6in) wider than the window, and positioned approximately 15cm higher.
Curtain width
Using a metal tape, measure the entire length of the curtain track; if you are using a pole, measure the space between the decorative finials at either end.
For tab top curtains, multiply the track or pole width by 1.5.
For curtains with eyelets, multiply by 2.
For pencil pleat curtains, use the initial measurement of the track or pole.
In all cases, add an extra 2.5cm on to the measurement to ensure the curtains overlap slightly in the middle, once hung.
Curtain length
Measure according to whether you are using a track or pole, as described below:
For tab-top curtains measure from the top of the pole.
For curtains hung on rings, measure from the bottom of the ring.
When using a curtain track, measure from the top of the track

Curtain liners are not essential, but they do provide stability to curtains
and help them to hang well. There are a number of different types of liners, each of which offers different benefits. These include:
Blackout liners: specially treated to block external light, blackout liners are ideal for bedrooms. They are especially useful when the early morning sun is streaming through windows in the summer.
Thermal linings: thermal linings help to keep in the heat, prevent draughts, and improve overall energy efficiency in your home. They also keep rooms cool in the summer and prevent your furnishings fading from exposure to the sun.
Polycotton lining: this type of lining helps curtains to hang evenly and provides substance to thinner, more delicate curtain materials.
Liners bought separately can be sewn in or attached using curtain hooks. They may also form an integral part of ready-made curtains.
Pre-loved curtains represent great value for money, as they give you the opportunity to buy a higher quality material within a limited budget. There's a wealth of choice available on ebay at a fraction of the original price, whether you're looking for
pretty vintage florals
or striking prints to brighten up your room. You could even sell your old curtains on ebay to help fund the purchase of a new pair!
There are a number of different fixtures and fittings you can use when it comes time to put up your curtains:
Curtain rings
for use with curtain poles, it is recommended that you have one curtain ring every 8–10cm along the pole. This will ensure the curtains hang evenly and neatly.
Curtain pole finials
These are the decorative ends of the curtain pole. Decorative
finials
may be made from wood, crystal, or even mosaic, and add to the overall look of your room.
Tie backs
Curtain holdbacks
have practical and aesthetic benefits. They provide a finishing touch by framing the window and, on a practical note, they help to keep your curtains neatly in place.
Other fittings
You may need an assortment of fittings, including curtain hooks, end-stops, brackets, a track and valance combined rail, and hanging glider wheels.
Pencil pleat curtains
Pencil pleat curtain tape has three different height settings. It is generally 7.5cm wide, with two or three strings that are used to gather the curtain at the top. The strings should be tied at one end of each curtain so that they are not simply pulled through the tape when gathering the curtain.
Gather the curtains to a little over the width of your window, then tie the ends loosely at the inside edge. Strings can then be trimmed a little, or tucked neatly out of sight underneath the tape.
Which row you attach the hooks to depends on whether you are using a track or a pole. For curtain tracks, insert the hooks into one of the lower rows. This will ensure the track is not visible when the curtains are hung. Hooks should be inserted into the top row of the tape when using a curtain pole, so that the pole is visible above the curtains.
Hooks should be placed at roughly 10cm intervals across the tape, making sure that a hook is attached at each end. The hooks are then put through the track gliders, including the end-stop.
Chrome ring and tab-top curtains
Both tab-top and ring-top curtains are very easy to hang, as they attach directly to the pole.
The only thing to remember is that the end rings or tabs should be placed between the bracket and finial, to ensure that the curtains hang evenly across the window.
Curtains tend to gather dust over time, but regular vacuuming using an upholstery attachment will help to keep on top of it. When washing your curtains, always remove the hooks and loosen the header strings a little.
Dry clean only
Heavier, lined curtains
tend to be dry clean only, which may be more costly, but ensures that the material is not damaged in your washing machine.
Machine washable
Always check the washing instructions. You may need to wash each curtain separately if they are large, or take them to a launderette.