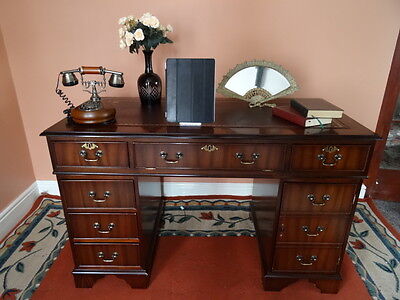 Add a caption
Buy Beautiful Regency Desks @ Bargain Garden Antiques
The Regency Era
In the United Kingdom The Regency period is between The Early 19th Century 1811 and 1820, when King George III was unfit to rule and his son, the Prince of Wales, ruled as his proxy as Prince Regent.
The Regency Period is noted for its elegance and achievements in the fine arts and architecture. Regency was also a period of great refinement and cultural achievement. Regency" is being used to describe the transition between "Georgian" and "Victorian" eras, the focus is on the "pre-Victorian" period from 1811, when the formal Regency began. One of the greatest patrons of the arts and architecture was the Prince Regent himself (the future George IV). Upper class society flourished in a sort of mini-Renaissance of culture and refinement. As one of the greatest patrons of the arts, the Prince Regent ordered the costly building and refurbishing of the beautiful and exotic Brighton Pavilion, the ornate Carlton House, as well as many other public works and architecture.
Partners Desks
The Regency Era Has Had A Great Influence On The 20th Century and Beyond. Modern Regency Style Partners Desks Are In High Demand. They Are Both Practical & Functional. With Many Desks Being Adapted For Use With The Modern Home PC Or Laptop Computers. A partners desk, partner's desk or partners' desk (also double desk) is an antique desk form, which is basically two pedestal desks constructed from the start as one large desk joined at the front, for two users working while facing each other.The Original Partners Desk Is an adaptation of the earlier and sometimes larger library desk, found in the libraries of the mansions of the gentry and the nobility.Most partners desks made in the 19th century were built of high quality woods such as oak, mahogany or walnut and finished with tooled leather inserts on top and brass fittings all around. Many reproductions have been made in the 20th century, copying The Style From Earlier Regency Era Desks.