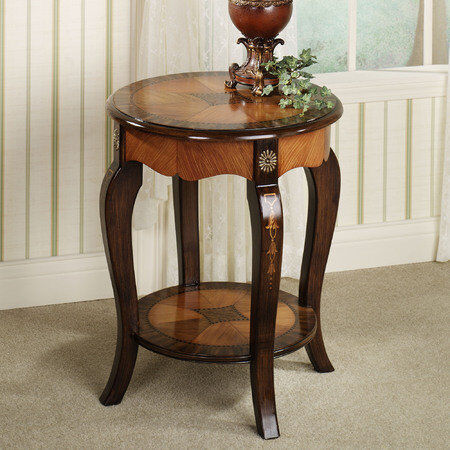 The Regency period was an important era for artistic and cultural achievements. Buyers interested in pieces from this time should do some research into the styles and designs of that age before coming to a decision on what to buy. This buying guide is designed to provide information for buyers who are interested in Regency Tables,, starting with a brief history of the Regency period, the types of Regency tables available on the market and some shopping tips. This guide also provides advice for navigating the listings on eBay, as well as information on using the search engine on the site.
History of Regency Tables
Regency tables were first produced during the reign of George IV which lasted from 1811 to 1820. He held the title of Prince Regent in Great Britain during this period. The furniture produced during this era had elements of neo-classical Georgian furniture and Egyptian furniture. Many designers also re-introduced characteristics from ancient Roman and Greek furniture. Some of the popular features during the Regency era include the use of rosewood and zebrawood veneers, brass decorations, metal paws and lion masks. These pieces were much more elaborate than the previous generation of furniture. Today, Regency-style tables are still reproduced by manufacturers due to their continuing appeal.
Discover Regency Tables
Tables< produced during the Regency era are considered antique furniture and are classified as such by museums and retailers. Today, reproductions that feature stylistic elements from the Regency-era furniture are widely-available. If buyers prefer, there are also sellers of antique Regency tables. Because the style is so popular, it is easy for buyers to find other pieces of furniture that complement the Regency tables.
Components of Regency Tables
There are two main components of a Regency table – the table top and the legs. Different types of tables may have more parts.
| Part | Description |
| --- | --- |
| Table top | Surface of the table is flat and usually made of solid wood. Some tables, such as writing tables, may include a leather material on the surface. Some table tops may tilt such as those of game tables and drawing tables. The edges of the table top are either straight or curved. Most table tops are rectangular or circular in shape. |
| Drawer | A rectangular box under the surface of the table top. It holds items. |
| Handle/ knob | A u-shaped or solid circular piece attached to the drawer. It is used to pull open the drawer. |
| Side panels | Wood surrounding the drawer compartment. It composes the sides and back of the table. Common feature in bedside, side and writing tables. |
| Legs | Supports the table top. Some are short, such as those of coffee tables, while others are long, such as those of dining tables. They can be carved, reeded or even sabre-shaped. Some tables have pedestals or stands rather than legs. |
| Casters | A round metal piece, similar to a wheel, attached to the bottom of the leg of a table such as a writing table. This feature allows the table to be moved around. |
| Stretcher | A wood piece that connects two legs. This feature can often be seen on coffee table. |
| Bust | Small carving or sculpture, usually of a person, attached to the front or sides of a table. |
Types of Regency Tables
There are several types of Regency tables including rectangular, circular and drop-leaf tables.
| Type | Description | Advantages | Considerations |
| --- | --- | --- | --- |
| Rectangular | The most common type of Regency table is the rectangular dining table. The table top is longer than it is wide. | This table fits in most dining rooms and is big enough to seat large families. | Rectangular dining tables may be too big for small apartments. |
| Circular | This type of Regency table features a circular table top that sits on four legs or a pedestal. | Circular tables seat four comfortably and are ideal for smaller dining rooms or eat-in kitchens. | Little room under the table, so chairs could bump into each other. |
| Square | Equal-sided table with four legs or a pedestal. | Up to four people can be seated at this table. | Limited seating. |
| Long | These tables are much longer than standard rectangular tables and usually feature multiple legs or pedestals to prop them up. | This table can seat a lot of people. It is ideal for large dining halls or for outdoor seating. | Its size could mean it is too big for some homes. |
| Drop-Leaf | Drop-leaf tables feature a portion of the table top that can be folded down. | • Space-saving when they aren't in use. It's great for small dining rooms. | • More practical than beautiful. |
| Extended-Leaf | Extended-leaf tables feature a section of the table top that can be removed. | • Space-saving. | • More pactical than beautiful. |
| Tilt-Top | Tilt-top tables feature a table top that can be turned sideways. These are usually circular tables. | • By tilting the table top, the entire table can be pushed against a wall to save space. | • Tilt-top tables may get worn out quicker if it is regularly folded. |
Factors to Consider When Buying Regency Tables
There are several things to consider when buying a Regency table.. The price of the table, the condition of the table and its appearance are three things that affect one's buying decision.
Price – The price of a Regency table varies greatly. This will depend on whether a table is a reproduction or an antique. If it's an antique, its price will be affected by its condition.
Condition – Look for signs of damage including scratches, faded colours, and loose joints. It may be difficult to determine this from photos, so be sure to review the product description for details and contact the seller if the condition of the piece is not obvious.
Appearance – The appearance of the table is probably the most important feature to consider. Determine the size and shape of the table that is suitable for the space in the room. Also consider the style of the other furniture pieces. Consider the wood colour and graining pattern as well.
Typical Features of Regency Tables
Regency tables< have characteristic features that distinguish them from other styles of furniture, including rosettes, paw table feet and brass inlays.
Rosettes – Rosettes are round design elements that resemble flowers with petals that grow from a central point.
Masks – Most furniture produced during the Regency era feature sculptures of animals or mythical creatures such as lions, winged griffins. Sometimes, there were also sculptures of Roman gods.
Metal paw feet on table legs – Another feature of Regency tables is that their feet are made to resemble animal paws. They are usually made of metal.
Brass inlays – Brass incorporated into wood is a common feature in Regency furniture. Brass inlays were considered more durable than marquetry. It was commonly used to decorate furniture, including tables.
How to Care for Regency Tables
Like with any other table, Regency tables require regular care to maintain their appearance over time. The biggest concern is the condition of the surface. Dust, spilled drinks and stains not only ruin the appearance of the table, they also slowly degrade the surface. Using placemats and coasters during meals will reduce the wear on the surface. Pots and trays containing hot foods should be placed on a padded placemat to avoid damaging the table top.
If the Regency table has accumulated dust and dirt, the best way to remove it is with a soft cloth dipped in mild soapy water. Wipe the surface clean and allow it to dry. If stains are hard to remove, consider using a furniture polish to clean the surface. This type of polish not only cleans the surface, but it also leaves a protective coating that shields the surface from the environment.
Accessories and Add-ons for Regency Tables
There are several accessories that would complete a Regency table.
Napkin holder
Salt/pepper cellars
Finding a Regency Table on eBay
After determining the type of Regency table to purchase, visit the Antiques Category portal on eBay, click on 'Antique Furniture', then click 'Tables' and start searching item listings. The Categories list on the left-hand side of the eBay page helps to narrow the search. Click the box for 'Regency'. Further refine the results by age, material and price.
Searching for aRegency Table on eBay
Search eBay listing titles for specific words when shopping for a Regency table. For example, to find an oak Regency table, type 'Oak Regency Table' into the search box, and then click the Advanced button to customise the results. Also visit eBay's Search Tips page for more advice on searching for Regency tables with keywords. If you can't find the exact Regency table you want, try shopping eBay Stores..
Conclusion
There are different types of Regency tables. Once you have found the right one, review the details of the table. The product listings page on eBay contains valuable information including the price, shipping details and product description. Know exactly what the seller is offering before making a purchase. Once you have collected all the information you need, you can buy a Regency table safely and securely on eBay..