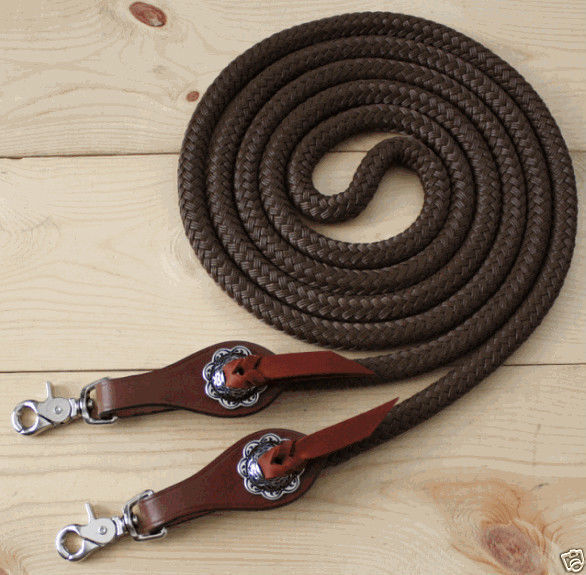 Reins enable a rider to communicate with their horse or pony via the bit, which sits in the animal's mouth. They are used to slow and halt the horse, or to change its direction. This vital piece of equestrian equipment is one of the simpler pieces of tack - which also includes the saddle and the bridle - but there is a deceptively wide choice of materials and styles that should be considered in the purchase of reins, not to mention practical aspects such as sizes.
When looking to buy reins on online sites such as eBay, it is a good idea to become familiar with the array of options available before making a final selection. In particular, for riders and owners who attend shows, it is important to remember that each discipline will have standard reins. For every day riding, the ideal reins are largely down to personal taste, but be warned that riding with the wrong reins can make for an uncomfortable experience and sore hands, so consider sizes carefully before making a decision.
Types of Rein
Reins fall into different categories according to whether they are designed for riding, driving carts, carriages and pony traps or for training. There are also different reins for Western style and English style riding.
Western Style Riding
Split Reins
Split reins are made up of two strips of leather that are attached to each bit ring. These reins are separate rather than a continuous loop. This allows the horse to step free of the reins rather than becoming entangled in them when it is tethered.
Roper or Contest Reins
Roper reins , which is sometimes also called contest reins, are a looped rein, unlike the split reins described above. Usually about 1/2 - 5/8 inch wide, these have snaps or hooks that allow them to be easily and quickly clipped to the bit.
Mecate Reins
Used with bitless bridle, mecate reins are created from a length of rope. This is a closed rein.
Romel Reins
A closed rein that was invented by the Spanish cowboys, romel reins have an integrated whip, or 'quirt'.
English Style Riding
Closed Reins or Loop Reins
Constructed from a single continuous piece of material - usually leather - Closed or loop reins run behind the horse's neck and to be held by the rider. These reins are the most commonly used reins in English riding.
Snaffle Reins
Laced and buckled together at the centre, snaffle reins attach to the upper ring of a Pelham bit. They are usually used in conjunction with a double bridle.
Curb Reins
The other rein that complements the snaffle rein in a double bridle, modern curb reins are often buckled, although older curb reins are sewn together.
Draw Reins or Running Reins
This style of rein can afford the rider a greater than usual degree of control over the horse.Draw reins or running reins feed through rings on the front edge of the saddle, before threading through the bridle and finally ending up in the rider's hands. Draw reins are controversial as some people claim that they are uncomfortable to the horse and could negatively affect the neck muscles in the long-term.
Safety Reins
Designed to let the rider grip the reins so they cannot so easily slip, safety reins have rubber 'slip-stop' pieces at regular intervals on each side which makes them helpful to novice riders who are trying to learn how the hold the reins evenly.
Looped Split Reins
These reins are split in the middle and feature loops at the ends through which the rider can put their hands. They are often used by disabled riders. Looped Split Reins are occasionally constructed from contrasting materials with the loops being in a more elasticated material.
Driving Reins
Longlines or Driving Lines
Longlines are-extra-long reins. They help the driver of a cart, pony trap or carriage to control the animal.
Lunge Reins
Used in conjunction with a halter rather than a bridle and bit, for the horse's safety, a lunge rein is a single, long rein used for training the horse - riderless or otherwise - from the ground.
Sizing
Reins are available in a variety of sizes, with most falling into one of the three categories detailed below.
Length
Reins are usually measured already done up, as if they were on the bit, from the central buckle to the bit itself.
| | |
| --- | --- |
| Pony | 48 inches |
| Cob | 52 inches |
| Horse (or 'Full') | 58 inches |
Width
Usually available in different widths, reins should be comfortable in the hand. They should not feel bulky or cut into the closed fist otherwise they are likely to chafe on longer rides. Before buying reins on eBay it might be a good idea to try out some reins, simply by holding them, to find out which width is most comfortable.
| | |
| --- | --- |
| Pony | ½ inch |
| Cob | 5/8 inch |
| Horse (or 'Full') | ¾ inch |
Materials
As with saddles and bridles, reins come in a range of different materials that offer contrasting performance benefits.
Leather Reins
Most reins are made of leather, as this is the traditional material for all tack. Plain leather reins are smart and affordable and a perennially popular choice. But as new materials have come onto the market, some people have decided that leather reins are too difficult to maintain, requiring frequent oiling.
Nylon Reins
Nylon reins are a popular choice because they are tough-wearing and they don't slip easily through the hands, even when riding in the rain.
Biothane Reins
This synthetic, coated webbing material imitates leather in everything but smell. Biothane reins claims to be stronger than leather as well as being easier to maintain and clean.
Rubber-covered Reins
These are leather reins that are sheathed in rubber, as their name suggests. Rubber covered reins have the advantage of being very easy to grip. However, their thickness means that they can be too unwieldy for smaller hands to comfortably hold. Because it is not possible to see beneath the rubber sheath to inspect the condition of the leather beneath these reins can sometimes be liable to snap.
Half-rubber Reins
As a compromise to rubber-covered reins, these half-rubber reins only feature rubber on the underside of the rein. This means that they have a good grip but they have a more pleasing appearance and are easier to hold. They are also easier to look after because the leather is not encased.
Continental Reins
Constructed from webbing, continental reins have leather grips that are stitched onto the rein at regular intervals. This means that they have good grip, even in the rain. They are also sturdy and hard-wearing.
Bit Attachments
This is the part that attaches the rein to the metal bit ring. There are two main methods of attaching the rein in English style riding, as detailed below. In Western riding, some reins feature a clip or clips that let the reins act as a leading rope.
Buckle Reins
Threaded through the bit, buckle reins are buckled to the bit ring, which means that they are relatively easy to release. However, buckle reins are often not used in show events because of their bulkiness and untidy finish.
Stud Billet Reins
When showing, many riders prefer to use stud billet reins .
These go through two leather keepers, before being fastened by a small hook. They are neat in appearance which makes them popular for dressage events in particular.
How to Buy Reins on eBay
Type into the search box 'reins'. This will produce results for both Western and English reins. Some buyers have a good idea of the type of reins they want to buy, like ' leather double reins'. Using the search feature will help you find exactly what you want.
When searching through listings, carefully review all the data. Make sure the item matches what you had in mind. Look over the photographs a couple times. Feel free to Ask the Seller a question if you want additional details. Visit the Buying Tips page for more information.
Once you're ready to buy, either place a Bid, Buy it Now, or put down yourBest Offer. Buying with PayPal will ensure the transaction will go smoothly. eBay users are protected by the Buyer Protection Program.
Conclusion
Reins are a crucial piece of equipment for riding, driving and training horses and ponies, whether in the Western riding or English riding traditions. Unlike with more complex pieces of tack such as the saddle and bridle, reins do not have to be carefully sized for the horse. However, for the comfort and safety of the rider it is important to consider the individual rider's needs, such as level of ability, the show event or events that the rider is buying the reins for, and perhaps most vitally, the size of the rider's hands. The look and feel of different reins varies but unless they are to be used for showing, the buyer can largely indulge their own tastes in the choice of reins, rather than being constrained by other considerations. Nevertheless, the reins are what tie the rider to the horse, and as such their quality should never be sacrificed.