This guide will help you in your quest to buy a new remote control for the one you have lost, broken or the dog has eaten.
Basicly you have 3 options Universal, Original Manufactures Replacement and Compatible Brand Specific / Copies Remote Controls all with good and bad points.
Hopefully my guide will help you make the right choice for you.
Universal Remote Controls- These are cheap but more often than not dont tune in your TV/ VCR etc, they are just good for changing channels and the volume. Some Universal remote controls dont work every single Make or Model as there are 1000's out there! They also need programming with the correct code for your TV/ VCR etc, this will have to be done every time your batteries go flat.
Original Manufactures Replacement- These can be expensive if you buy direct from the manufacturer and and in some cases the manufacturer wont sell to the public. But you can pick up good cheap second hand and new remote control if you shop around, we sell a wide range of Original Remote Controls, new and used. These are great as they work all you TV /VCR /DVD etc functions, including tuning. Best of all you don't have to learn were all the buttons are.
Compatible Brand Specific / Copies Remote Controls- These can be cheaper and work most of your TV / VCR etc functions and in some cases work all functions button for button compatibility. They dont need any programming and you can tune your TV / VCR etc with this remote. But the button lay out can be very different from your original which can be very confusing for older people.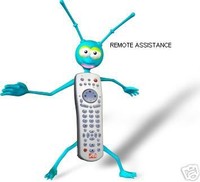 Please feel free to visit my eBay shop Remote Assistance we have a wide range of remote controls for all types of equipment. Our stock changes all the time so if we don't have your remote in stock the chances are we will in the future.