Authentic U-Boat Officer Knights grand German Medal Gold-Diamonds
Before parting with your hard earned cash I would ask you to consider the following points:-
1) It is definitely not authentic.
2) It has nothing whatsoever to do with U-Boats.
3) It is not a Knights Grand Medal. Whatever that is.
4) It is made to look like an award known as The German Cross of 1957.
5) The War Service Cross on the front indicates that it should be the Silver version not the Gold. The Gold version has a 1957 Iron Cross on the front.
6) The German Cross with Diamond or Brilliants was never awarded, during or after World War 2.
7) The '800' mark stamped on the back is not a manufacturers mark, it is a continental silver mark, indicating that the item is made of 800 parts per 1000 of pure silver. If this item is not made of genuine silver the the mark is fraudulent.
8) The manufacturers mark '21' is the 'Liferant' mark of the World War 2 manufacturer Gebruder Godet And Co. of Berlin, not Foerster and Barth of Pforzheim, whose 'Lieferant' mark was '10'.
9) The only World War 2 manufacturer of awards who was authorized to produce the 1957 (De-Nazified) award was Steinhauer and Lück of Lüdenscheid. Any 1957 awards with any other manufacturers markings on them may be regarded as reproductions and definitely not official or veterans pieces.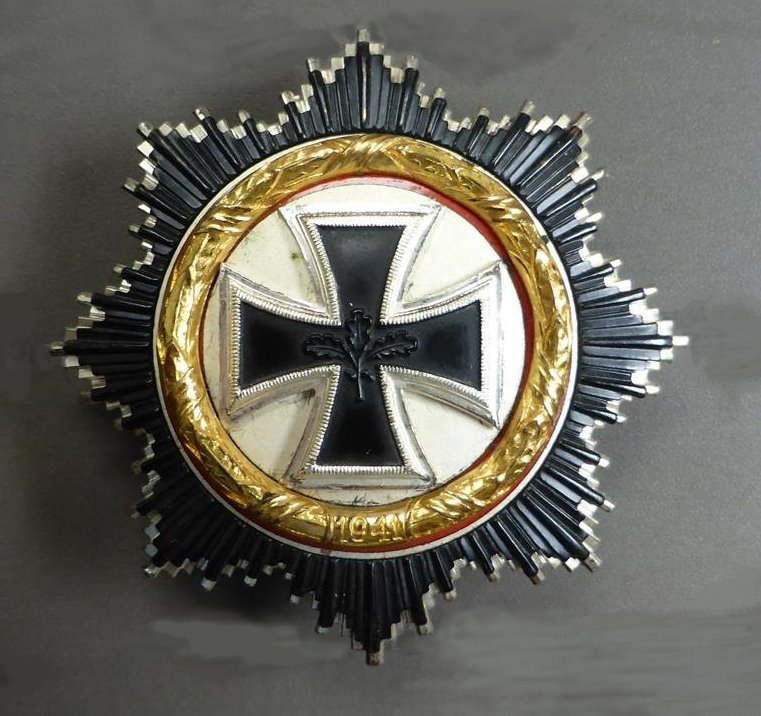 Add a caption
This is a genuine 1957 German Cross in gold by Steinhauer and Lück
Click to edit caption