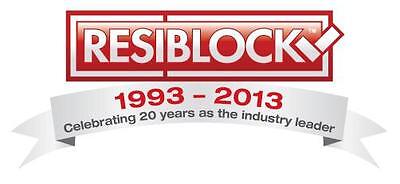 Surface Preparation:
Surfaces to be treated must be dry, free from grease, oil, debris and previous sealers. Joints
should be filled or topped up to the bottom of the chamfer with clean, dry, compacted sand of
the correct specification.
Coverage:
Concrete & Clay Block Paving 1.8—2.2m² per litre.
Flag Paving 2.2—4m².
Application:
By brush, roller, spray or squeegee (STIR WELL BEFORE USE) generally the paver type will
dictate the most appropriate application tool. Ensure sand filled joints are fully flooded with
RESIBLOCK TRADE. Work the product into the joints for maximum penetration. Ensure the
surface is evenly coated.
PLEASE NOTE: The product must not be allowed to pond within the depressions of riven
surfaces, remove with builders sponge/dry roller.
Clean accidental spills and splashes immediately with a clean damp cloth.
Curing:
Curing commences immediately, to leave surface dry after approximately 4-8 hours
(depending on weather conditions).
Appearance:
RESIBLOCK TRADE contains micronised particles that produce an opaque appearance
when wet but will be clear when dry. We recommend the application of a trial area where the
appearance of the treated surface is of particular importance and to test that the paving is
sufficiently porous to absorb the solution evenly and without leaving a surface film.
Safety:
Do not use in the presence of foodstuffs. Wear personal protective clothing, goggles and
gloves.
Storage:
Store at a temperature range of 5C—30C. Protect from frost. Do not allow the product to
freeze.
Shelf Life:
18 months in Resiblock Ltd's unopened container.
Transport:
Not classified as hazardous for road transportation.
WARNING
If you have not used RESIBLOCK TRADE before, it is recommended that you telephone the number given below so that full application information can be sent to you, free of charge. Failure to read and understand this information may result in unacceptable sealer
performance both technically and aesthetically.RESIBLOCK TRADE cannot be used on any previously sealed surfaces. For further advice on previously sealed surfaces contact RESIBLOCK's Technical Dept.
* This fact sheet is not intended to replace the full application instructions, which
must be read prior to application.