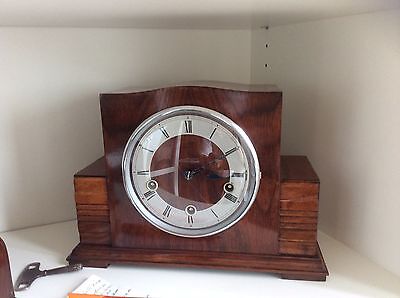 The subject of restoration for clock cases, seems to have very divided opinions, while, no restoration work of any kind, is indeed, the preferred state, with nothing more than a clean and a few coats of wax, to bring the case back to its former glory.
But, what of cases, whose response to the above treatment is less than satisfactory, are we to scrap every case, that falls below par, in our quest for originality, or do we display, happy in our knowledge of its originality, but avoid eye contact, in order to lessen our reminder of the imperfections, that hinder the visual enjoyment of said timepiece.
Are clocks, not extraordinary examples of micro engineering, producing practical mechanical works of time keeping excellence, do the benefits end here? Or do they also create visual excellence, that captures time past, exquisite furniture and decoration that add character to the room, foal points of interest and indeed topic.


Many cases can be revived with nothing more than a clean and wax, others can be brought back to life with little more, than a few light applications of the correct wood oil, transforming old tired, dried out cases, and bringing a vibrancy and freshness to enhance its visual appeal.
Then, there are cases whose original shellac, has dulled or worn through in places, or suffering from the all too familiar complaint of crazing.
Are these to be thrown on to the rubbish pile?
Crazed shellac, is treatable, with attention to detail and carefully executed, the top old layers can be removed, without disturbing the colour or patina of the case, and application of a few light coats, smoothes out the remaining crazing and restores the case to its former state.
Done in this fashion, originality of the wood colour is preserved, any thing on the outside surface of the old shellac, is nothing more than dirt and an accumulation of years of built up wax polish, which are also removed with cleaning and waxing.

At the end of the day, the choice lies with the individual, but to me, the visual aspects of the clock are every bit as important as the integral workings of said timepiece.
Restoration means we can enjoy objects of beauty to their full potential, for eternity.