I can blindly second on the quote that "a good laugh and a long sleep are the two best cures for anything."
We women are more cautious about getting a good sleep after a tiring day so as to maintain the radiance of our face. A dark circle is a scary thought we choose not to even dream of. In order to get a goodnight sleep, you need a cushy bed and soft fluffy pillows with a duvet in winters or a simple comforter in summers. Besides having the perfect bedding you also need a beautiful nightwear to sleep peacefully. A pure cotton nightgown with a robe would be beneficial to you if you as well.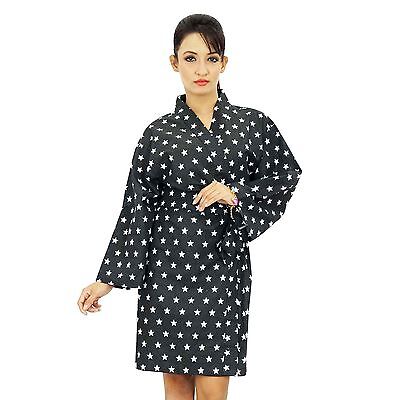 A soft and beautiful robe will be like a cherry to your wardrobe collection. The softness of the breathable fabric, cotton will make you want to slip into your robe especially because of the below mentioned benefits:
Cotton is a very comfortable fabric. The smoothness will not even let you feel anything against your skin. This will keep your skin rash free and soft. Therefore nothing can be better than a cotton fabric when it comes to night wears.
Since cotton is a naturally created fabric and has no synthetic elements in it, it is quite breathable. A cotton made robe gives a cooling effect on summers as cotton has the quality of absorbing moisture. This will regulate heat in your body. At the same time cotton keeps you cozy on winters.
Robes have generally been seen made up of exotic fabrics such as silk or satin but they need excessive maintenance and care from time to time. A cotton robe is stylish and can be hand washed or machine washed easily. The vibrant designs and shades will add style to your night dress.
If you are not into robes, try wrapping it once because you certainly are going to love yourself in one. Available in short as well as long length both, you can pick once cotton made robe for yourself. Reasonable rate and fashionable patterns, these robes will undoubtedly enchant you.