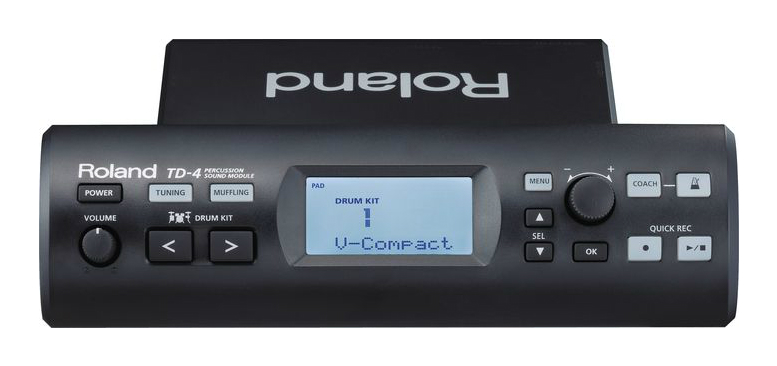 In addition to their extensive range of high quality musical instruments, the Japanese manufacturer Roland also produce a selection of sound modules. These sound modules, or tone generators, can be used in conjunction with synthesisers, drums, or sequencers to generate a huge variety of audio output. They add an extra dimension to what is possible creatively, and as a result they are seen as an essential piece of equipment for many musicians.
The Range of Roland Sound Modules
Roland produce both synthesiser sound modules and percussion sound modules. They vary in the technology involved and the sounds available to work with, but their use in terms of producing music is broadly the same. When buying a sound module, it is important to choose the correct one for the required task, and with Roland's range this is very easy to achieve.
Roland Synthesiser and Percussion Sound Modules
The standard range of Roland sound modules provide users with a range of different sounds to work with. Many different instruments, such as guitars, pianos, saxophones, and drums are accurately reproduced. This makes them ideal for buyers who prefer a wide variety of sounds for experimentation or composition. Roland percussion sound modules, on the other hand, are much more specific in their use. With their library of drum sounds, they are perfect for drummers, and while they can also be useful for other buyers, they are too limited in their scope for general use.
Roland Percussion Sound Modules
There are five percussion sound modules in the Roland range. The most basic in terms of technology is the TD-4, and as such this would be an ideal choice for inexperienced sound module users. The TD-9 and TD-11 offer slightly more features and better connectivity options. The TD-15 is a powerful drum sound module that provides a large number of on-board drum kits to work with, and the TD-30 is the top-of-the-line model that can be used to create a home recording studio.
Important Technology Found in Roland Percussion Sound Modules
The most important factor to consider when buying a Roland percussion sound module is the quantity and quality of the sound library available. The level of usability of a sound module is determined by the variety of drum sounds it has pre-loaded. It is important to check that important sounds such as snares, cymbals, and hi-hats are all represented. Some Roland percussion sound modules, such as the TD-30, feature behaviour modelling technology to ensure that digital and acoustic drum sounds are as accurately reproduced as possible.
Roland Percussion Sound Modules Optional Extras
Some Roland Percussion sound modules can be highly customised with the addition of optional extras. Foot-switches and additional pads, for example, can greatly increase the usability of a device. Kick triggers are another useful addition, and connecting a personal drum monitor can help to dramatically improve performances.
Roland Percussion Sound Modules for Beginners
Roland percussion sound modules can be extremely useful for novice drummers who are learning their craft. Some modules, such as the TD-15, have a dedicated Coach Mode for this purpose. Users can develop their skills using a set of exercises that includes warm ups, time checks, and a quiet count. Timing and rhythm can be significantly improved in this way. In addition, one-touch recording and the module's internal memory allows performances to be recorded and played back to identify and correct any errors.
Roland Synthesiser Sound Modules
There are six Roland synthesiser sound modules for buyers to choose from, each offering something different in terms of functionality. The MT-90U is a music player with limited sound generating capabilities, while the VP-7 is a dedicated vocal processor. The VK-8M is an organ sound processor that is perfect for pianists, and the BK-7m is a backing module with a large enough sound library to allow users to generate the sounds of an entire backing band. The SonicCell is a desktop sound module with an expandable library, and the INTEGRA-7 is a premium model with over 5000 pre-loaded sounds.
Roland Synthesiser Sound Module Libraries
As with percussion sound modules, when buying a synthesiser sound module one of the most important factors to consider is the sound library of the device. While most Roland modules feature their highly respected superNATURAL sound engine for extreme authenticity, the exact number of sounds available will vary between devices. The INTEGRA-7, for example, has over 5000 sounds to choose from, while the BK-7m has over 1000.
In addition to checking the quantity of sounds available, it is also important to be aware of the technology used in each module to improve the sound quality. Some Roland sound modules feature behaviour modelling technology to ensure that all sounds, whether it is a piano or a violin, sound completely authentic. The top-of-the-range INTEGRA-7 also has Motional Surround technology that allows the direction of sounds to be controlled, however this is only really useful for serious musicians who operate in a recording studio setting.
General users of sound modules will be more concerned with the polyphony capabilities of their device. This refers to how many different voices can be played at the same time, with a higher number representing greater versatility. Also, while most sound modules have 8 MIDI channels to work with, some newer models offer 16.
Roland Synthesiser Sound Module Connectivity
Sound modules need external controllers to make them fully operational, and the connectivity of each device is, therefore, extremely important. When buying a sound module, it is better for it to have USB and MIDI ports, as older models tend to only have the latter. A USB port allows connection to a computer for recording and editing music, and some Roland sound modules, such as the SonicCell, come bundled with software for just this purpose.
If a sound module has MIDI in and out ports, then it can be connected to any compatible instrument, such as a Roland keyboard. The MIDI and USB ports can also be used to connect external media players. Buyers should be aware of what musical file types are compatible with their device, with mp3, AIFF, and WAV being the most common.
Roland Synthesiser Sound Module Design
Roland sound modules vary in their looks and design, although they are all very light and compact. Some, such as the VK-8M, are desktop organs, while others are designed to be rack mounted. The front panel layout also varies, although most modules feature dedicated control buttons for one-touch functionality. This is an important consideration for any inexperienced sound module users, and it is also beneficial before making a purchase to check that a device has a suitably sized and well-lit LCD screen for displaying information.
Roland Synthesiser Sound Module Customisation Options
Additional equipment, such as keyboard or pedal controllers, can be bought for Roland sound modules to enhance their functionality. Another useful feature is that some modules, such as the SonicCell, have expansion slots for adding extra sound boards, thereby greatly increasing the number of sounds that are available for use. In terms of memory options, while modules such as the VK-8m allow sounds to be stored internally, others provide a USB port for the convenient saving of files to a memory stick.
Buying the Right Roland Sound Module
There is a Roland sound module to suit every musical need. For example, drummers can benefit greatly from the available range of percussion sound modules and accessories, and people who like to write songs, but are not comfortable singing, can use the VP-7 vocal processor to add vocals to their compositions.
Alternatively, people who love to sing can use the BK-7m for fun as a karaoke machine. Any Roland sound module that has a microphone jack and a Centre Cancel feature for cancelling the existing vocals in a music file can be used in this way. Using a Composition Video Out jack the sound module can be connected to a monitor to display the lyrics of songs.
Students of music are well catered for too, as they can use the Roland MT-90U sound processor to play back music to be analysed in great detail. Any pianists who are looking to buy a sound module would be best advised opting for the VK-8M, which was specifically devised as an organ module. It is obvious that the Roland range is suitable for a variety of different users, and being aware of all of the options will ensure that the right buying decision is made.
Finding Roland Sound Modules on eBay
The large number of Roland sound modules that can be bought on eBay can be found by selecting Musical Instruments in the category menu, then Pro Audio Equipment, then Synthesisers & Sound Modules. In the menu labelled Type on the left of the screen the box for Sound Module should be selected. Finally, clicking on Roland in the Brand menu will display all of the Roland sound modules listed for sale.
Conclusion
Roland's impressive selection of sound modules, including discontinued models, can be found on eBay at very affordable prices. Their brand name ensures their quality, and is an indication of the fact that they incorporate the latest technology. With the range on offer from Roland, professional musicians and hobbyists alike can find the perfect sound module to suit their needs.