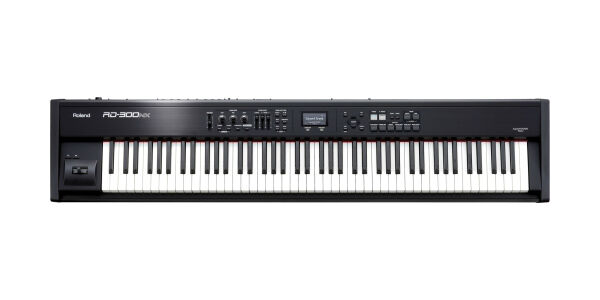 Since it was formed in 1972, Roland has been known as a manufacturer of high quality musical instruments and production equipment. They have a reputation in particular for innovation in the creation of synthesisers. Their products are typically very advanced technologically and offer a multitude of setting and options. It is important to be aware of the technology included in each instrument when making a buying decision.
Roland Synthesisers
Roland have produced many synthesisers over the years, with some now obsolete due to advancements in modern technology. Each current model offers something different in terms of looks and functionality. There are several important features to look for when buying a synthesiser, such as the number of sounds available, and Roland's range ensures that there is an instrument available to suit all requirements.
Roland Juno-Stage
The Juno-Stage is designed for live stage performances and features a 76 note keyboard, a microphone input for vocal performances, and a click output for drum accompaniments. The controls are set up to be easily accessed while performing, and favourite sounds can be stored and replayed using a single button.
In terms of connectivity options, the Juno-Stage has a USB port and dedicated software for integration with a computer. It is well equipped with 128 voices, but there is also an option to expand the sound set using two Roland SRX wave expansion boards. It should be noted that these boards have to be purchased separately.
Roland Juno-Gi
The Juno-Gi combines over 1300 sounds and 128 voices with an eight track digital recorder. It includes inputs for a guitar and microphone, meaning that it is an excellent piece of equipment for mixing and mastering original compositions, and there is a USB port and audio mixing software for use with a computer. Tracks can easily be imported and exported, and the on-board digital recorder is a useful feature.
The Juno-Gi is a lightweight synthesiser at just under 6 kg, and it can be powered using either eight AA batteries or mains electricity. It is designed to be portable while packing all of the features required in a modern synthesiser, and the features listed make it an excellent all-round piece of equipment for recording and producing music.
Roland Juno-Di
Available in black or white, the Juno-Di comes pre-loaded with over 1000 sounds, which compares very favourably with other synthesisers on the market. Its user-friendly interface makes it a good choice for beginners, and it can conveniently run on eight AA batteries. It has a USB port, a microphone input jack, and a built-in song player function that is compatible with several file types.
Buttons are helpfully categorised for easy access, and there is an option to save the sounds that are used most frequently. There is impressive functionality for modifying sounds as well as an option to connect the synthesiser to a computer to use the dedicated sound editing software that comes included.
Roland AX-Synth
The AX-Synth is an extremely stylish remote synthesiser that is held like a guitar. Its lightweight design and adjustable shoulder strap ensures that it can be carried and played comfortably, and it can be powered by eight AA batteries. The 49 tone keyboard works in combination with a range of modification controls to create incredible sounds. The AX-Synth is a good choice for people who like to look good as they play, and the synthesiser is available in either white or a black sparkle effect.
The AX-Synth's technological advancements include having 128 voices and 256 sounds pre-loaded on board. It is easy to simply pick up and play, but there are also a lot of impressive features to experiment with, such as a modulation bar and D-Beam. If extra sounds are required, more can be loaded from an external device, which is convenient while keeping the synthesiser affordable.
Roland AX-09
The AX-09 is another shoulder mounted synthesiser that is similar in design to the AX-Synth. As with that instrument, it is extremely light and can be powered by eight AA batteries or mains electricity. The keyboard is slightly smaller with only thirty-seven keys, but the AX-09 looks as stylish as the AX-Synth and is once again available in either white or black sparkle.
As with the AX-Synth, the AX-09 comes pre-loaded with a range of sounds. There are 128 voices and 150 tones, with the ability to add more using the external-in jack and USB port. Up to twelve individual sounds can be stored for instant recall at the touch of a button. In fact, the button layout in general is designed to be incredibly intuitive, meaning that potential buyers will master controls quickly. With features such as the modulation bar and D-Beam, this synthesiser is a good choice for professional musicians as well as people who just enjoy creating music.
Roland Jupiter-80 Version 2
Roland's Jupiter-80 is a feature-laden synthesiser upgraded with Version 2 software to provide even more functionality. One of the key improvements was to make it easier to link the synthesiser's output to a computer using SONAR software. Compositions can be easily stored and transferred using the built-in USB port, and sounds can also be immediately recalled using the registration play function on the large touchscreen. Additional filters have also been added to improve editing performance.
The Jupiter-80 is designed to be a live performance synthesiser. Its software is intended to maximise the versatility of the instrument and allows access to 256 polyphonic voices. The 76 note keyboard is complemented by a front panel with colour coded buttons and switches for ease of use when playing live. The user interface ensures that Roland's superNATURAL tones can be called up with ease, with a range of authentic acoustic instruments on board. Another important feature allows tones to be multi-layered, which can result in some truly innovative performances.
Roland Jupiter-50
The Jupiter-50 is essentially a portable version of the Jupiter-80. It has slightly fewer features, yet still includes much of the technology required to produce high quality sounds. It uses the same superNATURAL sound architecture, meaning that instruments are faithfully reproduced. The 76 note keyboard is once again included, as is the USB port and SONAR software integration. The front panel is not as well equipped as that of the Jupiter-80, and there is no colour touchscreen, but with such a huge array of sounds, effects, tones, and acoustic instruments to choose from, the Roland Jupiter-50 synthesiser is perfect for professional musicians, composers, and casual players.
Roland V-Synth GT
When Roland's V-Synth synthesiser was first released, it earned rave reviews and quickly became popular with musicians. The company has now built on this success with the V-Synth GT, which features even more technology and functionality. Once again, this has been a popular move, and the V-Synth GT has been used in recording sessions and live sets by such artists as Basement Jaxx and Faithless.
The power behind the V-Synth GT is a dual core analogue-modelling engine. This works in conjunction with Roland's innovative Elastic Audio Synthesis and Articulative Phrase Synthesis systems to allow musicians to be truly creative in producing new sounds. There are sixty-one keys to play, twenty-eight polyphonic voices, a vocal design, and arpeggiator for extra versatility.
There is a vast array of sound production and editing options to choose from. The technology present means that using the synthesiser can initially be daunting for beginners, but Roland have worked to combat this by making the instrument as user-friendly as possible. The front panel has been laid out for quick and easy access, with dedicated knobs and sliders and a colour touch screen. In addition, features such as Sound Shaper II ensure that new sounds can be made at the touch of a button.
Roland Gaia SH-01
Roland designed the SH-01 synthesiser to be easy to use and excellent value for money. Despite having the functionality to produce sixty-four separate polyphonic voices and layer five effects simultaneously, the control panel is very simple to navigate. Everything is powered by three virtual analogue engines working in unison.
The SH-01 is lightweight and can be powered by eight AA batteries, so it is conveniently portable. A battery life indicator ensures that batteries can be replaced as required. There are thirty-seven keys to play in addition to a full array of knobs and sliders for controlling such aspects as pitch, level, and resonance.
Some notably useful features include the arpeggiator and the phase recorder. The former will help to compose music based on any chord that is played, and the latter allows compositions to be recorded. They can then be conveniently transferred to a memory stick or computer using the synthesiser's USB port. There is also an external input to allow the connection of devices such as an mp3 player.
Finding Roland Synthesisers on eBay
Roland's range of synthesisers can be found at excellent prices on eBay. When searching for them, go to All Categories, and then the broad category of Musical Instruments should be clicked. Follow this with the subcategory of Pro Audio Equipment and then Synthesisers & Sound Modules. Ticking the box for Roland in the Brand menu on the left-hand side of the page will then display all of the Roland synthesisers for sale.
Conclusion
Roland synthesisers are technology driven, and yet they are designed to be simple to use. While it may take time to master all of the functions, the layout of the front panels means that sounds can easily be created from the moment a Roland synthesiser is switched on. Their versatility makes them ideal for performers of varying levels of experience, and they are extremely popular on eBay as a result.