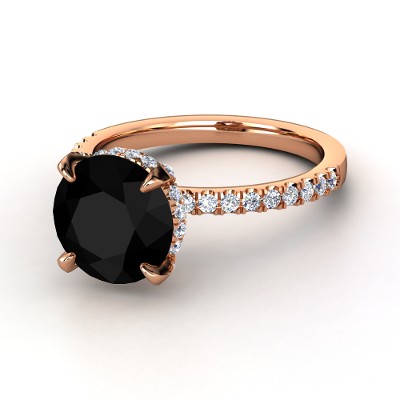 The colour of gold as found in nature is yellow and this is actually one of the few metals that have a different colour than white or grey in their natural state. When shopping for gold jewellery, however, one may notice other shades of gold, such as white or rose. These are not found as such in nature, but are actually alloys, obtained by combining pure yellow gold with other metals. Different combinations create different shades of gold and rose is a modern and popular choice for rings.
Appearance is not the only reason for which jewellers prefer to use alloys. Pure gold is in fact too soft to mould into durable pieces of jewellery and it needs to be strengthened by adding other metals into its composition. When shopping for a rose gold ring, buyers should learn some more details about the quality of the gold and ring styles in order to make an informed choice.
Rose Gold Properties
Rose gold is an alloy that consists of gold and copper, which gives it its characteristic shade. Some hues of rose gold are darker than others and this is related to the higher copper content of the gold alloy. In the majority of cases, rose gold contains a high ratio of gold to copper, but other metals can be added to the alloy as well, including zinc or silver. Copper is used in combination with gold not only for aesthetic purposes, but also because such an alloy is more durable and easier to transform into jewellery.
Rose gold is usually available in both 14 and 18 carats, with the 14 carats one featuring a deeper shade of rose. However, the most popular alloy for rose gold is 18 carats, which contains 75 per cent gold and 25 per cent copper. The more copper is added to the alloy, the deeper the shade of pink is. In many instances, 4 per cent silver and 21 per cent copper are added to the gold in order to obtain a particular type of red that is characteristic to 18 carat rose gold.
Rose Gold Rings Types
Finding the perfect rose gold ring for a proposal, wedding, gift, or simply a treat can be difficult because of the numerous styles available. In order to select the right type of rings for their needs, buyers should take into account both their preferences and budget when shopping for such jewellery items. One can choose to buy a rose gold ring with a simple style or go for a more sophisticated one that may include diamonds, gemstones, or different kinds of crystals.
Rose Gold Without Stone
Rose gold rings without a stone are some of the simplest styles one can opt for. These are ideal for everyday wear as well as to be offered as engagement rings if the budget does not allow for a diamond ring. The price of a rose gold ring without a stone can differ from one manufacturer to another and it is often established by the weight of the ring. Buyers can choose rose gold rings that are simple bands or go for most sophisticated models, depending on their preferences.
Diamond Rose Gold Rings
Diamond rose gold rings are an ideal option for those who are looking for a less traditional type of engagement ring. The selection of the diamond is very important in this case and in the majority of cases there are four criteria to take into account, hence the name of the 4Cs rule: cut, colour, carat, and clarity, which are reflected in the size, purity, weight, and colour. The brightness and the colour of the diamond are two of the less obvious criteria to consider, as buyers tend to look at the carat and weight when shopping for rose gold diamond rings. An informed buyer should take all aspects into account when browsing for the perfect diamond ring.
Gemstone Rose Gold Rings
Gemstone rose gold rings are very popular fashion accessories, but they have also become common for engagement rings as well. Some of the most frequently gemstones that are fitted in a rose gold setting are sapphires, rubies, and emeralds. Each of these gemstones can be cut in a different style and one should choose this according to their personal taste. Oval, pear, princess, marquise, and round are some of the most common types of stone cuts for rose gold gemstone rings.
Other Types of Rose Gold Rings
There are other types of rose gold rings one could opt for. For example, a rose gold ring with Swarovski crystals can be the perfect addition to an elegant evening outfit. Pearls are another option, but they are not a very suitable option for those who are interested in a rose gold engagement ring.
Buying a Rose Gold Ring in the Right Size
When shopping for rose gold rings online, one may get the sizes wrong if they are not paying attention to some simple rules. Having recent and accurate measurements of the finger is the ideal way to make sure the new ring is a perfect fit. The size of the finger can be easily obtained by either measuring the finger or measuring another ring with a ruler in order to purchase a new ring in the same size. A new ring should fit the finger comfortably and it should be loose enough to be taken off easily, but snug enough not to fall off. The chart below offers some helpful guidelines for choosing a rose gold ring that fits.
| Circumference (millimetres) | Diameter (millimetres) | UK Ring Size |
| --- | --- | --- |
| 44.2 | 14.1 | F |
| 45.5 | 14.5 | G |
| 46.8 | 14.9 | H |
| 48.0 | 15.3 | I |
| 48.7 | 15.5 | J |
| 50.0 | 15.9 | K |
| 51.2 | 16.3 | L |
| 52.5 | 16.7 | M |
| 53.8 | 17.1 | N |
| 55.1 | 17.5 | O |
| 56.3 | 17.9 | P |
| 57.6 | 18.3 | Q |
| 58.9 | 18.8 | R |
| 60.2 | 19.2 | S |
| 61.4 | 19.6 | T |
| 62.7 | 20.0 | U |
| 64.0 | 20.4 | V |
| 65.3 | 20.8 | W |
| 66.6 | 21.2 | X |
| 67.8 | 21.6 | Y |
| 68.5 | 21.8 | Z |
| 70.4 | 22.4 | Z+1 |
Buyers should also know that the size of the fingers may vary according to the weather and time of day. Therefore, they should take several measurements in order to be sure they are able to buy a rose gold ring in the right size. Even though many gold rings can be resized, it is better to get the right size from start in order to avoid unnecessary trips to the jeweller's.
How to Find a Rose Gold Ring on eBay
Besides choosing the right style for the ring, you should also take into account things such as size, material, and price. By choosing to shop for rose gold rings on eBay, you can find the exact type of ring you are looking for without hassle. The website features a wide selection of rose gold rings and the intuitive search system simplifies the quest of finding the right one.
In order to start browsing for a rose gold ring on eBay all you need to do it type the words 'rose gold ring' into eBay's search bar that can be found on each page of the website. If you already know the style you are interested in, you could try another search, for instance 'diamond rose gold ring'. After getting the results, you can choose to narrow them down even more by style, base material, size, price, location, and more.
Reading the product description for an item that you are interested in buying is essential when buying jewellery online. This way, you can avoid the hassle of having to send the item back because it does not fit properly or is not what you expected. Make sure you check out the reputation of the seller as well in order to make sure the transaction is smooth and you receive a high-quality piece of jewellery that can bring you joy for years.
Conclusion
Rose gold rings are special pieces of jewellery that are suitable for both casual and formal wear. Buyers who are looking for a less common piece of jewellery have a good option in rose gold rings. The colour of this alloy makes a ring look unique and may be the perfect choice for those who are not fans of yellow or white gold but want to purchase a gold ring. Buyers can choose from a wide palette of styles and sizes and they should remember to do a bit of research before purchasing such a piece of jewellery.
There are multiple places where one can buy rose gold rings, both on the high street and online. By choosing to shop for rose gold diamond rings on eBay, one can transform the search for the perfect ring into a pleasant shopping experience because of the impressive selection available on the website and the easy-to-use search system. Thus, regardless of the style of rose gold rings one is looking for, chances are they can find it on eBay.