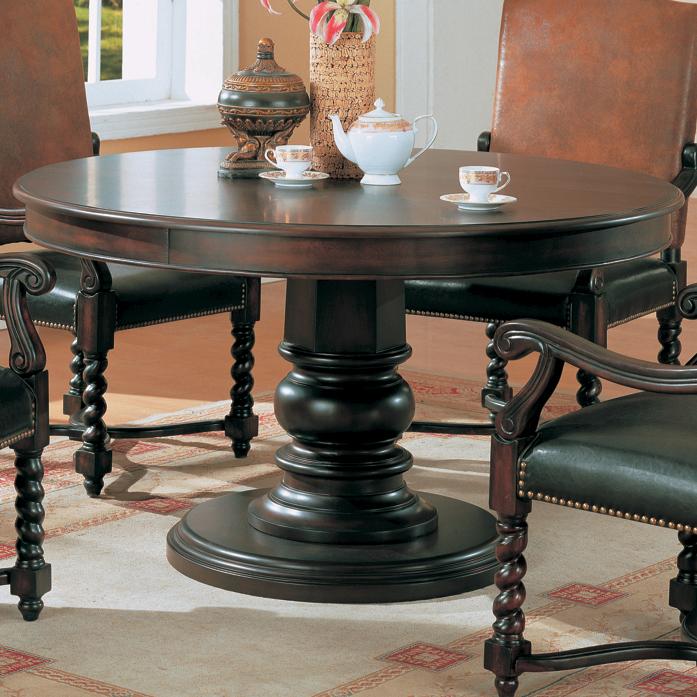 A round dining room table works in creating a feeling of togetherness and definitely encourages conversation all around the table. What works in its favour is the fact that people sitting can see each other without having to turn uncomfortably, although conversations across large tables can become loud. They can accommodate the largest number of people; however, when used in small spaces, can restrict overall movement in a room.
A wide variety of round dining room tables are now made available to buyers, and these range from traditional hardwood tables to tables made using laminates, wrought iron, and steel. Buyers have different types of wood to choose from if they wish to buy wooden dining room tables, and the choices do not stop there; they also have the option of buying these tables through furniture shops or online, through a website like eBay.
The abundance of choices can make the decision-making process a little daunting. It becomes important that buyers equip themselves with information about factors like size, style, materials, and how to actually go about buying a round dining room table.
Size of the Round Dining Room Table
Deciding on the size of a dining room table is among the most important factors and should be addressed very early in the buying process. A dining room table can be a part of a separate dining room, or a part of a kitchen or living room, and in any scenario, the space in question should be measured before the search for a table even begins.
Table Size vs. Room Size
The measurements should not only account for the table fitting in a given space; it is also important that the table does not look out of proportion. While buying a small round table for a large space is more a matter of personal choice and can be placed suitably, buying a table that ends up being too big for a given space can present the user with problems. Not only does the table look too big for the room, it restricts movement, and people could feel cramped.
One should look at leaving at least 90 to 100 cm of space between the edge of the table and the wall. This should allow for easy movement, and the chairs can be pulled out without restrictions as well.
Effect of Size
Buyers should think about the user experience they wish to create when their dining room tables are used. For example, a dining table with a 160 cm radius that is big enough to seat eight people may feel cramped if one tried to seat 10. If the same table is used for four to six people, it creates a spacious and luxurious feeling. On the other hand, if one is looking at creating a more intimate and casual environment, this lavishness with space can actually work as a barrier.
Big or Small Round Dining Room Table
Giving each person around 60 to 70 cm of space is looked upon as sufficient when it comes to round dining room tables. This takes into account that the space tapers off towards the centre of the table. The number of people for which the table is intended, therefore, have a bearing on whether one should look for a big dining table, a mid-sized table, or a small one. If one is looking for a table that can seat six people comfortably, anything less than a 130 cm diameter makes people feel cramped for space.
| Number of People | Table's Diameter (m) |
| --- | --- |
| Four | 0.9 to 1.2 |
| Four to Six | 1.3 to 1.5 |
| Six to Eight | 1.6 to 1.8 |
| Eight to Ten | 1.9 to 2.1 |
| Ten to Twelve | 2.2 to 2.4 |
What one needs to take into account is that while a round table that comes with a 1 metre diameter works well for four people, trying to squeeze five or six into the space could well result in clashing elbows during meal time.
The Height of a Round Dining Room Table
Although buyers find a number of alternatives when it comes to the diameter and design, their heights are fairly consistent and should be around 710 to 760 cm. A table this high offers ideal functionality, giving users enough room above the knees, while also ensuring that the tabletop is not too high for comfort when it comes to eating.
Expandable Round Dining Room Tables
There is a considerable demand for tables that can increase in size as and when required, and expandable round dining room tables have found a number of takers in the recent past. These tables are perfect for people who have space constraints but are looking at alternatives that can cater to more people from time to time. Expandable tables normally come with leaves that can be folded and expanded whenever the need arises.
Buyers have various options from which to choose even in this category of round dining room tables and most of these exemplify sheer ingenuity. The ones designed well ensure that the expansion pieces stay well hidden when not in use and opening them up does little to diminish their appeal. An example of an expandable round dining room table is a 1 m round table that seats four people, which can be converted to a 1.3 m table that seats six.
Round Dining Room Table Style
Round tables for dining rooms come in various styles and one should establish the kind of style one is looking for early in the process. Options when it comes to style include heavily carved legs, painted glass tops, steel-framed legs, gate leg tables, and Victorian pedestals. The style of the table's leg can actually have a bearing on the number of people it can seat, wherein pedestal bases are looked upon as better alternatives because they do not obstruct chairs in any manner.
Matching the room's existing style with the style of the new table is suggested and this is simply because of the aesthetic effect it has. Dark woods, like mahogany and cherry, are known to work well in formal settings, whereas as lighter alternatives, like pine, add a casual feel. When it comes to metals, aluminium and steel finishes lend to a casual environment, whereas darker metals are more suited for reserved gatherings.
Considering where the table is placed should have a bearing on the chosen style, wherein if the table is to be used in a corner within a living room, it should look as part of the room's overall scheme of things and not as a standalone unit.
Round dining room tables come in a variety of colours and finishes and some of the alternatives a buyer can expect include black, brown, cherry, espresso, natural, oak, walnut, and white.
Round Dining Room Table Materials
Different materials are used to make round dining room tables and these include woods like oak, pine, rubber, and teak; metals like steel, aluminium, and wrought iron; stones, like marble and granite; laminates; as well as glass.
When buying wooden dining room tables, opting for tables made from hardwoods, like oak, teak, mahogany, maple, and walnut is suggested over tables made using composite wood, like Medium Density Fibreboard (MDF), hardwood solids, and plywood. This is because although engineered wood can be durable, it really does not match up to the quality and durability of hardwood. Therefore, if one is looking at a long-term alternative, hardwood becomes the obvious choice. People looking at options beyond wood but still wanting durability can look at tables made using stones, like marble or galvanised metal.
Steering clear of dining room tables made using thick veneers is suggested, and this is because the veneer tends to lift away with the passing of time.
Outdoor Materials
If the dining room table is to be used in an outdoor space, like a patio or a deck, one should look at tables made using weather-resistant materials. Outdoor round dining tables made using metals, like powder coated steel, that are not prone to corrosion, work well in such instances and so do tables made using stone. When it comes to wood, something like teak is a good alternative, given that it can be looked after quite easily, and exposure to sun and the elements cause it to develop a beautiful patina.
Do-It-Yourself
Buyers looking for round dining room tables have the option to look for ones that require assembly. These orders come with all of the parts that are required to put the table together, along with relevant sets of instructions. What one should look out for in such cases are tables made using fibreboard. Fibreboard, made using pressed scraps of wood, are not very durable and definitely not meant for the long run. Also, while do-it-yourself kits come with all of the parts that are part of the table, buyers still need access to tools coupled with the basic know-how that the process requires.
Buying a Round Dining Room Table on eBay
There are scores of round dining room tables for sale through eBay and buyers have the ability to search through an array of design, material, colour, and finishing alternatives. Since there are different sellers on eBay, it is recommended that users carry out thorough searches, and this is because while one seller could be asking for a particular price, some other sellers could be selling the same table for a lower price.
Buying locally can help bring the cost down a bit, given that a dining table can be heavy, and therefore, can include high shipping costs. When buying through an eBay seller who is located locally, shipping costs can be lowered considerably and some sellers even give buyers the option to retrieve the purchase on their own.
eBay offers a search option on all of its pages, and this can be used to search for round dining tables.. Alternatively, users can also use the website's menu options.
Conclusion
At the end of the day, it pays to look at the benefits of quality over price, and one's individual taste needs to be duly addressed as well. While someone may opt for a metal table with a glass top, someone else may favour a teak wood dining table. No one is to say that one is better than the other, just as long as it blends with the space in question and does not present an eyesore to a room. It is important that it serves the basic purpose of seating people comfortably, which is something that should go without saying.
A good way to find out what to expect in terms of pricing, quality, and design is to carry out an extensive search, and the Internet is a great place to start. Knowing just what to look for when choosing the right type of round dining room table is sure to help, and finding a table within one's means should no longer be difficult, thanks to the huge variety on offer.