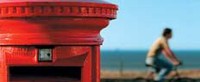 Royal Mail's Pricing in Proportion (PiP) initiative comes into effect on 21st August 2006, changing the criteria for pricing mail from weight alone to a combination of size, weight and volume. Here is some information from us to help you plan for the change.

PiP will be three categories:
1. A Letter is up to 165x240mm, up to 5mm thick, up to 100g. This includes DL and C5 envelopes.
2. A Large Letter is up to 250x353mm, 25 mm thick, up to 750g. This includes most C4 items.
3. A Packet is either longer than 353mm or wider than 250mm or thicker than 25mm or heavier than 750g.
Our main advice is "Don't Panic!" While this is a significant change, over 80% of mail will cost the same or less to send.
The main potential area of change is the price incentive to encourage users to move from C4 to C5/DL. There will be a 12p premium for sending a C4 (44p*) versus a C5 or DL (32p) and Royal Mail is suggesting letters are folded to save money.
As C4 envelopes represent a significant and valuable part of the envelope market, it is not in any of our interests to play up this part of PiP. For the average office sending out a few C4s a day, is the saving that can be made by folding documents really worth the damage to image and impact that this creates? There is likely to be inertia, with customers not 'bothering' to change mailing format, so let's not accelerate any change!
On a more positive note, there will be real savings to be made on heavier mailings. For example, mailing a C4 envelope with a 350 page A4 catalogue as a Large Letter weighing 520g will cost £1.31 instead of £2.15. This creates the opportunity to mail 165 customers with a catalogue for the same price as previously mailing 100!
Visit www.royalmail.com/pipsizeguide to obtain templates and for more general information visit www.royalmail.com/pip.
All rates quoted are for First Class
stamps from 21st August 2006.
My Envelopes and Packing Supplies:
All my Packing Supplies
Manilla Envelopes
White Envelopes
Board Back Envelopes

Summary.
Envelopes carry your company's image a well as your documents - it is important you choose the correct envelope. There are many different types of envelope to choose from, ensure you select an envelope that suits your requirements.
Use our guide to ensure your mail arrives safely and reflects your company's image.
Please show your support by buying my envelopes.
Here is a visual guide for envelope sizes too for you will need adobe acrobat to use it but I've put a link on for you too:
Paper & Envelopes Information