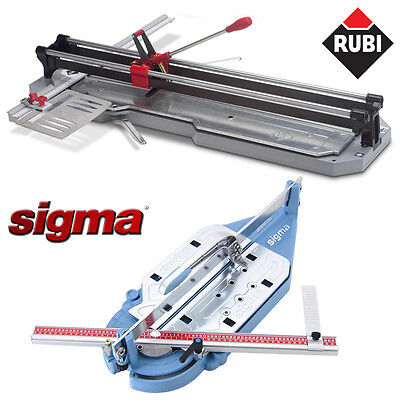 Top 10 Facts From Toolventure
With so many manual tile cutters on the market, we thought you might be interested in these top 10 facts about these popular tiling tools...
Snap and rail cutters are manual tile cutters that require you to place a tile directly on the machine and run a scoring wheel along the length of the tile. The machine then snaps apart the scored tile pieces.
Rubi Tile Cutters are operated by pushing a scribing wheel, by means of a long handle along twin chrome rails. Once scribed, the operator lifts the scribing wheel clear and uses the second lever to operate the breaking anvil.
Most Sigma Tile Cutters by contrast, operate by pulling the scribing handle towards you and then changing the position of the handle, to bring the integrated anvils into play. The anvil presses down and the sprung plates give way to reveal a central breaking bar, over which the tile snaps. (Sigma does also produce cutters that score by pushing the handle away from you).
Choose a rail cutter with chrome-plated steel rails if you want smooth cuts or choose titanium-coated wheels for more precise cuts.
Manual tile cutters are unpowered and can only cut a straight line, and that line will always have to extend all the way across the tile.
Use snap or rail tile cutters if you have tiles made from ceramic or any material that is weaker than stone tiles.
The first score matters: Always score the top surface of the tile with a forceful motion. But be careful- if you press too hard, you will break the tile. At most, you can score the tile a second time. But three or more scores usually result in a very ragged score that will not result in a clean break.
Cleaning the tile cutter with WD40 helps to prevent the build-up of dust.
Ceramic tiles are probably the easiest type of tile to work with.
A manual tile cutter may not work to cut a narrow strip of tile that's less than a half-inch wide.