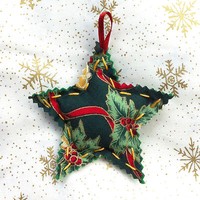 This little Christmas tree decoration is ever so quick and easy to make, and it looks really effective. I've seen ones almost identical to this for three or four pounds in the shops, but you can make it yourself in just a short time with a few scraps of leftover fabric. It makes a lovely handmade pre-Christmas gift, or with a little extra time you could create enough to populate your whole tree, all for mere pennies!
YOU WILL NEED:
Some scrap paper and scissors.

Two pieces of fabric, about 10cm (4 inches) square, depending on how big you want the finished decoration to be
A bit of ribbon (I collect those annoying loops of thin ribbon from inside clothes that are supposed to help you hang them up for just this purpose!)

Stuffing (you only need a bit, anything will do - some old fabric cut into small pieces is perfect)

Any extras you would like to use to customise your decoration - beads, ribbon, rickrack, sequins, little bells…
METHOD:
Draw a star shape on your scrap paper, the size that you would like the finished decoration to be. It doesn't matter if it's a bit wonky, but if your freehand drawing skills are lacking just type "star outline" into Google Images and you'll have hundreds of examples to print and cut out!

Use your paper template to cut out two fabric stars. In the example pictured I used one piece of patterned fabric and one piece of plain felt. Choose your fabrics based on your decorative colour scheme! Pinking shears give a particularly pretty effect to the edges.

Arrange the fabric right-way-out and start to sew around the outside, just in from the edge, with a running stitch. Embroidery thread looks good for this purpose because it's nice and chunky, you could also use regular thread, or wool.

Cut a short piece of ribbon, fold it in half and tie a knot at the open end to create a loop. By tucking the knot into the decoration then sewing over the top of it you can trap the knot inside, creating loop for hanging. If you don't have any ribbon you could just create a loop with the thread you've used to sew around the outside.

When you're almost back to the start of your sewing, put a bit of stuffing inside the decoration to pad it out a bit, then finish sewing around the outside. You should be able to finish off by creating a knot between the two pieces of fabric and pushing the loose thread inside out of view.
The great thing about this easy design is that starting with this basic template you can make the decoration as simple or as ornate as you like, and once you've mastered the star design you can expand your repertoire to other shapes like hearts or bells. Why not spray your decorations with a christmassy scent and let the seasonal fragrance fill you home? And if you're looking for another simple craft project after the festive season, a floral print version filled with dried lavender or pot purri hung on your coat hangers will give your clothes a lovely fresh fragrance.
For more unique crafty ideas, click here to visit my About Me page.
Merry Christmas and happy sewing from Ruth at cushtycrafts!