I no longer sell on e-bay. If you use a search engine you should find my website 'sacks-n-stories' for all the sacks I currently sell.
People seem to understand the concept of Story Sacks when the sack revolves around a familiar story.I don't think themed fabric bags are being optimized as a teaching resource in all area's of early years basic provision.They can be much more flexible and allow the sack to be filled gradually and led by childrens learning as a theme develops.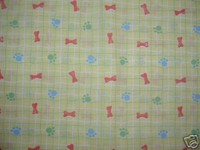 Here is a diary of how I have been using and filling my paw print fabric themed sack (sorry now sold out but other sacks are available on my website) during our current topic on animals.The focus for 2 weeks is pets and our role play area is a vets.
Last Thursday I announced that I was going to go to the RSPCA to get an abandoned puppy for nursery (obviously it wouldn't be fair to have a real puppy but we wouldn't tell our puppy in case he was upset to know he was a toy dog).We read at carpet time the QED book PUPPY which has great photographs and a section on 'A shopping list for a new puppy'.I scribed the children's ideas into a list and showed them the empty sack in which to keep the items.The children were bursting with ideas and we even got around to a list of possible names depending on his colour or pattern.We also discussed how we would have to treat him kindly as he could be frightened and how we would care for him-great PSHE.
Friday-We changed our small world table to be the puppy corner and looked at the items I had bought-basket, blanket, 2 bowls (because the book had said!) a tug and pull toy, collar, lead and all was ready...

Monday morning-On the table was a cardboard box when the children arrived.They quietly!! but excitedly gathered around the box.Inside was our pet (a life sized soft toy non threatening dog purchased at a carboot for £1 on the Sunday morning!)He was quickly named Sandy and he spent the day meeting the children and exploring the nursery.
Over the week he's been taken to the vets.He's had his injections and been sick on the carpet! So I have added to the sack as the week has gone on-a non fiction book on a vet and when we had read it Hairy MacClary Rumpus at the Vets (planned).With a flick of his lead Snady can be made to roll over for his tummy tickling.He's even had his ball thrown to 'fetch' so I added a small photograpic book on dogs and training.I find it better to slowly add the resources to the sack.It can overwelm the learning intentions to present children with a filled to bursting sack at the beginning of the activity.

Tomorrow we are having a Pet Show and the children are all bringing a suitable toy pet to 'talk about' at group time and each child will be making a certificate for their pet and of course meeting Sandy.
On Friday Sandy will be missing.One thing I didn't get was a disc for his collar.We are going to make lost posters and then a member of staff from main school is going to return Sandy mid session having 'found' him wandering without a disc.We will then make a disc adding the details he needs and laminate it.At carpet time we will review the week and
"Maybe it would be nice to have a cat too...?"
I have already started gathering my cat sack in preparation.

Sorry the blue cat fabric is now sold out but an alterative cat fabric is available as shown
At the end of the topic the sack with all the items will hang in the role play area although I think this will become an outside sack once the weather improves.I think Sandy and his sack will be a great addition to our outside play.Throwing a stick anyone?
Update-Sandy and Murphy the cat were a great addition to our outside play over the summer.They joined 'Baby' 'Picnic' 'Emergancy' 'Builders' and 'Pirate' outdoor sacks Both were frequently requested even when not out.Lucky Sandy is fully washable as he got rather grubby!! I will certainly be repeating the experience in the future and have ideas for further sacks.
I sell a range of themed fabric sacks suitable for a variety of topics-animals, princess, elephants,transport which can be used a similiar ways.Search for me on the web.

If you have read this guide please vote