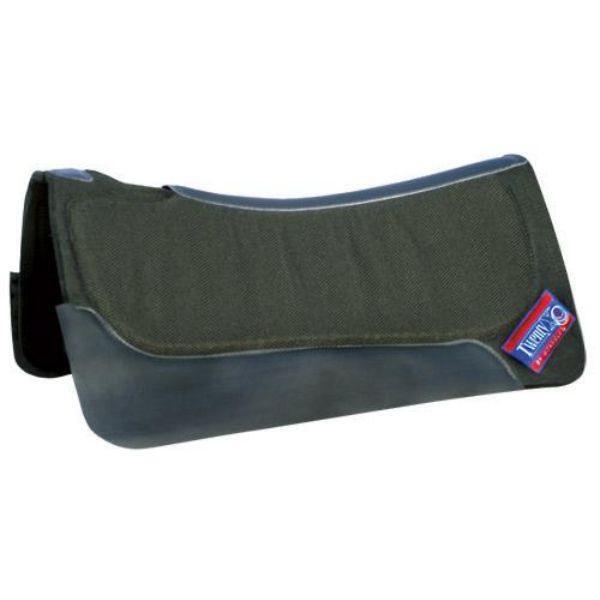 Saddle pads exist to improve the horse or pony's comfort, guarding its back from pressure points where the saddle makes contact and providing sweat absorption on long treks or during show events. Saddle pads can improve the fit of a saddle but many riders and horse-owners only condone the short-term, temporary use of pads to this end, since a well-fitting saddle is vital to the health and comfort of a riding horse.
The saddle pad is placed under the saddle, and occasionally above a saddlecloth as well. There are a number of important variables to consider when purchasing a saddle pad on eBay, including:
The shape of the horse's back and withers.
Whether the pad is to be used with a Western saddle or an English saddle.
The size and shape of the saddle.
This guide is intended as a detailed introduction to the different styles of saddle pad that are available on eBay, covering important issues including shape, size, material and performance benefits.
The Differences between Saddle Pads and Saddle Blankets
Not to be confused with saddlecloths or saddle blankets, saddle pads – which are also known as numnahs in the English style of riding, are much thicker and have considerably more performance benefits. They are constructed from layers of material that are intended to complement the contours of the horse and saddle they have been bought or occasionally, custom-made, for. On the other hand, saddle blankets are simply thin cotton or woollen cloths placed next to the horse's skin primarily for the purpose of warming the horse. However, blankets are more commonly used with Western saddles.
These pads and blankets can be purchased at saddle shops, tack shops, and equestrian retailers; but can also often be sourced online eBay.
Types and Designs of Saddle Pad
There are a number of different types and styles of saddle pad available to the equestrian.
Built-up or Riser Pads
Riser pads are designed for horses with high withers as it is "built upward" with thicker, firmer padding across the withers, raising the saddle up off the withers.
Contour Pads
The contour pad balances out the added pressure placed on a horse's back from the saddle, usually when it has particularly prominent withers or a sway back (which describes a dipped back).
Cutout Pads
Cutout pads, like contour pads, are also particularly suitable for horses with high or prominent withers. However, these pads differ in that, at the top of the pad, the material is cut out, to relieve pressure on the area.
Round Pads
Also known as a contest saddle pad, these are rounded pads with a curved back edge that suit horses with short backs.
Swayback Pads
Swayback pads have a thicker padding in the centre of the pad, and like contoured pads are designed especially for horses with deep backs or dips in their backs.
The Correct Size of a Saddle Pad
Besides choosing the correct style of saddle pad, size is an important factor when purchasing pads on eBay.
An appropriate saddle pad must be large enough for the horse and saddle in question. As a general rule, there should be at least an inch of padding allowance around the edges of the saddle, but the pad should never rub against the horse's withers.
Western Saddle Pad
Sizing the Pad to the Horse
In the case of Western riding, this is largely an aesthetic decision. A long western saddle pad will not suit a short-backed horse, and vice versa.
| | |
| --- | --- |
| Short backed horse | 30 inch-long pad |
| Medium-length backed horse | 32-36 inches |
| Long backed horse | 38 inches |
Sizing the Pad to the Saddle
Make sure that the pad will be longer across the back than the saddle. If not, it will get caught beneath the saddle which will become uncomfortable for the horse.
| | |
| --- | --- |
| Small Western saddles such as Barrel saddles | 30 - 34 inch long pads |
| Larger Western saddles, such as Roping saddle or Cutting saddle | 36 - 38 inch long pads |
English Saddle Pads
English style saddle pads have slightly different guidelines for fitting than Western pads. Primarily, when buying numnahs on eBay, consider the size and shape of the saddle. The height of the horse is of little or no relevance, but the width of its back will have a bearing on the size. Numnahs are usually made in three different sizes.
| | |
| --- | --- |
| Pony size | 15 inches (from front to back) |
| Cob size | 15.5 – 16.5 inches |
| Full size or Horse size | 17 inches and over |
Because numnahs follow the outline of the saddle, when buying online pay attention to whether the flaps of the numnah are cut forward or straight, otherwise it will not match the saddle.
When positioning the pad underneath the saddle, it should be set properly such that the seams do not chafe or scratch the horse. Similarly, material should always be taken into consideration.
Common Materials Used in Saddle Pad Construction
The materials most often used in saddle pads include sheepskin, synthetic fleece, felt, gel, foam, and neoprene. Each material offers different performance benefits, and all are available on eBay.
Sheepskin
Sheepskin fleece is the traditional material used for making numnahs and there are many sheepskin pads available on eBay. This material has a number of virtues and few drawbacks.
Sheepskin is durable and comfortable, partly due to its thickness.
The attractive appearance of sheepskin, which comes in a variety of colours but most often in black, brown and cream, makes them popular with riders who enjoy attending shows.
The fibres of a sheepskin create a dense yet aerated material that allows the horse's back to breathe while simultaneously soaking up sweat. Wool can absorb three times its weight in water without feeling damp to the touch, which makes it a popular choice for riders who hack or trek or compete in three-day events.
Sheepskin is relatively difficult to clean and maintain and becomes matted more easily than synthetic fleeces.
Synthetic Fleece
This is the updated take on original sheepskin and is often used on the bottom side of saddle pads.
Synthetic fleece serves as a liner that provides insulation and friction to prevent slipping, as well as cushioned comfort.
Synthetic fleeces have the benefit of being more affordable and easier to clean than sheepskin.
However, they can also become flat faster and will need to be replaced more often than natural-fibre pads.
Felt
Frequently used in Western saddle pad designs, felt is compressed wool.
Felt saddle pads are efficient at wicking, or drawing, moisture away from the horse's skin while keeping the horse warm.
Felt provides effective shock absorption.
Felt pads are usually about ¾ to 1 inch thick.
Foam
A highly effective shock-absorbing material, foam pads are most often 'closed-cell foam'.
Closed-cell foam pads are thick, dense and imitate memory foam in their ability to contour to the shape of the horse's back and the underside of the saddle.
A nylon mesh around the foam allows air to circulate.
Foam lacks the wicking abilities of felt and sheepskin.
Gel Saddle Pads
Gel saddle pads are often used on injury-prone horses or animals that are prone to tenderness along the back.
Effectively disperses shock and restores rapidly to its original shape.
Available as a pad or as inserts to be placed inside pads made from other materials to provide targeted protection from pressure points.
Neoprene
A rubber material with a waffle-like base that allows the horse's skin to breathe.
Neoprene is waterproof. This means that pads made from the material protect the horse's back from rain.
Neoprene saddle pads are easy to care for.
The natural 'stickiness' of neoprene helps to prevent saddle slippage.
How to Buy Saddle Pads on eBay
When buying a saddle pad on eBay, ask the seller to help to judge whether a saddle pad or numnah is the right size for the saddle and the horse, by requesting them to take as many measurements as possible if they haven't already provided all the relevant ones.
To search for saddle pads, type into the search box 'saddle pads'. Some buyers have a good idea of the type of product they want to buy, such as 'sheepskin numnah 17" Using the search feature will help you find exactly what you want.
When searching through listings, carefully review all the data. Make sure the item matches what you had in mind. Look over the photographs a couple times. Feel free to Ask the Seller a question if you want additional details. Visit the Buying Tips page for more information.
Once you're ready to buy, either place a Bid, Buy it Now, or put down your Best Offer. Buying with PayPalwill ensure the transaction will go smoothly. eBay users are protected by the BuyerProtection Program.
Conclusion
There is a wide array of different saddle pads available to buy on eBay, all offering various performance benefits. However, making a choice should not be too difficult if the buyer takes into account the style and size of the saddle, the shape of the horse's back and the look and feel that appeals most to them.