Ladders are dangerous! However ladders are a necessary tool for lots of different jobs. When using a ladder you must make sure that it is in good order and stabilised. There are now regulations in force governing the use of ladders and these must be followed.
The good news is that there are lots of products on the market to stop you falling from your ladder. Some of the products available include:
The Ankalad Ladder Stabiliser provides ultimate stability and even allows the ladder to be used freestanding!
The Ankalad Ladder Leveller is a must for all ladders. Quickly and easily ensure that your ladder is upright and stable.
The Ladder Staging System is a cost effective solution where a working platform is required for short durations.
The LSD Ladder Stand Off has wheels and a 'V' notch to allow use on corners and over downpipes.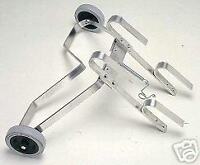 The LadderMax Stand Off provides unrivalled stability with the added bonus of a useful work tray.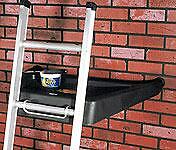 The Rojak Stopper helps to prevent "bottom slip" which causes ladders to slide down walls.
Please visit the Active Mail Order shop to see the full range