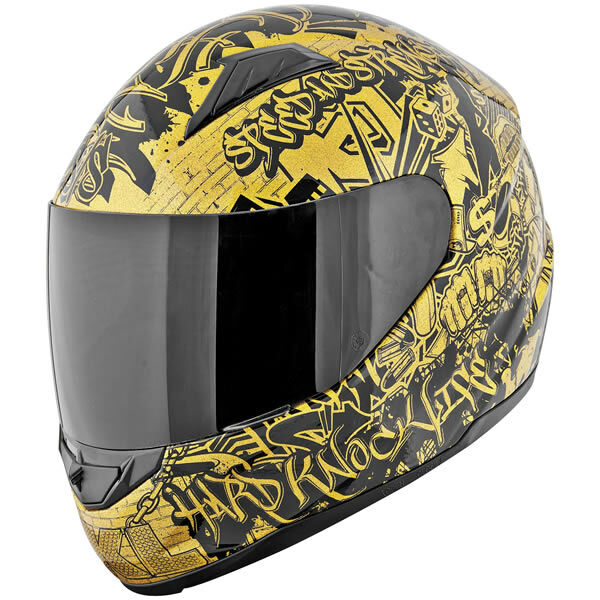 Motorcyclists are at-risk for severe injury, or possibly even death during a crash. Unlike car passengers that are protected inside their automobile by safety restraints and a metal frame, there is nothing to stop a motorcyclist from flying through the air in the case of an accident. While most motorcyclists hope they never happen to be in a crash, it is always better to be safe than sorry. Wearing a motorcycle helmet is the most valuable thing a rider can do to ensure their own safety.
Those who wear helmets have fewer crashes and suffer less injury. This statistic even varies among different types of helmets; full coverage helmets that offer the most facial protection also give the greatest protection against brain damage. Helmets are sold in motorcycle shops and through websites like eBay. When purchasing a helmet, buyers need to weigh safety and style features to find a model that they can comfortably wear while riding their bike.
Safety Features
Choosing a helmet based on safety can seem like a staggering task at times. Helmets are measured for safety based on how much protection they offer to the rider. A motorcycle helmet offers far more protection than a bicycle helmet because it has to protect the rider from greater impacts at higher speeds. Size and heaviness do not guarantee that one helmet is safer than the other, therefore it is important to note the options.
UK Safety Standards
All helmets sold and used in the UK must meet the UNECE 22.05, the European safety standard. In addition, UK helmets must the British Standard 6658 for optimal safety. These helmets carry the BSI Kitemark, so buyers know if they purchase one that they are complying with regulations.Since all helmets carry the BSI Kitemark, choosing an exceptionally safe option can get a little confusing.
There are two ways to rate safe helmets. The Safety Helmet Assessment and Rating Programme (SHARP) rates helmets based on a star-system. The safest helmets have five stars, while helmets that do not live up to their standards only have one. Furthermore, the Auto-Cycle Union has its own gold standard for helmets that goes above and beyond the UNECE 22.05 minimum. These helmets come with a gold sticker and are the only ones able to be worn during motorcycle competition.
Choosing the Correct Size
If a helmet does not fit correctly, then it is basically useless. Always try on a helmet in the store before making a purchase to gauge the fit. Buyers who want to avoid high retail prices can then go home and shop for that particular helmet on eBay. Remember that sizes vary across different brands, so an Acai medium helmet is not going to fit the same way as a Shoei medium. First, the helmet should fit without putting any pressure points on the crown of the head. Helmets come in different shapes to fit the unique contours of the human head. Those with very round heads should chose a round helmet, while those with narrower heads can opt for long oval or intermediate oval helmets.
Checking the Fit
The helmet should not move when the wearer shakes their head up and down or side to side. Full-faced helmets need to also fit snugly around the cheeks and jaw. The chinstrap should help keep the helmet on without causing the rider to feel uncomfortable. Loose helmets are usually caused by an improper fit, or by riders that do not tighten their chin strap securely.
Measuring for the Proper Helmet Fit
Ensure the right fit by measuring the widest part of the head. This is the area located only a few centimetres above the eyebrow. The tape measure should then go in a straight line all the way to the back of head. This produces a head measure that can be used to find accurate helmet sizes.
| | | | | | |
| --- | --- | --- | --- | --- | --- |
| Helmet Size | XS | S | M | L | XL |
| Head Size (cm) | 53-54 | 55-56 | 57-58 | 59-60 | 61-62 |
These are only the general sizes. Many brands use different measurements, so keep this in mind when purchasing helmets.
Style Features
Contrary to popular belief, style is not separate from safety. In fact, some of the safest helmets are also some of the most comfortable options. It is true that these helmets come at a premium price, but dedicated motorcycle riders who have to wear a helmet on long trips feel it is worth it. Learn how the different helmet styles coexist with safety and comfort.
Helmet Types
There are three types of helmets: full coverage, open face and shorty. Some wearers may prefer one style over the other based on how they ride their bike. Those who go on long trips, and want avoid getting bugs in the face at high speeds, typically opt for full-coverage. On the other hand, those who prefer classic helmets opt for the half helmet.
Full Coverage
Full coverage, or full face helmets, cover the rider's head entirely. Those models with face shields also protect the face as well. A chin bar extends in front of the face and underneath the chin for greater stability, it also helps protect the jaw during crashes. While these are typically the heaviest helmets, they are far from uncomfortable. In fact, touring motorcyclists prefer full coverage helmets because they keep out the wind, rain, and bugs. They also lead to fewer distractions, and are some of the safest helmets on the market.
Open Face
Open face helmets lack the chin bar and face shield of full-coverage helmets. They still protect the crown of the head, but come without jaw and facial protection. Open face helmets stay on the head through a chin strap, so buying a model with a comfortable one is essential. Buyers often choose this type of helmet for shorter motorcycle rides.
Shorty
The shorty, or half helmet, sometimes gets confused with the open-face design. As its name suggests, the shorty is shorter than the open face helmet. It protects the crown of the head, but stops right above the ears. Open-face helmets usually extend down a little further to offer some cheek protection. They also use a chin strap to keep the helmet securely on the head. As long as the shorty has the BSI Kitemark, it can be worn in the UK, but keep in mind that this type of helmet offers minimal protection. It is typically chosen for stylistic reasons by those who prefer a more classic biker look.
Ventilation
Venting features are primarily made for comfort. They usually only come on full coverage helmets since they are there to keep the face shield from fogging. Vents also provide additional air to the helmet which is a great benefit during summertime bike rides.
However, vents do have some problems. Since they stick out slightly from the helmet, they can get easily damaged if the helmet is dropped. Furthermore, they also tend to increase wind noise inside the helmet. The best bet is to try riding a bike with a vented helmet and then try again with an unvented one to see which style is preferable.
Colour
One of the main style considerations is the colour of the helmet. It also greatly affects the price since those models with premium graphics typically come at a higher cost. Dealers in a motorcycle shop may try and force the most expensive helmet on the buyer, but do not fall for it. eBay often offers the same helmet in limited graphic design at a much cheaper price.
The colour itself is also important for safety. Many riders prefer a black helmet for stylistic reasons, but dark colours do not help the rider to stand out against the road. Choosing a bright orange or yellow helmet draws more attention to the rider. While the helmet itself cannot prevent motorcycle riders from being cut off in traffic, it does help car drivers see the rider coming down the street.
Buying Motorcycle Helmets on eBay
When it comes to getting the best price for a motorcycle helmet, eBay has you covered. All of the best models are sold through eBay, and you can get fantastic deals on used helmets. However, do not buy a used helmet that was in a crash, even if it looks undamaged. Crashes can ruin a helmet internally, and while it may still look sharp on the outside, it provides almost no protection from a safety standpoint.
Finding Motorcycle Helmets on eBay
If you do not already know the name and type of helmet you want, eBay allows you to do a broad search by typing 'motorcycle helmet' into the search engine. From here, you can start searching for different features. If you want a full face helmet, then search for 'full face helmet' to limit the results to only those helmets with full coverage protection. More specifically, if you need a helmet certified for motocross, then search for 'motocross helmets'. You can even search by helmet size, brand name, and gender to truly find the perfect listing that matches all of your needs.
Conclusion
Safety and style do not have to be exclusive when it comes to motorcycle helmets. Some of the safest helmets on the market come in the some of the most unique styles and designs. The best way to gauge the correct helmet is to find one that meets the buyer's needs. For starters, all helmets in the UK with the BSI Kitemark are safety certified, but those riders who participate in competitions may want to buy models with the ACU Gold standard.
Helmet style also impacts safety, with the most protection offered by full face models. However, open face and half helmets are also certified for safety and buyers who drive a scooter, or prefer a classic biker look, may want to wear them instead. Colour impacts both the price and safety on helmets. Browse through the many listings on eBay to find a stylish helmet that offers the best safety protection money can buy.