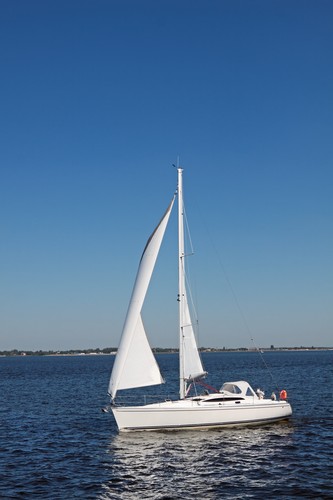 Sailing is an exhilarating activity, and for many people, dinghy sailing is an amateur or professional activity. Although sailing dinghies are small and cannot hold many people, they are the right kind of boat for those who like to be close to the water while sailing. Usually being able to accommodate only up to three people, a sailing dinghy can be a very good investment for those who feel that a bigger sailboat is over their budget.
Buying a sailing dinghy can be confusing and intimidating to those new to the sport. But when buyers know the types of sailing dinghies available on the market and what to look for in a dinghy, it should be easy to choose the right dinghy for them. Some things buyers must consider when buying a sailing dinghy are the budget, the location where they plan to sail, and the type of dinghy that they want.
Types of Sailing Dinghies
There are many types of sailing dinghies that consumers can buy, and they should consider a few factors before deciding on a type of dinghy. Some common types of sailing dinghies are the skiff, catamaran, cruising dinghy, and racing dinghy. Each type of dinghy is suited for different sailing styles and thus it is quite specific in its function. With so many kinds of dinghies available, buyers can definitely find a suitable dinghy whether they like to sail for leisure with friends and family, or prefer high speed sailing.
Type of Dinghy

Description

Skiff

Probably the fastest dinghy

Has a flat and narrow hull, and a big sail to catch the wind

Catamaran

Has two joined hulls and a tall mast

Can sail very fast

Cruising dinghy

Slower and more stable than other dinghies

Has a chined hull, smaller sail, and bigger water displacement than other dinghies

Suitable for leisure sailing, but can be exciting as well

Racing dinghy

Suitable for professional races

Light and very fast

May have features needed for intense sailing, such as racks for trapezing

Development class or open class

Does not have a fixed structure or layout

Most have experimental designs that result in various innovations
Since there are many types of sailing dinghies that buyers can choose from, they must first decide what they need a dinghy for. If one only wants to sail for leisure instead of racing, it is a good idea to get a cruising dinghy such as the Wayfarer. On the other hand, one who likes to sail at high speed and join occasional races at a sailing club can get a Laser sailing dinghy.
Choosing a Sailing Dinghy
The first thing that one must decide before choosing a sailing dinghy is how many people are going to use it, and for what purpose. Some dinghies can only hold one person, while others can hold more than two. Two-handed dinghies enable two people to sail them and can be difficult for only one person to handle. For those who prefer to go sailing on their own, single-handed dinghies are a good choice. Besides considering the number of people using the dinghy, there are other important factors including one's budget and the location for sailing.
Sailing Location
To find the best places for sailing, one can join a sailing club. These clubs can be found at various places such as near lakes, rivers, water reservoirs, and by the sea. Those new to dinghy sailing should find a sailing club in their area since many clubs offer training, and it is a good way to learn of some interesting sailing locations. Some clubs only use certain sailing dinghies, so finding out this piece of information is useful when buying a dinghy.
Sailing Dinghy Size
Choosing the right dinghy size does not only mean choosing a single-hander or multiple crew sailing dinghy, but also considering its dimensions. Small single-handed dinghies can usually be transported on one's car, but bigger ones need to be transported on a trailer. Those who plan to get a big dinghy can find out if their sailing club has the facility to store their dinghy for them, or look for another place to store it.
Other Factors
One important factor to consider when buying a sailing dinghy is the budget. For new users, it is better to get an entry-level dinghy that does not cost a lot. After all, one is bound to make some mistakes when learning how to sail and maybe damage the dinghy. It is also a good idea for new users to use a second hand dinghy while learning to sail. Another consideration to make is the material of the sailing dinghy. Wooden dinghies often require a lot of maintenance to keep the wood in good shape, whereas sailing dinghies made of fibreglass require much less maintenance.
Checking the Condition of a Sailing Dinghy
Whether one is buying a new or used sailing dinghy, it is always important to first check the condition of the dinghy and all of its parts. Some important parts to inspect are the sail, hull, ropes, and fittings. Since a sailing dinghy is exposed to harsh conditions, all of its components should be in good condition for it to function well on water.
The Sail
The sail of a new sailing dinghy should not have any wear and tear. It should also still be stiff and have a good shape. A sail that is soft and has lost its shape can be harder to adjust when sailing. Those who plan to race with their dinghy should also make sure that the sail is approved for racing. Even when buying a used sailing dinghy, one should make sure that the sail is in good condition and is not torn or has any patches.
The Hull
Next, buyers must inspect the hull of the dinghy. Brand new dinghies should not have any scratches on the hull. However, most of these scratches are only on the surface and do not affect the actual hull structure. Sailing dinghies and other boats usually have a gel layer on the hull, which protects the materials underneath. Therefore, it is important to make sure that this layer is not compromised. Sailing dinghies of different prices usually are of different qualities. A cheaper one may have a softer hull, whereas a more pricey dinghy may be stiffer and hardwearing. Those who plan to use their sailing dinghies often and in races should get one with a stiff and strong hull.
Ropes and Fittings
Buyers should also check the ropes and fittings on the dinghy. One should make sure that all the necessary ropes are included with the dinghy and they are in good condition, meaning that they are not frayed or damaged. Common fittings that should be on the sailing dinghy are pulleys, eyelets, bailer, toe-rail, and so on. Buyers must make sure that they are all there and are in good working condition, as each component is important for the dinghy to function properly. Lastly, it is important to check that everything on the dinghy fits together and works. One should also know which part goes where and how to put all of them together.
How to Buy a Sailing Dinghy on eBay
You can find a sailing dinghy on eBay just by typing in suitable keywords into the search bar on the eBay home page, and you can use keywords such as 'sailing dinghy' or 'fiberglass' dinghy. When looking through the list of available sailing dinghies, you can also use the category filters on eBay to further refine your search. Make sure you read the name of the dinghy and its price before selecting it.
After selecting the dinghy that you want, you are directed to the product page where there is even more information on the sailing dinghy. Sellers often upload a few images of their products, so make sure you look at the provided images to assess the condition of the dinghy. You should also read all other information on the page such as the specifications of the dinghy, its condition, and so on. You can also contact the seller, so make sure you do that if you have any questions about the dinghy. If you are satisfied with everything about the item, you can then purchase it.
Conclusion
Sailing is a fun pastime and a sport, and has gained popularity over the years since it is no longer an expensive and dangerous activity. Before consumers buy a sailing dinghy, they should know the different types of dinghies available. The most common types of dinghies are the skiff, cruising dinghy, racing dinghy, and catamaran. Each type of dinghy is built differently, and is suited for different sailing styles. A cruising dinghy does not have the speed of a racing dinghy, but is more stable, making it suitable for leisure sailing with the family.
Users must also consider their budget before buying a dinghy, and buy one that is of a suitable size. If they are only planning to sail alone most of the time, there is no point in buying a big dinghy. To ensure that the dinghy is in good condition when buying it, it is also necessary to check all of its components including the hull, sail, ropes, and fittings. Although it may be difficult to buy a sailing dinghy online, eBay has a good selection of dinghies that is worth checking out.