At the time of its launch in 2011, the Samsung Galaxy S2 (sometimes written Galaxy SII) was a huge breakthrough for Android phones, toting a Super AMOLED screen the quality of which had never been previously witnessed. It's has now been succeeded by three new handsets (S3, S4, S5), but remains a brilliant smartphone, and now, you can get one on the cheap.
What is a Cheap Samsung Galaxy S2 and Why Should I Be Interested?
The Samsung Galaxy S stable of smartphones has been around since 2010 and over the years they've gradually catapulted Samsung into global domination.
The Galaxy S2 was the second to arrive on the scene and brought a huge array of improvements, not to mention a 'wow' factor, previously only seen on Apple's iPhones.
The device may be three years old now, but if you aren't looking for 2014-level tech specs and are in the market for a classic smartphone that can still go, you can now pick up a great value new or used Samsung Galaxy S2 quite cheaply.
With the overwhelming majority of Android apps, games and services available on the S2, a potential upgrade to Android 4.1 Jelly Bean, a slim chassis, dual-core processor and a more-than-capable 8.1 megapixel camera, it's well worth taking a look if your aim is to save money.

Buying a Cheap Samsung Galaxy S2: What to Look Out For?
Locked vs Unlocked:
The big question here is 'will the handset work on my network?' When mobile networks like EE, O2 and Vodafone sell handsets, they mostly lock them out to other company's SIM cards, so make sure you check with the seller before buying a cheap Samsung Galaxy S2.
If the device was originally bought SIM free (unlocked) this won't be a problem and if your deal is so good, you just can't refuse, you can get it unlocked relatively cheaply at independent mobile stores.
Version of Android:
The Galaxy S2 launched on Android 2.3 Gingerbread, but Google is constantly revamping its OS and the Galaxy S2 is now updatable to Android 4.1 Jelly Bean.
It's not the latest version (that'd be 4.4 KitKat), but it'll allow you to do most things and use almost all apps and services. You can check which version the device is running by browsing to the Settings > About and check for available software updates.
Take a Look Around:
The Galaxy S2 pioneered the design language Samsung has used for the rest of the series. However, as pretty as it looks, there's an awful lot of plastic here, so check for cracks and lose casing.
If the cheap phone is 3 years old, it's also likely to have picked up some dings and scratches, so check carefully for those. The more time a handset has been dropped, the more likely the screen won't survive another spill.
Listen and Learn:
Your bargain Galaxy S2 could also become your primary media player, but not if the headphone port is broken. On these older devices, the 3.5mm jack is often the first thing to go, so plug in a pair of buds and soak up some tunes before handing over the cash.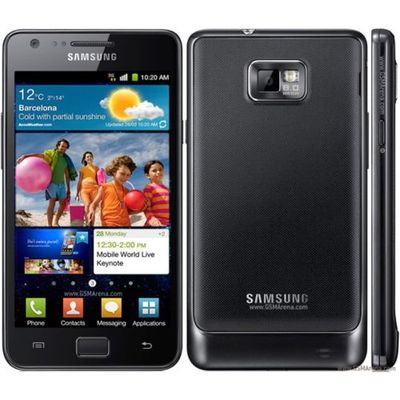 Use the Phone:
Sometimes a deal can be too good to be true, so make sure you test the essential functions to ensure everything is ok before paying for the phone. Make calls, connect to Wi-Fi, test the speakers, take photos and make sure all the buttons are working. Only then will you know you're getting good value.
Battery Life:
The Galaxy S2 arrived with a 1650mAh battery pack, which is small by today's standards, but perfectly suitable for the tech on-board this phone.
However, these phones only have a finite number of charges before they begin to diminish. With a three-year-old phone that may be happening already, so keep an eye on how quickly the battery life is diminishing. If you're struggling to make it through a day, you may need a new phone. Luckily they are easily available and quite inexpensive to replace.