Just like roll film cameras needed light sensitive roll film to record images, digital cameras need "digital film" or Secure Digital Memory Cards, like the Lexar Secure Digital SD Memory Card to record your images and data.
Digital cards come in a number of different sizes and formats, some better than others. The most well known formats are Secure Digital (SD Cards), CompactFlash, Memory Stick and XD-Picture cards. Consider the format of the digital film before choosing your camera.
Some of the memory cards allow additional features to be included into the card, like the Lexar card is speed rated, that provides the user with the minimum sustained write speed capable by the card with faster speeds that helps the camera to perform better.
The Gigabyte capacity and size of the card dictates the number of images that can be stored on that card, as does the resolution of your camera and the image quality you choose for your images, also how your camera compresses the images on the card.
Memory card capacities manufactured by Lexar range from 32 megabytes to 8 gigabytes. A 5 megapixel camera using high resolution JPEG's and using a 32 megabyte memory card will only be able to store about 12 images. A lexar card of 1 gigabyte in the camera using the same resolution will store more than 370 images. A good tip when choosing a memory card is to consider the size that you would need for a maximum days shooting and then buy more than you need to cover all eventualities.
When you buy a digital camera they often just include a low capacity starter memory card to enable you to use the camera immediately, but very quickly you will become disgruntled with the limited number of images that the card is capable of storing.
Keen and professional photographers very often have 6 to 10 memory cards that allow them to continuously shoot by changing cards, just like they did when they used roll film. Anyone with a digital camera should have at least 2 or 3 memory cards that will enable them to take many more photo's without having to decide which images to keep and which unwanted images to delete to make room to be able to photograph more.
The fundamental difference between shooting on digital film verses roll film. Digital cameras users no longer need to purchase roll film. No longer do you have to be concerned about the cost or time spent on processing and developing. You no longer have to wait and worry what the pictures might look like when they return. You can instantly view, edit and print from your computer.
What Does The Secure Digital Memory Card Capacity Mean For You?
It is important to know the capacities of the memory card whether you are a professional photographer or a complete novice just tinkering with you new camera.
As I mentioned before, digital cameras arrive with very little capacity memory cards but can be upgraded to increase storage capacity. Whether your shooting lots of photo's or wish to use a cameras video function, you will be getting more higher resolution images. Higher capacity cards will allow you to take a much larger number of photo's, higher quality photo's using the high resolution and RAW formats for even better results.
Because it is based on content, type of compression and file type there is no exact number of image capacity on memory cards. The chart below will give you an approximate guide to the number of still images that can be stored on different capacity cards.
Added Capacity Advantages.
The basic obvious advantages are that you can shoot many more photo's before you run out of storage space and have to swap out cards. This also gives you the greater benefit of being able to take many more photo's before you have to review and delete unwanted images to create more space.
Having a high capacity memory card gives you freedom, freedom to be creative, freedom to experiment without the worry of running out of space. Using a high capacity memory card enables you to shoot freely without being short on space and not having to worry about losing your images with the use of LockTight to guarantee the security of your photo's and with the Write Acceleration technology that improve tranfer rates. The capabilities of these memory cards will ensure that your photo's will be safely stored and reliably processed.
For anyone that is interested in photography on any level, it is important to have multiple high capacity cards to always be ready for the next or unexpected series of photographs.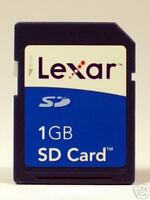 Designed for high speed performance and superior reliability, Lexar memory cards are ideal for those who want optimal performance from the memory card they use. A good resource for obtaining your Memory Cards: Secure Digital Memory Media Store