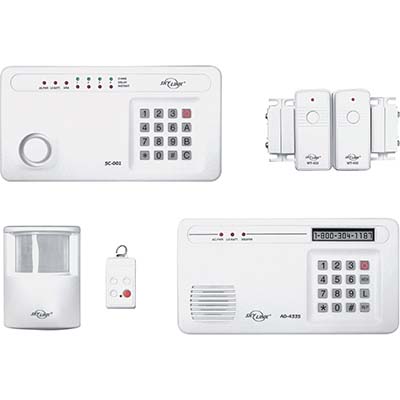 A home security system consists of several components. Cameras, alarms, monitors, doorbell security systems, and recordable surveillance cameras are just a few security measures a consumer can employ to keep his or her home secure. The buyer should select the option which best makes him or her feel safe and secure, and it should be within the buying budget and provide the necessary options needed to secure the home, inside and outside.
Security systems are purchased as entire sets, or they are bought in individual pieces so the consumer can customise the security system to his or her liking. There are many different types of security items for the home, including cameras, alarms, monitors, sensors, and horns. Choosing a security system is a personal choice and the system should be easy for the buyer to use and operate, as well as create a feeling of security and safety within the home.
What to Consider Before Buying a Security System
Before purchasing a home security system, the buyer should examine what his or her specific needs are. Does the consumer live in a large house with a lot of doors and windows which need cameras and monitoring, or is there only one door? The buyer should assess how many points of entry need security, and whether or not indoor hidden cameras are needed as well.
Perhaps the buyer simply wants a great burglar alarm that alerts police if a break-in occurs or a monitor system to see who is ringing the doorbell. There are many options which vary in price, so setting a budget is a wise idea before shopping for a home security system.
Types of Security Systems
A security system denotes an entire package of components, but individual parts can be purchased as well to create a more customised security system for the buyer. Additionally, a buyer can add pieces to a purchased security system if he or she wants more security, alarms, or cameras inside or outside the home.
Security System Sets
Security system sets come with several items used for home security. Some of these sets come with several cameras that may or may not be recordable, and some the cameras offer motion detection recording capability, or the ability to check the cameras from a mobile phone or computer, allowing a user to check the security of the home from anywhere. These sets may offer all the equipment a buyer needs to install a system; it is very convenient to not have to purchase additional cables and other miscellaneous items needed to put security in place.
These sets are sometimes expensive, but they offer everything a buyer needs for home security. There are sometimes a number of cameras which come with a set, such as four or eight cameras, depending on the buyer's needs. Cameras are wired or wireless, and some systems come with smaller, dome-shaped cameras which are more discreet. These security systems are generally for outdoor use. There are different brands that vary in price, along with a variety of features such as night-vision and weather-resistant cameras.
Individual Security Components
A buyer is able to custom create his or her own security system by putting together the components desired the most. There are so many types of security equipment to choose from, and there is something that is right for each buyer's needs and budget.
Burglar Alarms
A Burglar alarms set off a loud sound when intruders try to break into the home. There are a couple of different types of burglar alarms, but most of them are motion activated and are wired or wireless. They are generally wired into a main keypad in which a user enters a code to get the alarm to stop. The alarm can be programmed to call police if there is a break in, ensuring security for the home.
Burglar alarms generally work with sensors to determine whether there is a breach outside the home. Some burglar alarms come in a system that also may include a number of door sensors to be placed at every point of entry, remote controls, sirens, and a main unit that the owner uses to operate the burglar alarms. Stickers announcing that the consumer has an alarm system may also come with these and are placed in the windows for added security and to scare off potential burglars.
Doorbell Security Systems
Doorbell security systems generally include a monitor which the user can look at to see who is ringing the doorbell. A camera is placed outside, directed at the door, which feeds the image back to the monitor. This is a good security measure for daytime or nighttime, and the consumer does not have to open the door if he or she does not know the person on the other side.
Sometimes these come with an intercom system too, so the consumer can talk to whoever is ringing the doorbell and find out what they want before the door is opened. This is a simple but safe piece of equipment to own and a great addition to any security system.
Wireless/Wired Security Cameras
Security cameras are purchased by themselves or as part of a security system. Single cameras can be placed at every door to protect a consumer's home. There are two basic options when it comes to outdoor security cameras. They are either wired or wireless. Some security cameras feed into a computer or a digital recorder, and some use tape to record disturbances. Many of these are motion activated, and they come with a range of features, such as water resistant, night vision, mobile phone capability, motion detection, and the ability to use Wi-Fi to check cameras remotely from a cell phone or a computer.
Security cameras are the main component of any security system, and the most important. If there is a break-in, the buyer has evidence of the thief to give to the police. Wireless cameras are easier to install than wired cameras, and they offer more ways to access the footage when the owner is away from the residence.
Hidden Cameras
Hidden cameras are the only part of a security system which generally stay indoors. However, small hidden cameras can be purchased for the outdoor area, and they are usually discreet, dome cameras. A hidden indoor camera can look like just about any type of object, but it has a camera inside. These cameras may look like clocks, frames, or smoke detectors, or they are hidden inside something else.
Hidden cameras can also be mounted on a wall or the ceiling. These types of security cameras are useful for the consumer who may have housekeepers or nannies inside the home and want to keep an eye on indoor activity which occurs when he or she is not at home.
How to Buy a Security System on eBay
Check eBay for a security system at an affordable price. To purchase an entire security system complete with cameras and cables, search for "security system". Narrow the search based on the individual pieces of equipment you may want to add to the system, or create your own security system by adding a hidden camera or a burglar alarm. Buy a security system from a merchant which is a Top-rated seller on eBay, and communicate with the seller about what comes with the system, such as cables, brackets, or necessary items to install the security system.
Ask the seller if he or she can bundle any like items with your purchase for a discounted rate on shipping, such as installation cables or additional warning stickers. If you would rather negate shipping costs altogether, search for a local seller and arrange to pick up your security system in person. That way, you can communicate with the seller directly and ask any questions you have about the system in person.
Conclusion
Securing a home is one of the most important priorities in a homeowner's life. Whether an owner is away from home and travelling a lot, women and children are at home alone, or a housekeeper is coming and going, keeping the house secure makes an owner feel safe day and night. Purchasing a great security system is the best way a buyer can secure his or her home from unwanted intruders, from burglar alarms that ring the police if tripped to video monitors which allow the consumer to see who is at the door.
Recordable cameras allow the buyer to maintain evidence of a break-in, and remote and mobile cameras allow the buyer the convenience to check on his or her home during the day while away from the home. When criminals see the security system a buyer has in place or even the stickers warning of security cameras and equipment, it may provide the burglar with incentive to head somewhere else. Security systems are worth the investment, and a good one lasts for years and provides the owner with many peaceful nights of sleep knowing that his or her home is protected.