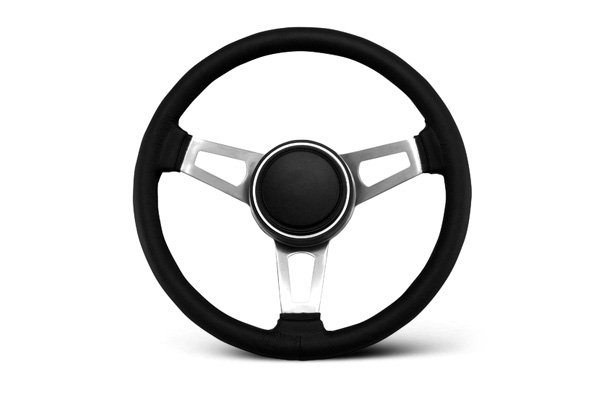 The steering wheel is the part of your car that allows you to manipulate the vehicle's steering system. Steering systems vary, with some working through direct mechanical contact, for example, recirculating ball or rack and pinion systems, and some with computer controlled motors, known as electric power steering (EPS). Mechanical systems may be aided by hydraulic power steering (HPS). eBay sellers offer a wide selection of steering wheels and steering wheel kits, including standard and spare part models, at competitive prices.
Changing your car's steering wheel may seem as simple as replacing the old one with a new one, but this is not always the case. Before buying a new steering wheel on eBay, learn how legislation affects the type of product that you can use and what testing centres look for when performing your car's Ministry of Transport (MOT) test. Know how the size of the steering wheel affects the car's handling. Finally, learn about the types of steering wheels available and the materials that they are made from.
Steering Wheels and MOT Tests
To pass your annual MOT test, your car's steering wheel must be solid, that is, without fractures or looseness at the hub. The steering system should respond to driver input immediately, with no delay when the steering wheel is turned. If the car has power steering, the steering should become easier once the engine has started; if it fails to do so it could mean that there is a fault.
In addition to these tests, the MOT covers the fitting and functioning of airbags. If your car was fitted with an airbag in the steering wheel and you replace it with a model that does not have an integrated airbag your car could fail its MOT test. It is best to contact your nearest MOT centre for details regarding this section of the test before buying or installing a new steering wheel.
Steering Wheel Size and Car Handling
Technically, the size of the steering wheel does not affect the car's handling. However, steering wheel size is all about leverage: bus drivers need more leverage to turn and manoeuvre as the steering system needs more force to be manipulated, therefore buses have large steering wheels. The smaller the steering wheel, the smaller the movement needed to turn the wheels of the vehicle, but the more effort is required to effect the movement.
Changing the size and construction of the steering wheel changes the ergonomic relationship between you and the wheel. If you choose a smaller steering wheel, be aware that involuntary hand movements while driving could impact your ability to stay on course, including those caused by potholes and uneven road surfaces. In addition, it is easier to drift out of your lane when you are driving at speed because the smaller steering wheel requires more concentration to keep it straight.
The steering ratio describes how far the wheel can be turned. If it is turned 360 degrees and the car's wheels turn 20 degrees in response, the steering ratio is 360:20, or 18:1. The higher the ratio, the more the steering wheel needs to be turned to affect the car's direction. Sports cars have low steering ratios, which equate to faster response times, and are light enough to be turned with the minimum amount of effort.
Types of Steering Wheel
Steering wheels come in a variety of designs, with standard and spare part models available. Standard, or original equipment (OE), steering wheels are those that came with the car and are produced by the same manufacturer as the vehicle. Spare part steering wheels are produced by third parties and are usually smaller and lighter than OE models. Standard replacement steering wheels tend to be bigger than spare part models.
If you would like to replace your steering wheel, choose one that is suited to the make, model, and year of your car. These usually include airbags and the same buttons featured in the original steering wheel, such as the horn or radio control buttons. You may need the assistance of a professional to install the steering wheel properly. Spare part steering wheels tend to be smaller and lighter for improved response. They are often made of superior materials and constructed to handle demanding driving conditions, and can be used to personalise the interior of your car.
The table below lists a number of less common steering wheel and steering system designs with a short description.
Steering Wheel or System

Description

Tilt steering wheel

Introduced by General Motors (GM) in 1963

Often found in luxury cars

Adjustable position

Wheel connects to an arc that allows it to be moved up or down

Steering column remains unaffected

Telescope steering wheel

Height adjustable within a 7 to 8 centimetre range

Uses a ratchet mechanism

Adjustable steering columns

Adjusted using electric motors or compression locks
Most cars have recirculating ball or rack and pinion steering systems where the steering wheel simply attaches to the hub. The type of steering wheel that you select should be compatible with the steering hub of your car because different models are attached to the hub in different ways. Do not forget that some electronic controls may not function or may be missing if you select a spare part steering wheel.
If you are not sure whether the steering wheel that you want is suitable for your car, ask the seller for more details. Most eBay sellers are happy to answer questions from prospective buyers. Simply click on the "Ask a question" link in a listing to contact the seller directly.
Steering Wheel Knobs
A steering wheel knob, also known as a steering wheel spinner, acts as a lever to increase the rotational force exerted by the driver. These knobs were popular before cars had power steering, but using one of these with a car that has power steering makes it very easy to oversteer. As a result, only disabled drivers are allow to use them and installing one without the necessary permit may result in a fine. In addition, if you are involved in an accident while one of these devices is installed, then your insurance company may refuse to pay out.
Materials for Steering Wheel
Steering wheels are usually made from or covered with three different materials: leather, wood, or polyurethane. Leather is the most popular choice due to its rich feel and excellent grip. However, it is the most expensive option, can crack or peel if exposed to the elements, and requires the most care. Wood is a popular choice in luxury cars. While it adds a touch of class to the interior, it does tend to crack and scratches easily. Polyurethane is a popular choice as it is durable and affordable and is often used in the manufacture of standard steering wheels. It is easy to clean and maintain, and withstands exposure to the elements. If you want to change the look or feel of your steering wheel, consider adding a steering wheel cover.
Conclusion
A car's steering wheel is used to control the direction of the wheels. Choosing a steering wheel is simple if you know what to consider. It is important to keep in mind that the type of steering wheel chosen could impact the result of your car's MOT test, so check with an MOT centre before buying. If the car is missing an airbag, it may fail its MOT.
When choosing between standard and spare part steering wheels, ensure that you take the differences in handling into account. Smaller steering wheels are more responsive, but may require more effort to turn than standard ones. Ensure that the steering hub matches the steering wheel: as with the wheels of cars, steering wheels are attached in different ways. In addition, remember that the electronic buttons on a standard steering wheel may not feature on a spare part steering wheel. Steering wheel knobs may only be used by disabled drivers.
Choose a steering wheel material that suits your requirements and the interior of your car. Leather is a popular choice, but requires maintenance. Wood is often found in luxury cars, but tends to chip and show wear and tear easily. Polyurethane steering wheels are inexpensive and durable. The look of your steering wheel can be changed by adding a steering wheel cover. A wide selection of steering wheels are available from eBay sellers.