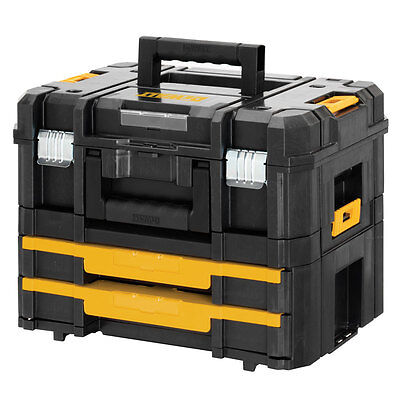 When looking to select from the many choices of tool storage products the most straightforward piece of advice we can offer is to go for what's most suitable for your profession and needs. Consider your working environment (indoors or outdoors), type of tools and accessories to be stored/ carried, weight of tools, size of tools, static tool storage or transportable.
There are also other important considerations that may meet individual wishes or situations. This could include extra straps, a greater number of pockets or inner straps to hold power tools firmly in place, a rigid carrying handle, wheels for easy mobility or even the presence of safety reflective materials for safety on the work site.
Practical Tool Protection
The practical factors are key influences on your final decision. For example, your main priority may lie with the transportability of your tools to the work site by your normal method of travel (by van, public transport etc.). Equally you may be more concerned about the actual holding, organisation and accessibility of tools when actually working on the job and also the level of protection the tool storage offers to the tools themselves.
Consider also the overall size, construction, and materials used. What offers the right resistance to impact damage for your line of work? Is being waterproof or stopping water penetration a vital feature? Undertaking primarily indoor tasks will call for very different features to that of continuous cold and wet outdoor site work. Likewise if you will be using a selection of bulky tools you'll need something that is large and sturdy enough to withstand the extra load and possibly tool storage with wheels for easy manoeuvring.
Ease of use and comfort in handling come into play as well and are influenced by weight, manoeuvrability and shape.
Finally, aesthetics and perhaps more importantly image could be crucial. The right storage solution may be the one that looks the most professional and organised. Here are some tool storage suggestions based on particular trades:
Carpenter or General Builder
The mix of both indoor and outdoor working needs to be considered along with the varied hand tool/ power tool mix. A
tool bag
with strong waterproof and puncture resisting material (in case of contact with sharp edged tools like squares) is a good choice.
Tool aprons
and
tool pouches
are ideal for carrying smaller tools and accessories close to hand and most come with a hammer holder and tape measure holder included.
Open
tool totes
are another great option for carrying around a select few essential hand tools and accessories and give an easy access, organised tool storage solution.
Tool rolls
are both compact and convenient. They can be used for the mobile tradesman to carry their tools from job to job or alternatively some designs have two metal eyelets which enable the tool roll to be easily used as a wall hanging displaying all tools stored in one handy place.
In this line of work the storage will need to be tough enough to face the outdoor weather conditions, mud, mortar and water, plus knocks and abrasion. Consider a simple and easy to carry tool bag as you may have extra tools to carry like a long spirit level or tile cutter. A tool bag with a hard injected polypropylene base or a rubber tall lip bottom will prevent water being soaked up through the base, while certain styles come with external straps for holding spirit levels.

Here both the professional image and organisation (knowing exactly where your tools are every time) could be highly beneficial. We recommend choosing a tool case, these often provide the additional convenience of removable trays and inner dividers, plus elasticated pockets or inner pouches for protecting crucial insulated or VDE tools like screwdrivers and pliers. It may also be worth investing in a Technicians rolling version tool case with wheels and if travelling by air a specialised
technicians tool case
would be essential due to TSA locks and the durability to withstand pressure in the aircraft hold.
For use in and around the home there is plenty to choose from. Hard case
tool boxes
or even tool chests are popular and can be easily stored in a shed or garage. Material made
tool bags
and
tool totes
which are ideal for the easy access and portability that this 'always open' format provides. You do however need to store these in dry enclosed conditions such as an inside cupboard to avoid damage through damp.