Sometimes a buyer may fund their PayPal payment by
eCheque
. An eCheque is a payment funded by their bank account, but
without
a backup funding source (ie the buyer doesn't have a credit/debit card registered to their account). The only exception to this is if a buyer
manually
selects eCheque as a funding source (despite having a valid & registered card in place).
Most eCheques are sent by
mistake
. Nearly all of these happen because the buyer's credit/debit card has
expired
and they haven't updated it in their PayPal account.
There are detailed instructions for buyers regarding eCheques here:
About Me: ajcardiac3
The status of an eCheque will remain
Uncleared
until the money has been taken from the buyer's bank account and deposited in your PayPal account. You can see the
expected clearance date
of an eCheque in the PayPal transaction details: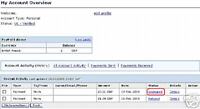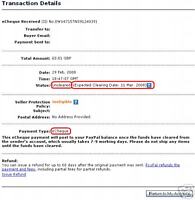 You will also receive an email similar to this: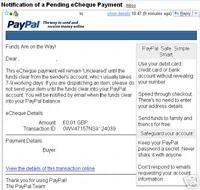 If the item is cheap and you would not wait for a paper cheque to clear, you could send the item on receipt of the eCheque. However, if the eCheque fails (because there are insufficient funds in the buyer's bank account, or they've cancelled the Direct Debit Instruction) you will be left with no money and no item.
If it's not a cheap item, you should wait until the eCheque clears before sending.
You will get an email similar to this when the eCheque has cleared:
and the status in PayPal will change to
Cleared: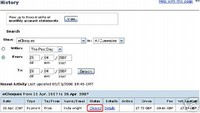 If the status of the eCheque changes to
Cancelled
, that means it has bounced, like a paper cheque (i.e. insufficient funds in the buyer's bank account for the payment) so PayPal (not the buyer) has cancelled it.
Refunding eCheques
If the buyer has sent an eCheque by mistake and wants to pay by an instant PayPal method, you can
refund
the eCheque.
Open the transaction details in your PayPal account and use the
Issue Refund
link, then follow the on-screen instructions: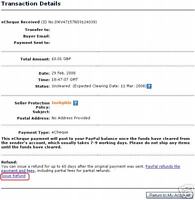 The refund will remain
pending
until the eCheque clears then the money will be credited to your buyer's PayPal account (not their bank account).
No money will be taken from your PayPal account for the refund, it effectively cancels out at the point the eCheque clears and the money "bounces" back to the buyer.
The PayPal payment status will show as
Cancelled
.
Your buyer can then repay by an instant method when they've updated their card details in their:
PayPal account

Profile

Financial Information

Credit/Debit Cards

.
_______________________________________________________________________________________________________________________________________
The images posted here are limited in size and resolution by eBay.
If you would like to see the images in a larger, more clear format, please visit my on-line Help Page:

http://myweb.tiscali.co.uk/ajcardiac/Seller_eCheques.htm

_______________________________________________________________________________________________________________________________________
If you have a problem with PayPal that isn't covered in this Guide, then take a look here:
About Me: ajcardiac3
_______________________________________________________________________________________________________________________________________