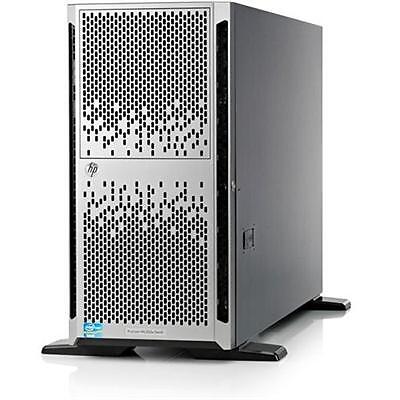 A computer server is a network management system that provides services to client computers. Their use is generally limited to enterprise pursuits, whether small business or large corporations. A server may be necessary to manage an internal network shared by seven or eight employees, or hundreds of staff who run a multitude of tasks over the one network.
The server is the network hub, and the larger the network, the more powerful the server needs to be. As a result, large corporations with dozens or hundreds of staff, such as an IBM centre, needs a server with the most extensive capabilities. eBay contains server listings for both small business requirements to high-end corporations.
Servers vary in appearance and design, hardware specifications, operating formats, and most especially, in price. Differences between the various servers reflect their wide scope of application, and the different demands presented by small and large computer networks. Gaining an insight into the types of processes each type of server most effectively undertakes can help a buyer choose one that is right for their business.
Choosing the Right Server
Making a selection of which server to use requires a degree of business foresight and technical knowledge. In many cases, a business proprietor should consult an IT professional. Such a computer specialist may be able to point the customer towards the most suitable physical server based on business forecasts, or perhaps towards a cloud based server, which is now a popular option.
Determining the right server depends upon several factors, including the sensitivity of working data. The customer needs to choose a server based on the type of business they have and its intended application, because ultimately, what the server is going to be used for determines the type of server and hardware they need to acquire. A significant drawback of the cloud option is that it does contain security vulnerabilities, which makes a physical server a better option for certain business models.
Micro and Small Business
Some small and micro businesses can potentially manage without a server at all. In these cases, once a server of some capacity becomes necessary at a later stage in the business, a PC computer can sometimes be deployed as a server that may perfectly manage a small network. A wireless hard drive, or a network attached storage unit (NAS), can be configured into a file sharing system between a few employees. This type of system can also be used for personal non-business uses.
A laptop is also an economical way to run a small server. Although a laptop contains regular hardware that is not designed for server use, it can nevertheless be deployed to effectively manage a network of 10 or a dozen employees in a small business for basic email and small load applications. This is especially so with the i7 laptop processors, but even an i5 processor can manage under light load circumstances.
Medium Sized Business
Depending on the type of enterprise, a powerful server may not be needed until future business growth necessitates a larger network. At this point in the business, a customer may wish to upgrade from a PC or laptop server to a dedicated server. A server designed for a business with between one and two dozen employees with network access needs to be able to stand up to the moderate demands on the system, but it does not need to be the powerhorse that a large corporation requires to withstand its huge load on its resources.
Large Corporations
Large networks require a powerful server that can handle excessively high bandwidth. The most important factor for a customer to consider when choosing a server or the hardware to build one is the degree of load they expect to be placed on the server. Bigger networks require more powerful hardware and software. This is also true of the different application uses that vary greatly in RAM and CPU intensity.
The second most important consideration is how reliable the customer needs it to be. This depends on how consistently the server needs to be running. A 24/7 server needs a fully reliable set of hardware, but a server that can be switched off for a few hours without impacting the business can save money. This is because the hardware for servers that do not need to run constantly can be substantially cheaper to buy.
Server Types
Servers differ according to purpose. Specific business requirements dictate the types of hardware and software that each server uses to facilitate the range of computer client services. A customer wishing to purchase a server needs to choose not only their server application but its hosting service too. Each type of hosting service offers different features according to specific business needs. Therefore, the customer must choose between a shared, cloud, virtual, and cluster grid server hosting service.
A customer may choose a server casing configuration based on the physical limitations of their office space or the functionality of the server. A small server offering shared file transfer between a network of 10 people needs only a small amount of space and can easily be integrated into a regular office space. A large server connecting hundreds of people requires a lot of space and cooling. The following are an outline of professional servers rather than the smaller PC and NAS systems that can successfully be used for many small scale businesses.
Tower Server
The tower server looks much a regular PC tower and operates in a similar way. It can sit on a desk or on the floor but requires a keyboard and mouse. Tower servers do not need a lot of cooling and so are relatively quiet. They can be easily rigged out for an office environment. Tower servers feature various Windows and Linux operating systems. They are suited for small to medium sized business, but they are not recommended for large, multiple connection networks.
Rack Servers
Rack servers are designed to be operated when surrounded by other servers mounted in a rack. They are very powerful systems designed for large corporations. These servers are built to manage a wide range of applications activated simultaneously by hundreds of people. They can operate Windows and Linux based operating systems and are designed to run on a 24/7 basis. Rack servers consist of the following two formats:
1 U Server
The 1 U server is a slim line and low profile server. Its low casing means the server needs several cooling fans, which create a lot of noise. When multiple 1 U servers are used together, the noise is even greater and requires a server dedicated room.
4 U Server
The 4 U server is a multi-port server for a wide variety of connections and supports a large network. It facilitates many channels designated for specific tasks, and has robust and powerful hardware that is designed to handle the consistently high demands of large networks. It contains several removable fans but is not as noisy as the 1 U server.
Blade Servers
Blade servers are stripped down servers that are designed to maximise both space and energy efficiency. The blade server, along with multiple other blades, slides into a blade enclosure. Although a computer in its own right, it is only designed to operate in conjunction with its enclosure and other blade servers. The blade enclosure is the power source and provides the one cooling system for the multiple servers.
Blade servers have fewer limitations than rack servers but are considerably more expensive. One drawback of the blade server is that they contain less PCIe slots than either rack or tower servers. Nevertheless, blade servers are built for ultimate networking efficiency and are most ideally used for web hosting and virtualization.
In summary, the following chart indicates some examples of suitable servers for small, medium, and large networks according to the size of a given business. Other servers, besides the ones mentioned here, may also be suitable for each of these purposes.
| Server types | Network types |
| --- | --- |
| PC, Laptop, or NAS systems | Small sized networks; fewer than a dozen light load connections |
| Tower Servers | Medium sized networks; medium load applications |
| Rack Servers | Large networks; high load applications |
| Blade Servers | Large networks; high load applications |














Choosing a server which either underperforms or is too powerful for a particular business's requirements is false economy. That is why it is important to consult professional IT experts who can assess the needs of each business.
How to Buy Servers on eBay
If you are a business owner and have explored your server options, it may be time to check the many server types on offer at eBay. You can search with specific keywords by entering your criteria, such as tower server, into the search bar. As this may be a major online purchase, you should take plenty of time over your decision.
Carefully scan all relevant information in the various applicable listings, such as returns policies, terms of sale, and postage. Communicate with potential sellers and ask questions on any points that may not be adequately explained on the listing pages. Building a customer rapport through email is a good way to establish trust, glean something of the seller's professionalism, and helps you understand the type of seller you are dealing with. It is also wise to take note of their customer feedback details. To gain further insight into what you can expect from your designated server, read any relevant customer reviews on the topic.
Conclusion
Whether for small, medium or large scale business, computer servers supply an energy powerhouse for all network types and sizes. Both professional servers, and network-dedicated PC, laptop, or NAS systems have their place in managing the diverse world of network management, but the crucial challenge is to understand the needs and demands of a particular business. The right server can increase the productivity and profitability of any business, but it is all too easy to under or overestimate business requirements, potentially adding unnecessary financial strain. Customers without IT or other relevant experience and knowledge should make full use of professional consultation before making a purchase.
The price of high-end servers can discourage business owner from making the move to a server system, potentially placing the efficiency and growth of the business in jeopardy. For proprietors who decide to take the server plunge, eBay's listings representing the whole spectrum of computer servers may just save the day, along with the growing enterprise.