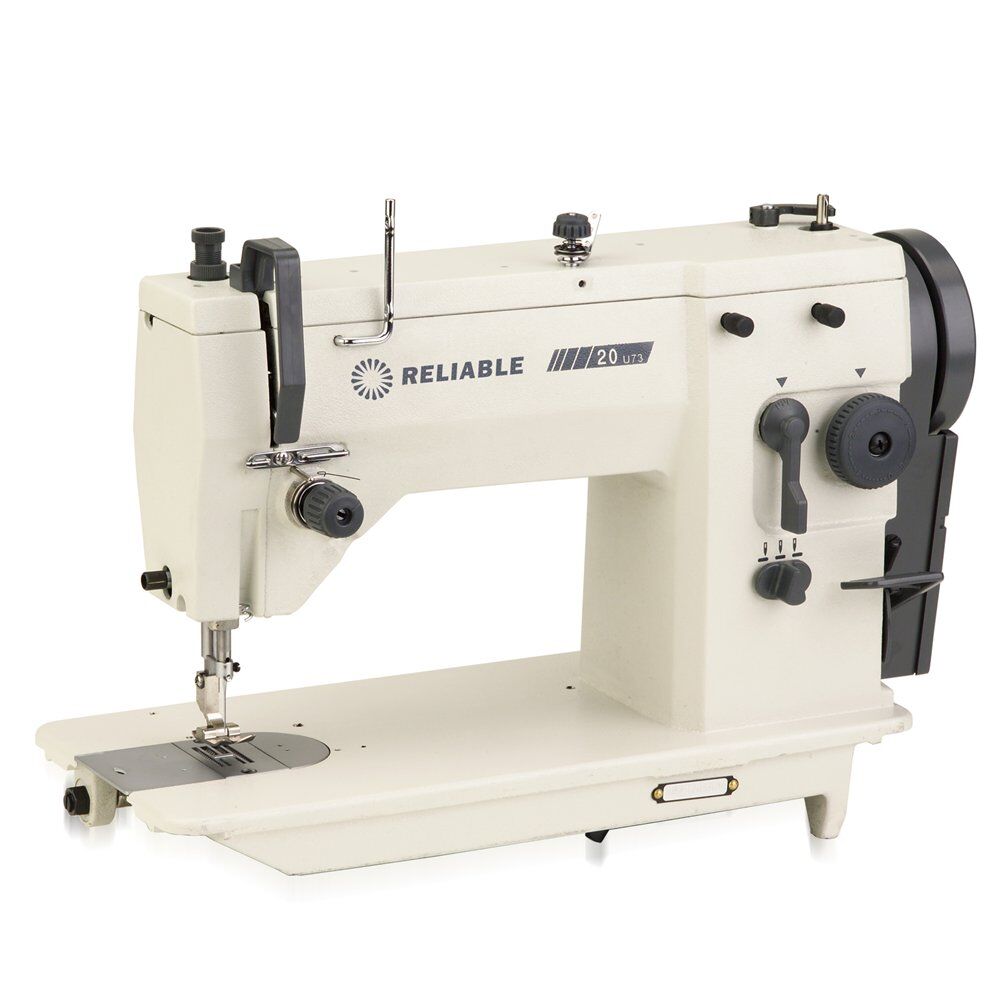 Sewing machines today offer the user various useful features, user-friendly settings, advanced capabilities, and comfortable ergonomics. Available in a wide range of types to suit any buyer's budget, sewing machines can be lightweight and portable, offer state of the art computerisation, or provide hard wearing parts that are designed to be used day in and day out.
Sewing machines can be purchased from large department stores, selected homeware stores, craft stores and specialty sewing stores. Many online sites also specialise in selling all types of sewing machines at varying prices. To find a competitively priced sewing machine, many consumers like to go to eBay to search for their desired sewing machine.
To make an informed purchase decision, consumers are recommended to have some understanding of the different types of sewing machines available, and they should know what to look for in their new sewing machine, as well as what features to consider. Having this knowledge can ensure a buyer gets a suitable machine for their particular budget.
Different Types of Sewing Machines
Sewing machines are available in a variety of types. Each type is specially designed for a different style of sewing, from artistic dressmaking to quilting, decorative embroidery to simple overlocking. Some consumers even like to buy sewing machines as collectible items, looking for antique and vintage models.
Electric Sewing Machines
Basic electric sewing machines are reasonably priced and offer all the necessary features one needs when starting out with sewing or for the sewer who only uses the machine occasionally. With an electric motor in the machine that drives the needle, electric sewing machines are powered using a foot pedal. They offer a range of speeds, and a dial usually provides the user with a selection of stitch options. Electric sewing machines are more user-friendly and offer more features than manual sewing machines.
Computerised Sewing Machines
Many sewing enthusiasts who do a lot of sewing and who like to be able to do embroidery work and other more complex sewing tasks often choose a computerised sewing machine.. Computerised machines take much of the difficulty out of fiddly sewing tasks, making it faster and easier to create a wide range of things, from complex dressmaking to quilting, crafts, and embroidery. These sewing machines come with a wide range of options and features that allow users to get very creative with their designs. Computerised models tend to be quite expensive.
Overlocker Sewing Machines
An overlocker is an ideal choice for those who do a lot of dressmaking. The benefit of an overlocker is that it neatens up seams with its unique style of stitch and gives a professional finish to the seams of a garment. Overlockers trim the excess seam while stitching it. Overlockers tend to be quite limiting in what they allow one to do. Many people either have an overlocker in addition to their computerised or electric sewing machine, or they choose a computerised sewing machine that has an overlocking feature. Available in a range of prices, overlocker sewing machines vary in their size, quality, and feature capabilities.
Manual Sewing Machines
Generally considered out of date, manual sewing machines are usually purchased for their collectability value. Vintage and antique manual sewing machines in good condition can be quite valuable. Not practical for use any more, they are usually sought after for their attractive old fashioned look. Manual sewing machines are operated by turning a hand wheel with one hand while guiding the material through the needle with the other hand.
What to Look for When Buying a Sewing Machine
Consumers have a wide range of options when it comes to buying a new sewing machine. To help narrow down the search, buyers may like to consider some key aspects of their desired machine before heading out to purchase one. Be sure to consider the sewing machine's weight, the type of fabric it is designed to be used with, its brand and quality of craftsmanship, and various other useful benefits.
Sewing Machine Weight
Sewing machine weight should be considered if the machine is not going to have a dedicated and permanent position where the user can sit straight down and start sewing. Sewing machines can be heavy and having to lug a heavy machine in and out of a cupboard can get tiring and frustrating. For the sewer who needs to take the machine to various sewing classes or enjoys taking it on holiday, a lightweight option may be ideal. However, for the regular sewer who has the dedicated space to leave the machine out and in the one place all the time may not be so concerned with the weight of the machine.
Fabric Suitability
The majority of sewing machines are designed to cope with lightweight and mid-weight fabrics, such as cotton, nylon, linen. However, those looking to be able to use heavyweight fabrics like denim and curtain materials need to consider a machine that offers a longer stitch option. Likewise, for those who want the ability to work with delicate fabrics or stretchy fabrics need to look for a machine that offers shorter stitch options and Teflon coated feet. The Singer 201 sewing machine, although quite old, is still a well-respected machine for use with heavy duty fabrics. With a built-in motor, these machines are designed for lots of use and easily serviced when required.
Sewing Machine Brand
The brand of sewing machine can greatly affect the machine's quality and price. It is highly recommended that the avid sewer who is looking to use the machine regularly for lengthy periods of time, with a range of different types of fabrics should consider one of the well-respected sewing machine brands, such as Janome, Brother,, or Bernina.. These brands offer useful features, quality parts, and a durable machine that can withstand a lot of general sewing wear and tear. Another benefit of buying a well-known brand is that the parts are readily available. Purchasing a little known inexpensive brand of sewing machine may make finding parts quite difficult.
The occasional sewer who does not want to stretch their budget too far can find some very good sewing machines that offer value for money. Consider brands, such as Elna and Toyota,, that offer base models that are inexpensive to buy.
Other Sewing Machine Benefits
Other sewing machine benefits that should be considered include a carry case. This is ideal for those who transport their machine around or store it in the cupboard. A hard cover carry case protects the machine from potential damage. Long power cords, good user ergonomics, various attachments, and accessories are available with various different sewing machine makes and models. Be sure to get the sewing machine that offers everything one may need without paying excessive prices for benefits that are not likely to be used.
Popular Sewing Machine Features to Consider
In general, the more expensive the sewing machine, the more features it is likely to offer. In order to get the best value for money, a consumer should first identify what type of features they require and what features they can do without. It can be a waste of money buying the most advanced machine when only a few of its many features are going to be utilised. The following table provides a list of some of the commonly sought after features that consumers may like to consider before purchasing their sewing machine.
| Feature | Description |
| --- | --- |
| Speed Control | User can control the speed at which fabric is passed under the needle; allows users to sew at steady pace or in stop and start bursts |
| Top-Load Bobbin | Bobbin is simply slotted into place; machine automatically threads; choose a machine where the bobbin is visible so user can see when it is running low on thread |
| Needle Threader | Pulls the thread through the needle |
| Auto Buttonholer | Sews buttonholes with one easy step; user does not have to keep turning the fabric; some machines also sew the button into place |
| Feed-Dog Adjuster | User can adjust the feed-dog platform, a toothy mechanism that feeds fabric through the machine, dropping its height for greater manoeuvrability with fabrics |
| Tension Adjuster | Adjusts how tight or loose the thread is passed through the needle; tight thread can pucker fabrics; loose thread can create loose stitches; useful feature for working on different types of fabrics |
Modern sewing machines today offer a vast range of features all designed to make sewing easier and faster to create a more professional finished product. Think carefully about which features are important and which are not necessary. This can help ensure a consumer makes a wise purchase decision and gets optimum value for money.
How to Buy a Sewing Machine on eBay
Finding the right sewing machine for sale on eBay can be simple and straightforward. You can get an overall idea of what is available by typing "sewing machines&" into the search bar on eBay ' s home page.. If you want to further refine this search result, just select from the appropriate search category options, which include filtering the results by sewing machine type, brand, condition, and price range. If you already know exactly what type of sewing machine you want to buy, such as a used Brother overlocker or a Bernina 830 sewing machine,, you just type this phrase into the search bar.
When you have found a suitable sewing machine to buy, be sure to take into consideration the delivery costs of the item in addition to the purchase price. When choosing different delivery methods, consider a track and trace service for greater peace of mind. Some sellers allow you to pick up the item in person. If they are local to you, this may be a preferred option as there is no chance of the machine suffering any damage during shipping.
Conclusion
When looking to purchase a new or used sewing machine, it pays to get the best quality for the set budget. Whether a consumer wants an electric or computerised machine, an overlocker or a manual machine, it is ideal to understand what to look for in any type of machine. The sewing machine's weight, its fabric suitability, the brand, and other useful benefits should be carefully considered when looking at any particular make and model of machine. In order to get good value for money, be sure to only pay for those added features that are going to be used. It can be a waste of money paying for a wide array of features that are not likely to be utilised.
eBay offers easy search options to help buyers find the right sewing machine to meet their specific budget. Buyers can purchase a new or used sewing machine on eBay with confidence by choosing to use secure online payment options, reputable sellers, and track and trace delivery options.