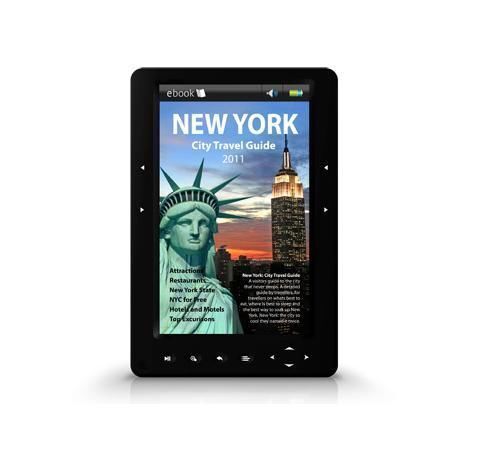 iPads, tablets, and ebook readers have revolutionised the personal computer industry. A cross between the functionality of smartphones and traditional PCs, tablet-style electronic devices offer users a highly convenient, mobile option for communicating, sharing information, computing, and consuming a variety of media file formats. Worldwide, sales for tablet-style devices are expected to increase as device manufacturers and third-party content suppliers expand the functionality and applicability of these devices.
eBay provides mobile-minded tablet and ebook users a variety of options when shopping for their devices. For buyers interested in keeping purchase costs down, shopping for used iPads, tablets, and ebook readers is a great option. Choosing to buy these devices in used conditions allows buyers access to features they may not be able to afford in brand new device models. Before shopping for used tablet-style electronic devices, buyers should understand the differences between the device options and the features available to make the most beneficial used device purchases.
The Differences Between iPads, Tablets, and eBook Readers
Before shopping for used iPads, tablets, and ebook readers, eBay buyers should have a thorough understanding of the advantages and disadvantages of each type of device. Which type of device is preferable relies on the ways in which eBay buyers plan to use their devices.
iPads
Although tablet-style devices were available on the market since the late 1990s, Apple's introduction of the iPad in April 2010 took the consumer electronics industry by storm. With software interfaces that were based, in part, on the popular Apple iPhone, Apple's iPad supplied users with a lightweight, portable device that was operated by touchscreen technology. iPads utilises Apple's proprietary iOS operating system and has more apps available than competitor tablet-style devices, a benefit that some eBay buyers may consider tantamount when deciding between tablet-style device options.
Some drawbacks associated with iPads are video issues and incompatible applications. The video resolution available on iPads is 1024x768 pixels, while many competitor products offer video resolution of 1280x800 pixels. If eBay buyers plan to use their tablet-style devices for streaming videos, iPad's lower video resolution can be a discouragement. The original iPad did not include video cameras, much to the chagrin of many early adopters, but the iPad 2 does include video cameras for live chatting and video production. Incompatible applications for iPads are a drawback for some users, like business people and students, who are required to use apps not supported by the Apple platform. Before these buyers choose to purchase an iPad from eBay for their mobile computing needs, they should check with their businesses or schools to see if there is a potential problem with application support for required software formats on the iPad.
Tablets
Tablets are devices that mimic the basic functionality of the iPad, but utilise Google's Android operating system. Because manufacturers of this type of device face stiff competition from Apple's iPad and other Android tablet makers, these tablets often include many features at a competitive price. Video resolution on Android tablets is generally superior to Apple iPads, as is a buyer's choice when choosing different processing speeds for their tablets.
A disadvantage of Android tablets, however, is the number of device-specific apps available. Before purchasing a used Android tablet, eBay buyers should do some comparison shopping to see which types of apps are available for their potential tablet purchases versus what is offered for a comparable Apple iPad. Android tablet apps are developed based on an open source development model, which means that developers do not need to get approval for their apps from Google before the app is released. This contrasts with Apple's policy of approving all apps for iPads and offering those apps exclusively through the online Apple Apps Store. Since Android app development is not controlled as strongly as iPad app development, options for Android apps are constantly increasing. Because of this, eBay buyers need to assess what is currently available for their Android-powered tablets at the time of an eBay purchase to get a true sense of which apps exist.
eBook Readers
For eBay buyers who like to read often, used ebook readers can be a more valuable purchasing option than either iPads or tablets. eBook readers are specially designed to make reading for hours easy and enjoyable. Compared to iPads and tablets, ebook readers are very lightweight and have a compact size that is reminiscent of the size of many hardcover books. This makes carrying and reading from an ebook reader convenient during transit. The e-Ink technology used in ebook readers allows manufacturers to provide owners of a device with long-lasting battery power. To combat eye fatigue while reading, the screen of an ebook reader resists glare. The main drawback of an ebook reader is its limited functionality, however, so eBay buyers searching for one device that allows access to ebooks and Wi-Fi communications may opt to purchase an iPad or tablet instead of an ebook reader.
Features for Used iPads, Tablets, and eBook Readers
Before comparison shopping on eBay for used iPads, tablets, and ebook readers, buyers should thoroughly assess which features they would find most essential in their devices. In general, the inclusion of features increases the price of a tablet-style device, so some used devices that are outfitted with a range of features may be as expensive as new basic models.
Display Size
When manufacturers develop their tablet-style devices, they need to balance convenience with portability. This impacts the display sizes available on tablet-style devices. Although a large display screen makes reading and computing easier, it can also correlate to an increased overall size of a tablet-style device. When choosing a tablet or ebook reader, buyers should get a sense of the largest size of device they can purchase by measuring the size of the bags, backpacks, or purses they normally carry.
Connectivity Options
Unless an eBay buyer is shopping for a used ebook reader, connectivity options for tablet-style devices are critical. Some tablets can access Bluetooth and local Wi-Fi connections, while others have 3G or 4G connectivity built into the device. Before purchasing a tablet-style device, buyers should research their local options for establishing 3G or 4G connectivity and factor any additional cost for connectivity into their final tablet-style device purchasing decisions.
USB Ports
To minimise the width of some models of tablets, manufacturers omit including USB ports into the design of their device models. The lack of USB ports can seriously impact users' abilities to expand the functionality of their tablet devices, however. If buyers plan to use USB ports to connect accessories, like computer keyboards, to their devices or share files via USB flash drives, they should limit their shopping on eBay to used tablet models that contain USB ports.
Camera Options
Tablet-style devices can have cameras that allow users to create still photographs and videos and engage in video conferencing. If eBay buyers find cameras preferable, they should look for used tablet devices that include cameras. The cameras on a tablet-style device can be positioned on the front or the back of the device, although some models of tablets include cameras in both positions. Cameras on the front of a device permit users to video conference while still watching the display screens on their devices, while cameras on the back are helpful when making photographs and videos. If eBay buyers must choose between front or back cameras on their used tablet-style devices, they should consider whether they are more likely to engage in video conferencing or taking pictures when using their tablets.
Buying Used iPads, Tablets, and eBook Readers on eBay
eBay is a great resource for buyers looking for used iPads, tablets, and ebook readers. The easiest way to locate used models of tablet-style devices is to use eBay's keyword search function. Buyers can add descriptive keywords, like " Samsung Galaxy tablet ", to the search field found on any eBay page. Once eBay generates a list of search results, buyers should click the "used" box included within eBay's search filter options to limit results to used devices exclusively.
Buyers should pay close attention to condition issues when browsing potential used tablet-style devices on eBay. To see details related to the condition of devices, buyers should carefully read the product listing associated with a device and check any photos an eBay seller provides of the device. Typically, superficial scratches on a device's surface are acceptable for a tablet-style device in used condition, but more serious damage should cause buyers some concern. For buyers to get a sense of the product quality and customer service an eBay seller has provided in the past, they can check the seller's feedback rating score, which is an indication of the level of satisfaction that the seller provides to customers.
Conclusion
iPads, tablets, and ebook readers have changed the way customers approach purchasing consumer electronics devices that balance functionality and mobility. Although tablet-style devices can be expensive, buyers can save money by using eBay to purchase used devices with a variety of features.
Before deciding which type of used device to purchase, eBay buyers should have a thorough understanding of the benefits and pitfalls associated with the different devices that comprise this product category. iPads are an appropriate purchasing option for buyers interested in a wealth of apps, but can create problems for buyers who need their devices to conform to the software used by third-party organisations. Tablets that run on Android technology can seamlessly adapt third-party software and are a good choice for buyers interested in streaming video on their devices. Conversely, buyers who want to use their tablet-style devices for reading, at any time or place, can purchase ebook readers that are specially designed to supply hours of eye-friendly access to ebook text.
The last step in utilising eBay's tablet-style device offerings is to determine which features are most preferable based on a buyer's lifestyle. Once buyers have considered all of their options, they can visit eBay to browse through a wide selection of used tablet-style devices that can match the demands of any buyer's preferences.