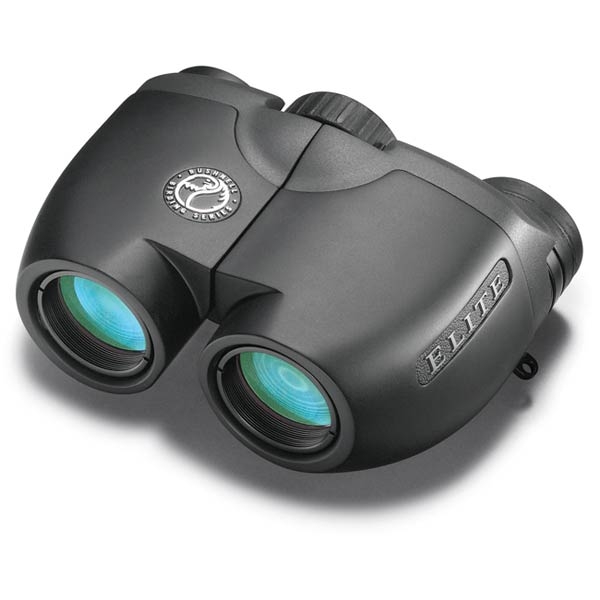 Binoculars and monoculars are devices providing view magnification so that distant objects appear closer than they really are. Magnification level is adjustable within the limits of the objective lens and the size of the exit pupil in the eyepiece lens. Binocular vision uses both eyes for stereo vision and monocular vision uses one eye to look through a magnifying eyepiece. Regardless of the body shape, number of eyepieces, or other features offered, buyers should always choose the best optics they can afford.
Each item offers benefits and advantages depending on its use.
More About Monoculars
Monoculars are like small telescopes but with the benefit of waterproofing and correct view alignment. This is achieved through prisms and mirrors arranged in the cylinder to bend the light so the image reaches the eye in an upright position rather than upside down as telescopes produce. Monoculars, sometimes called spotting scopes, are used in a variety or professional and recreational situations. They have military applications for determining targets and precise gunfire and are similarly used by hunters. Whether used for following the path of a golf ball, identifying a star or marine observation there is a spotting scope suitable for the task. Night vision monoculars are also available and are popular with rescue services.
Spotting Scopes
Bird watching often requires tools that can cope with fast-changing views. Binoculars might be used to scan an area, but a spotting scope is used for observational detail because of its superior magnification. Spotting scopes with a refractive lens are the most popular as they offer the best value for money against magnification capability when compared to catadioptric or Newtonian scopes. They also have a more robust construction. Refractor scopes, angled or straight-bodied, might be mounted to limit any distortion which is exaggerated by magnification. Angled bodies are useful for group viewing as they are adjustable, making them suitable for a variety of heights, whereas straight bodies have no flexibility and suit only the operator who has set it up.
Digiscoping
When used as a tool for photography, the addition of a zoom lens to a spotting scope is possible with some models. This is favoured by photographers who couple their cameras with scopes for digiscoping where the camera takes a photograph of the magnified view provided through the eyepiece. Prime focus photography places the camera directly in position without the scope's eyepiece, thus removing a layer of glass that might affect fine focus detail. For afocal photography, there are adapters to fix cameras securely to telescopes or spotting scopes with adjustable platforms, screws and rods that will allow a camera to sit perfectly lined up, thus avoiding any shake and resulting blur in a captured image.
Convenient Binoculars
Binoculars are popular because they use both eyes simultaneously. With the equipment raised up, there is no need to decided which eye to favour or having to close one eye or the other. The quick action means distant movement can be noticed quickly and if detail and greater magnification than the binoculars provide is required, a switch can be made to monoculars or spotting scopes.
Different Binocular Shapes
The eyepiece part of binoculars, the ocular lens, may be in line with the larger objective lens or it may not. The type of prism used will determine the shape of the cylinders containing the lenses. In conventional binoculars, the ocular lenses were set close together and the objective lenses tapered outward, offset to the right and left to accommodate two right-angled Porro prisms in the barrel. The prisms meet and thus reflect the light's pathway at three points. By inverting the Porro prisms the cylinders can sit closer together for a more compact design with the ocular lenses less offset. These types of binoculars typically have a curved appearance and the stereoscope effect is reduced in this prism configuration. Binoculars with straight-sided, parallel cylinders utilise theDach prism system and reflect light over four points across quality, polished glass, allowing the ocular lens and the objective lens to lie opposite each other.
Whether standard or specialised binoculars for night vision, marine or stabilised viewing the shapes still fall into the three categories mentioned.
Functions and Features Shared that Affect Performance
Exit Pupil

When the binoculars or monoculars are held at arm's length, the exit pupil can be seen as a bright circle in the ocular lens. The human eye's pupil opens at 7mm maximum in low-light situations, so anything beyond this size is wasted as the eye would be unable to take advantage of it.

It is easy to work out the size by using the figures describing the amount of magnification and the objective lens size. These two numbers typically describe a model as 7x50 for example, which when divided 50/7 return the exit pupil dimensions of 7mm, optimum size. It might be expressed as 8x56 for the same size exit pupil. Not all models offer 7mm and they may be 10x50 (50/10 = 5mm) or any combination larger or smaller. Most binoculars or monoculars offer a size range between 2mm-7mm.

Relative Brightness

Another means of comparison to determine the efficiency of the light availability through the ocular lens.

Calculated by producing the square of the exit pupil number. Therefore, a 5mm exit pupil is described as having 25 relative brightness and a 7mm exit pupil as 49.

Twilight Factor

A measurement to allow comparison between items when low light is a major factor. A scope with a higher twilight factor gives more detail in low light.

Calculating the figures will reveal which piece of equipment is better at light gathering. A 60x20 scope will show the same exit pupil size as a 90x30 scope. However, multiplying the figures and then finding the square root gives the twilight factor. So, the 60x20 scope returns a factor of 34.64 and the 90x30 (with identical exit pupil size) returns a factor of 51.96.

Eye Relief

When viewing through the ocular lens and the exit pupil, the distance between the eye and the glass can affect focus, especially for spectacle wearers where the extra distance caused by their glasses lenses interferes with optimum vision.

Where eye relief distance is too short, peripheral vision experiences blackout, and where too long, it narrows the observable viewing field.
Sufferers of astigmatism will still have to wear glasses when using equipment and 15mm offers enough relief distance not to affect vision. On some models there is a rubber eyepiece that can be rolled back to lessen the distance between the eye and the ocular lens.

Focussing

Some models are labelled automatic focus, but they are actually factory set for normal vision at 15m-infinity.

Where a set of binoculars can be adjusted the centre wheel is the first place to start. Subsequent refinements can then be made on the dioptre on the eyepiece/s for fine-tuned focus.

IPD

Inter-pupillary distance is how far apart the eyes are.

This adjustment is personal to the user and is achieved by flexing the central hinge to a comfortable fit.

Collimation

Each side of binoculars ought to produce the same image

Alignment may go out of kilter if the equipment is damaged through a fall or knock. To restore stereoscopic vision, the equipment will require professional re-setting to restore the collimation.

Flawed Vision

Spherical aberration, astigmatism, field curvature, and chromatic aberration can all cause distortion.

Lens quality and technology can prevent and/or correct certain distortions such as pincushion or barrel distortions through lens coatings and flat field technology that is available on certain makes of binoculars and scopes.
How to Find Binoculars or Monoculars on eBay
With the cursor hovered over on Electronics on eBay's All Categories featured on their home page, a selection appears offering Cameras & Photography. Click this selection and when the page returns a new selection, choose Telescopes & Binoculars from the alphabetical list. Choose from the five categories offered: Binoculars & Monoculars, Binocular Accessories, Telescopes, Telescope Parts & Accessories or Other Telescopes & Binoculars which might best describe the item required. Or, from any page on the auction site, type in a search request into the bar at the top of the page, click Go and browse through the result matches returned for that search in All Categories.
Conclusion
Many factors will determine which product will provide the most suitable purchase. Weight, size and price are the most common considerations. Lens quality, night vision capability and accessories may also influence choice. When comparing like with like products an instrument's optical quality, materials used, its construction and alignment may contribute significantly to observable differences in brightness and image resolution. Compatibility with other features is important if the equipment is intended to serve multiple functions.