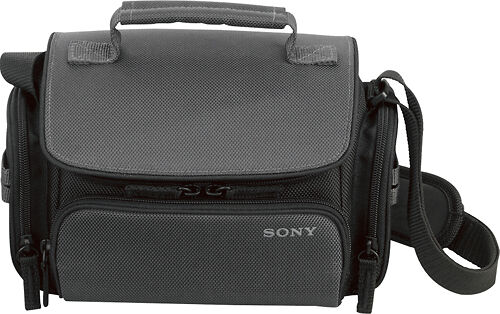 A good camera case is probably the most important additional piece of equipment a photographer will buy. A camera case is important because it protects the camera from accidental damage and also enables it to be carried around safely and conveniently. Camera designs range from small compact cameras to large DSLR cameras together with many accessories, so naturally there is a whole host of different camera cases that can be bought to accommodate them.
Despite all the different kinds, camera cases can be grouped into two main types: soft and hard. Of course, there are advantages and disadvantages with both kinds, and deciding which is the best depends on a number of different things.
Soft Camera Cases
Soft camera cases for small cameras are often slipped inside a handbag or other bag, so that the camera is always available. Soft cases for larger cameras can either be just for housing the camera, or larger bags to take the camera and additional accessories.
Advantages
There are many advantages to soft camera cases. Cameras and equipment can be transported easily – shoulder bags or backpacks are comfortable to wear and make it easy to take the equipment everywhere, including hiking or trekking. Larger bags offer padded storage, keeping equipment well-protected in versatile storage compartments. These are constructed from padded strips fitted with Velcro to allow the recesses to be altered depending on what is carried. The bags themselves can either be fully given over to camera equipment or a combination of camera and general storage. Access to the camera is often easy (for example, through a side opening), although some backpacks need to be removed before they can be opened. Soft cases will generally fit into airline overhead lockers.
Disadvantages
Camera bags are likely to be used a great deal, and the soft material may, over time, become worn or travel-marked. Although they offer a good level of protection against damage, even so-called waterproof versions will only protect against heavy rain rather than against immersion in water.
Different Kinds of Soft Camera Case
| | |
| --- | --- |
| Small bag or pouch | Ideal for compact cameras. Usually closed with a zip or flap. Little padding needed as cameras are robust. Wrist strap or neck strap attached for carrying. |
| Soft cameras case | Shaped to fit the camera – more usually used for DSLR cameras. Padded to protect vulnerable parts. Wider shoulder strap, which may be non-slip. |
| Soft camera bag | Padded outer shell with recesses inside for camera(s) and accessories. Inserts may be removable. May also have pockets for smaller accessories. Carry handles, perhaps with an additional shoulder strap. |
| Soft backpack-style camera bag | May have one strap (slingback) or two (backpack). Padded outer shell – may be moulded for added protection. Usually changeable inserts for housing camera(s) and accessories. May be whole camera or half camera storage. Padded shoulder straps, perhaps with additional straps for added comfort and security. |
| Soft suitcase-style bag with wheels | Some larger bags have wheels attached and perhaps a retractable handle (similar to a suitcase) to allow heavy equipment to be transported easily. |
Hard Camera Cases
Hard cases can be bought for cameras of all sizes. Hard-shell cases for compact cameras are often made from injection-moulded plastic, so they are light but strong. Hard cases for larger cameras (often referred to as Pro hard cases) are designed to offer maximum protection for expensive cameras and equipment.
Advantages
There is no doubt that hard cases offer better protection overall than soft cases although for compact cameras this is less important as the camera itself is generally quite tough. They are likely to last longer than soft cases, especially the Pro hard cases, and are less likely to become worn or marked. Pro cases have plenty of space for accessories, which are kept well-protected by foam recesses cut to size. The hard shell of a Pro case allows it to be stacked with others, perhaps in the boot of a car and are generally waterproof even if submerged – some cases are even designed to float.
Disadvantages
Small hard cases may be less convenient to carry in another bag as they are less flexible. Pro hard cases are less easily transported than soft cases – they cannot be carried on the back, making it difficult to use them on the move although this is less of a problem on a specific photo shoot. They are unlikely to fit in an airline locker, meaning cameras and equipment would have to be carried in the aircraft hold. The storage area is less flexible as the foam is cut to size, and cameras are relatively slow to access as the case needs to be put down and opened before use.
Different Kinds of Hard Camera Case
| | |
| --- | --- |
| Small hard-shell cases | Designed to house compact cameras. Usually zip closure. |
| Pro hard cases | Hard shell box fitted with interior foam – cut to size depending on the cameras and accessories needed. Carry handle, perhaps with an additional shoulder strap. Very strong and durable. |
Semi-Hard Camera Cases
A few manufacturers offer semi-hard camera cases, designed to hold a DSLR camera or similar. These are made from semi-rigid material, such as leather, and offer relatively good protection for the camera, but there is no space to hold accessories. They are usually designed for a specific model of camera.
Factors to Consider When Choosing a Camera Case
There are several factors to take into account when making the decision between a soft and a hard camera case.
Protection
One of the key elements to a camera case is the level of protection it offers. Compact cameras, by their nature, need little protection. However, larger cameras which have protruding features such as lenses need a greater level of protection from bumps and knocks and also protection from the elements (including rain, dust, and sand). There is no doubt that hard cases offer excellent protection from damage and also give better protection against the elements, but this has to be weighed against other factors such as portability issues.
Portability
The importance of portability really depends on the kind of photography the user wishes to carry out. Someone who may be out and about all day, perhaps rambling or hiking, will need a camera case that is comfortable to wear, relatively light, and perhaps can carry some additional things such as drinks and lunch. A photographer who needs quick access to cameras at all times will probably prefer a soft case with side access, so equipment can be reached easily. However, a photographer working mainly on specific photo shoots, such as a wedding, may prefer the additional protection offered by a Pro hard case, while portability is less important. It is also important to think about how the equipment will be mainly carried; if journeys are mostly by public transport or by air, a soft case may be easier to manage.
Durability
Hard cases are unquestionably more durable than soft ones, especially the Pro hard cases. They are less likely to become worn through constant use. They can withstand hard knocks and bumps and can even be dropped without sustaining damage. The interior recesses will keep their shape despite regular use.
Accessibility
Soft cases generally allow quicker accessibility to cameras although this depends to some extent on the individual design. Taking time to consider exactly how the case will enable access is essential for photographers who need to reach a camera easily. Pro hard cases and soft cases which need to be removed before they can be opened, will limit quick access.
Deciding Between a Soft or a Hard Camera Case
To choose between a soft or a hard camera case, it is important to weight up all the different factors carefully. Decide which is the most important factor, and then consider the other elements in turn. Ultimately, buying the best possible camera case will depend on getting the correct balance between protection, portability, and accessibility for each individual situation, depending on the photography style of the buyer.
Buying a Camera Case on eBay
To buy a hard or soft camera case on eBay, begin at the home page, and go to All Categories. Under the Cameras & Photography menu, select Camera & Photo Accessories,, and then Cases, Bags & Covers.. It will then be possible to refine the search further; for example, under the Type menu, options include Hard/Pro Cases,, Carry/Shoulder Bags, and Backpacks.. A search can also be carried out using key words.
Conclusion
Choosing a camera bag that is ideally suited to individual circumstances is a decision that requires several factors to be considered and balanced before making a final decision. However, measured consideration of all the elements involved and undertaking careful research into the available options should result in a camera bag that provides the right level of protection, portability, durability, and access for every situation.