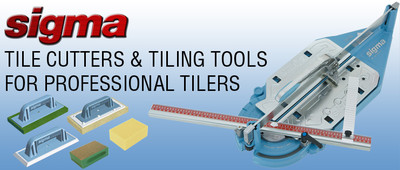 Calling all professional tile fixers!
Are you struggling cutting your porcelain tiles with your old tile cutter that's just not up to the job? If you answered yes to the above question then it's time to invest in a new tile cutter. Well look no further. For a guaranteed quality, accurate tiling job- Sigma is the answer!
Tool venture recommend Sigma manual tile cutters for all your professional tiling needs.
Sigma is recognized as the number one trade tile cutter in the world. All Sigma tile cutters are skillfully hand built in Rimini, Italy to the highest of standards. Sigma models include Standard, Technica, Max Series, Klick Klock and Series 3.
Precision, Quality and ease of use are the main characteristics of Sigma manual tile cutters. These versatile machines are suitable for cutting a wide range of commercially available tiles and are made with high-resistance aluminum alloy and steel.
Sigma has a huge range of manual tile cutters suitable for cutting ceramic tiles, porcelain tiles and even mosaic tiles. Sigma manual tile cutters are far superior to other tile cutter brands on the market. This is especially so for cutting porcelain tiles that need a quality strong, accurate tile cutter capable of breaking through easily due to the denseness of the porcelain. Don't just take our word for it; check out the reviews on the professional tiling forums!
Sigma tile cutter benefits:
Sigma tile cutters will cut most quality ceramic and porcelain tiles
All Sigma tile cutters are made from quality high grade aluminium and steel
All the breaking handles (Standard, Max & Klick Klock) have plastic pads fitted to the breaker to stop damage to the tile surface when breaking the tile.
Sigma tile cutters are easy to use for both professional tile cutters and beginners. Making fast, clean accurate cuts possible every time.
Sigma tile cutters have a solid single guide rail that will not flex or bend.
Come with accessories for diagonal cuts.
Replaceable quality tungsten carbide wheel for a clean, accurate score.
Patented measuring bars.
Removable measuring bar for easy transport.
Design allows highly accurate diagonal cutting.
Choice of Push or pull cutting systems within the Sigma range
Handles on all the Sigma models are reversible.
So there you have all the pro's of the Sigma manual tile cutter but what about the cons? The good news is there aren't any!
View The Full Sigma Manual Tile Cutter Range
Need advice? Call our highly trained customer service department who will be able to give you expert advice on the full range of Sigma manual tile cutters. We are available on 01992 712045 Monday-Friday 8.30am to 5pm.