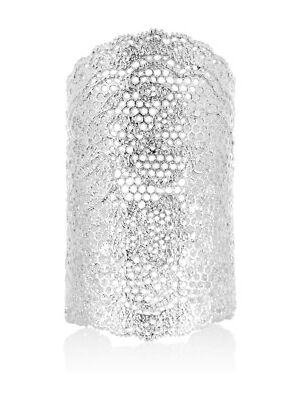 The history of cuff bracelets goes back thousands of years to an era when the bracelets symbolised social status. Ancient Egyptian kings and queens wore elaborately designed cuffs to signify their rarefied status. As civilisations evolved, cuffs eventually became an ordinary element of worn jewellery. While early cuffs were mostly constructed with gold, other materials, such as silver and leather, were used to make the increasingly popular piece of jewellery. Contemporary cuff designs appeal to virtually every demographic and the appeal translates to cuffs being one of the more popular gifts. Silver cuffs have become so popular that men are now wearing them instead of wearing leather-constructed cuffs.
Consumers can buy silver cuffs at most jewellery shops and small boutiques that specialise in selling decorative products. They can also go online and find excellent deals on silver cuffs on eBay. Going online to buy silver cuffs requires consumers to know their exact wrist sizes. Before shopping for silver cuffs, consumers should learn why sterling silver has become the most popular cuff material and the myriad benefits of wearing silver cuffs.
Overview of Cuff Bracelets
Cuff bracelets are jewellery pieces that wrap around the wrist. Most cuff wearers slip the wide, rigid piece of jewellery around the wrist, with the narrower opening facing the hand. Cuffs provide more of a decorative purpose than functional purpose, as men typically choose leather cuff bracelets, and women typically choose either gold or silver for their cuff materials. Engravings, or other adornments, enhance the decorative value of cuff bracelets. The metals used to construct cuffs are shaped or hammered into a thin, flat sheet that curves to fit varied wrist sizes. While cuffs make definitive fashion statements, there is not a defined etiquette for how and when to wear the jewellery pieces.
Even though cuffs should fit snugly around the wrist, they should possess enough elasticity to adjust to different wrist circumferences. Leather cuffs are much easier to adjust than metal cuff bracelets. Before buying cuffs, consumers should measure their own wrists, or the wrists of the person who is to receive the cuff. Since cuffs are considered jewellery that enhance visual appeal, other types of jewellery, such as rings and necklaces, should either not be worn or worn with a minimalist design. For instance, wear a silver cuff that contains tiny emeralds with neutral earrings without a necklace.
Why Use Sterling Silver to Make Cuffs?
What is considered to be fine silver is 99.9 per cent pure silver, which is much too soft for producing durable jewellery. A cuff constructed with fine silver does not have the capability of maintaining its shape around a wrist. Therefore, cuffs made with sterling silver provide the highest quality combined with incomparable durability. Sterling silver comprises 92.5 per cent silver and 7.5 per cent of some other metal alloy, such as zinc or copper. This means sterling silver has a minimum millesimal firmness of 925, and hence, is often referred to as 92.5 or 925 silver.
The metal that comprises the 7.5 per cent of sterling silver determines some of the silver's properties. Sterling silver blended with copper produces a cuff that has rugged strength, as well as the inherent beauty possessed by many other precious metals. Because of its dual strong attributes, consumers can find many cuff designs constructed with sterling silver that contain some copper. The combination of 925 silver and copper also reduces casting porosity, eliminates firescale, and increases resistance to tarnish.
Sterling silver constructed with copper costs more than sterling silver made with other metals, such as germanium, zinc, or platinum. The beauty of sterling silver often depends on the underlying metal complement. Platinum provides silver with a shiny finish and zinc adds a touch of distinguished nobility. However, nothing compares to copper, which is why consumers should inquire with both brick and mortar sterling silver cuff sellers, as well as online purveyors, as to the composition of available silver cuffs.
Silver is not chemically reactive, meaning it does not degrade when it interacts with oxygen or water at room temperatures. The prevention of the development of silver oxide is another reason why most jewellers prefer silver cuffs over other types of cuff. Consumers should note that silver sulfide slowly manifests as black tarnish when silver is exposed to sulphur airborne compounds. This is another reason why manufacturers combine pure silver with another precious metal to construct sterling silver cuffs..
The Benefits of Wearing Silver Cuffs
Most jewellery experts agree that sterling silver jewellery possesses a level of elegance and spectacular beauty that no other metal can present. Sterling silver not only sparkles, but it also provides five additional benefits that push sterling silver cuffs beyond simply aesthetic appeal. The benefits of wearing silver cuffs should encourage men to consider wearing them, despite the suggestion that leather is more appropriate.
Inexpensive
Even though there has been an uptick in silver prices, the metal is still cheaper than gold. Sterling silver, which does not comprise 100 per cent silver, is the cheaper alternative to promoting panache. Moreover, gold prices are expected to rise sharply over the next few years, as many people attempt to hedge currency devaluation with investments in a valuable tangible asset. Silver also requires much less maintenance than leather, which makes silver cuffs a cheaper investment in the long run than leather cuffs.
Fashion Versatility
Sterling silver cuffs work with just about any outfit combination. The cuffs can be worn with the most elegant gowns, as well as with plain coloured T-shirts and blue jeans. Much of the pairing of silver cuffs and attire depends on any additional decorative touches to the cuffs. For instance, sparkling tiny diamonds do not work with faded blue jeans. Nonetheless, silver cuffs possess the type of restrained beauty and varied styles to complement most fashion styles.
High Fashion
The fashion industry has always promoted sterling silver jewellery as the best way to make strong fashion statements. Rarely is a celebrity seen without wearing some type of silver jewellery. Most fashion catalogues feature sections that promote sterling silver jewellery,, with silver cuffs playing an influential role in fashion design. Pay attention to the jewellery worn by attendees of the next big formal social event.
Look Like Royalty
The fashion world often takes trend cues from royalty. Kings and queens have historically opted for sterling silver jewellery because of its splendid beauty and regal appearance. Silver cuffs have been a recent addition to royal jewellery, especially amongst the younger members of royal families.
Decorative Flexibility
While not 100 per cent pure silver, sterling silver does possess enough silver to allow different levels of impressions for artistic purposes. This provides silver cuff manufacturers the design flexibility to construct cuffs with simply stated designs or intricate patterns that heighten the value of silver cuffs. Consumers should note that because of the design flexibility of silver cuffs, it is typically the last piece of jewellery that is customised to integrate with other pieces of jewellery, such as rings or earrings. Because of its decorative flexibility, silver cuffs can be worn at weddings, casual parties, church, and work.
Aging
As it ages, 925 silver collects patina because of exposure to moisture and acidic contaminated air. The resulting oxidation provides sterling silver with an antique and vintage look that enhances silver cuff value. Silver cuffs that have considerably aged sell for higher prices because of their vintage appearance. In addition, the chemical composition changes that occur during the silver cuff aging process do not influence the cuff's durability.
Buying Silver Cuffs on eBay
Buying silver cuffs on eBay is as simple as typing a few keywords into eBay's search engine, and then navigating through the search result pages until you find a seller who matches your shopping criteria. Type specific keywords to reduce the number of search results. For instance, type "men's silver cuff bracelets &" or "new silver cuffs &" to narrow the list of potential silver cuff sellers. Once you find the right silver cuff seller, click the seller's product page icon to review accepted payment methods, delivery terms, and return guidelines. Every silver cuff seller should present a photograph that gives you an idea of the cuff's condition.
Consider buying a silver cuff from one of eBay's Top-Rated Sellers. These sellers have demonstrated that they sell superior products and run fair auctions. Top-rated sellers also provide buyers with enough time to test silver cuffs before deciding whether to keep them. You can also review customer feedback that eBay presents on seller product pages. Look for positive feedback that covers the past year and preferably includes positive feedback for selling jewellery. Once you establish a business relationship with an eBay seller, ask the seller if he or she runs an eBay Store where you can directly purchase products.
Conclusion
There is a rising fashion phenomenon that involves a simple looking cuff that wraps around a wrist. The fashion phenomenon was once reserved for the highest ranking members of societies, but it has now caught on to become one of the more popular fashion statements made by virtually every demographic. Cuff bracelets, especially those made with sterling silver, are an integral part of many wardrobes, whether the wardrobe is to be worn to school or to the opening of a renowned musical. All consumers need to do is measure their wrists sizes and decide on the type of design that makes their desired fashion statements.
Jewellers prefer sterling silver cuffs for many reasons. As it is made with only 92.5 per cent silver, the cuffs do not bend as easily as 100 per cent pure silver cuffs. The complementing precious metal makes a huge difference in sterling silver cuff quality. Copper provides the best combination of beauty and durability, although metals, such as zinc and platinum, can lower the costs of sterling silver cuffs. Sterling silver cuffs also provide people with the type of decorative flexibility that they can wear almost any type of earring or necklace.. Above all, sterling silver cuffs can make the type of high fashion statement that conveys royalty.