Elegant timepieces are appealing to both collectors and vintage enthusiasts. A silver pocket watch looks best with a matching silver pocket watch chain. Buyers that wish to purchase a silver pocket watch chain should consider the range of styles available.
Silver T-Bar Pocket Watch Chain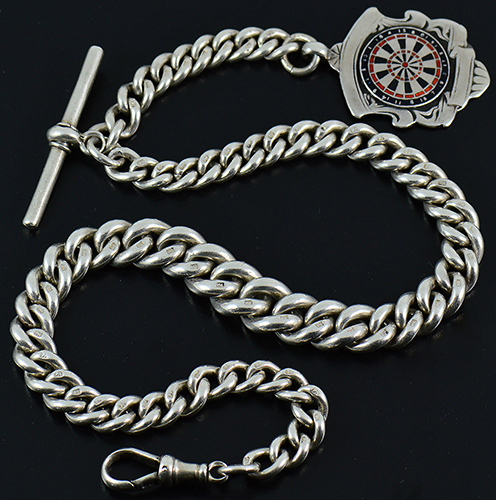 T-bar pocket watch chains are also known as buttonhole chains. They have a T-shaped bar at one end that slips into a buttonhole, usually on a waistcoat, and turns sideways to hold the chain in place. At the opposite end is a swivel clip that secures the pocket watch to the chain. It is easy to find silver T-bar pocket watch chains in a range of designs.
Silver Albert Pocket Watch Chain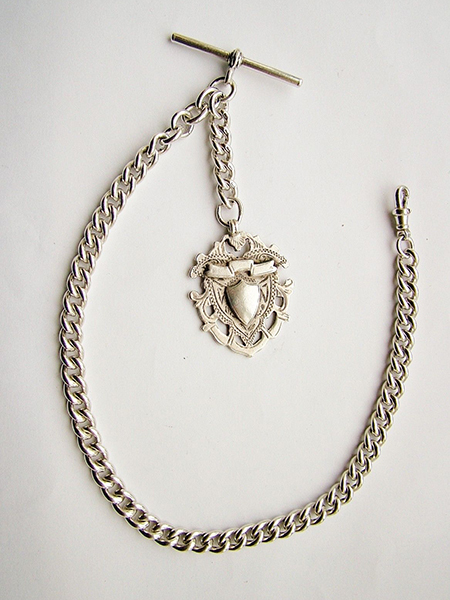 Silver Albert pocket watch chains are the epitome of elegance. This style was made popular by Queen Victoria's husband, Albert. Single Albert chains are similar to T-bar versions, but are double ended with a decorative strand that hangs from the button hole. Double Albert chains have two long sections with swivel clasp ends and a middle T-bar. Wearers can store a pocket watch in one waistcoat pocket and a second item, such as a pocketknife, in the other pocket. They can hang a decorative ornament from the middle section. These chains are popular in antique silver.
Silver Slide Pocket Watch Chain
Silver slide pocket watch chains feature a spring clasp at one end that fits into a buttonhole or belt loop. The opposite end features a swivel clasp that fastens to the pocket watch. Ladies' slide pocket watch chains, also known guard chains, have a similar design. Often the silver slide holds precious or semi-precious gems for a feminine, decorative touch. These chains are also used with lockets or pendants, and are even worn as necklaces.
Valuable Silver Pocket Watch Chains
Some silver pocket watch chains are extremely valuable. For example, many antique silver pocket watch chains are made from either sterling silver, which is 92.5 percent pure silver, or coin silver, which is 90 percent pure silver. These chains are rare, which increases their value. Every link of the highest quality English chain is tapered, and features a hallmark on each link.