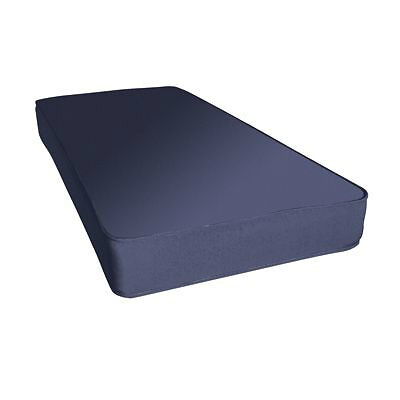 Getting a good night's sleep is very important for general health and wellbeing. For those who own a single bed frame or are looking to purchase one, it is important to choose a high-quality single mattress that is suited to the body and the user's sleeping preferences. There are many differences between single mattresses; some are more comfortable, while others focus on support; some have higher quality materials and craftsmanship, while others provide value for money.
About Single Mattresses
They might look like simple products, but single mattresses have a great deal of technology in them, and advancements in mattress composition, structure and production are happening all the time. The concept of a bed – a piece of furniture with comfortable bedding for sleeping on – has been around since antiquity, and the 'mattress' would usually have been a sack of some description filled with any kind and mixture of soft material, from straw and foliage to hair and cotton. It wasn't until the 18th century that the bedsprings recognised today were invented, and these were a revolution thanks to their resilience, firmness and uniformity. Today's mattresses use a variety of materials to achieve comfort and support, and though most of them have mattress springs at their heart, new alternative technologies such as memory foam are becoming increasingly popular.
Choosing Single Mattresses
When buying a new or used single mattress, a rule of thumb for quality is to check the price range, but personal preferences are also important, and there are naturally many other important factors to consider. There are different types of mattress such as spring mattresses and foam mattresses, and there are variations for each type of mattress. Differences include the type of spring and the spring system, the gauge (firmness) of the spring, upholstery material and layering, top layers and top finish, wadding and filling material. All new mattresses are provided with firmness rating. Higher firmness promotes support, and lower firmness provides a more enveloping sleeping experience. Mattress thicknesses vary from 4 inches to upwards of 12 inches, and thicker mattresses are often better for support and include layers of fillings and extra wadding.
Primary Single Mattress Types
There are now many types of single mattress available, including open (coil) sprung, pocket sprung, memory foam, sprung/memory combination and orthopaedic single mattresses.
Open Sprung
Open Spring single mattresses use the most popular and simple spring system in the world, including the Bonnell and Continuous spring coils. The springs are directly connected to the boarder frame of the mattress, which provides it with firm edging and helps it to keep its shape. The springs act in unison with applied body weight. The Bonnel Coil characterises the cheapest and most basic open sprung mattresses, while the continuous coil has interconnecting wires between coils for greater stability and durability. Open sprung single mattresses are suitable if a good levels of support and comfort is wanted. Body-weight is distributed more evenly. Forces are localised thanks to the individual springs, which prevent the mattress from distorting. Good airflow for temperature control. The downside to these mattresses, however, is that they can be expensive.
Pocket Sprung
The pocket sprung mattress is a more comfortable spring alternative to the open sprung mattress, though generally more expensive. Each spring in the mattress is separated from the others, and they are instead, brought together by the stitching of each spring's fabric pocket. Like open sprung mattresses, pocket sprung ones are also suitable if wanting good levels of support and comfort. Forces are, again, localised thanks to the individual springs, which prevent the mattress from distorting and the good airflow regulates the temperature. As with open sprung mattresses, they are not cheap.
Memory Foam
Memory foam is a springless visco-elastic material which allows the body to sink into it, with the foam moulding around the shape and contours of the body. When pressure is released, the material slowly recovers to its normal shape. A new sense of support and comfort is had with memory foam, however, it retains heat so it is less suitable for hot sleepers. Memory foam provides highly uniform support and distributing the body's weight evenly. Moreover, it is usually hypoallergenic and it has orthopaedic properties which help with joints and posture, keeps the spine aligned when sleeping to one side. A disadvantage of memory foam is that it can be expensive. In addition, not everyone likes the sensation of lying on memory foam and it has a typically shorter lifespan than sprung.
Latex Foam
Latex foam mattresses are made from rubber tree sap and provide a similar support mechanism to memory foam. They are suitable when wanting very good, uniform support. In addition, they have better air flow than memory foam, and so are more suitable for hot sleepers. They provide very good support and comfort and better durability and heat regulation than memory foam. On the downside, they are heavy and difficult to move and, like the others above, can be expensive.
Other Single Mattress Types
These main types of mattress are the underlying systems that provide the good levels of comfort and support available in single mattresses. Different mattress companies invent and patent their own spring systems however, and this means that many luxuries in the world of pocket sprung single mattresses can be found, for example, dual layer springs and 'spring within spring' systems. Another type of mattress is the combination mattress, which includes sprung as part of the main mattress, and memory foam on top of the sprung. This provides the support and long lasting properties of sprung with a comforting layer of foam which lets the body sink into it. Less common mattress types include water mattresses and air mattresses. Water mattresses are considered to be much less supportive and irritating due to the water motion, but many water mattresses include additional internal support and motion cancelling. Air mattresses are a good choice as a portable bed, but they are not good at providing uniform support, and may leak when they are slept on. For people with orthopaedic requirements, there are many specially designed orthopaedic mattresses which provide the minimum level of support required. These mattresses are usually combination mattresses or coil sprung, and provide consistent levels of support over longer periods of time.
Single Mattress Features
Mattresses come with many different extra features to further enhance their comfort, support and aesthetics.
| | |
| --- | --- |
| Hypoallergenic | A must for those who are allergic to certain bedding fabrics, wadding and filling materials. |
| Quilted Finish | Quilting is performed on cheaper mattresses, where the outer fabric is stitched |
| Tufted Finish | The tufted finish involves a tuft being passed through the mattress, which helps to keep top fillings in place and provider higher firmness. |
| Fillings | In spring beds, fillings are often placed on top of the main spring layers, including wool, hair and silk. |
| Air Flow | All sprung beds transport air, but some a designed to keep high levels of air flow to reduce moisture build up and promote cool sleeping. |
Find Single Mattresses on eBay
To browse through the selection of single mattresses available on eBay, start by navigating to the eBay homepage. Move the cursor over the Home & Garden tab on the left hand side and then click on Home & Garden.Then move the cursor over the Furniture & Living tab, and then click on Beds & Mattresses. From here the search can be narrowed by clicking on the relevant category such as Mattresses, Inflatable Mattresses/Airbeds or Beds with Mattresses. Refine the search further by selecting the type of mattress, the price range, the condition, and the firmness, and Auction or Buy it now items can be selected at the top of the middle panel. As an alternative measure, direct searches can be made via search bar at the top of every eBay page.
Conclusion
Sleep is very important for maintaining a healthy quality of life and reducing stress. Purchasing a high quality and suitable single mattress is important for ensuring restful and satisfying sleep on a surface that will last for a long time. When purchasing on sites like eBay, it is always best to research lots of different sellers, and to compare similar products to ensure that the price is reasonable.