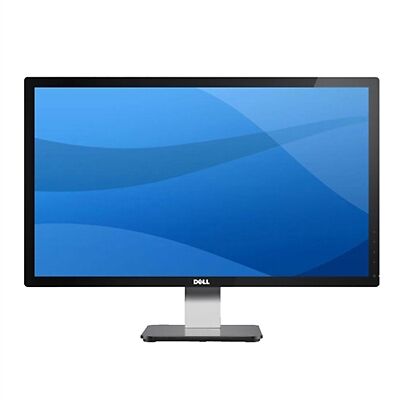 A monitor is an essential part of a computer setup. As it is in many ways responsible for the size, shape, and quality of what a person sees when using a computer, choosing the right monitor is one of the most important elements of purchasing a desktop computer.
About Monitors
Monitors have been around since home computing began, but until recently the dominant form of computer monitors relied on cathode ray tubes (known as CRT). Bulky and heavy, CRT monitors were common until the beginning of the 21st century, when they were succeeded by liquid crystal displays (LCD). LCD technology is superior in every way, though until recently it was too expensive for widespread use, and instead was used mainly in laptop screens. Now, however, CRT monitors are rarely seen, and consumers would be ill-advised to purchase anything other than an LCD monitor.
Shopping for Monitors on eBay
There are thousands of monitors listed on eBay, with a range wide enough to suit the needs of any almost any consumer. When buying on eBay, take into consideration the rating of the seller (authorised sellers are best) as well the costs of shipping – often, shipping is free; if it is not, consider local sellers, from whom it may be possible to collect the item in person. Also check the listing thoroughly; there may be additional items bundled with the monitor. Below are the six most important features to consider when looking for a monitor on eBay, along with information explaining the importance of each one.
1. Screen Size
Monitors can range in size from 17 inches to around 30 inches, and a monitor's size determines many of its other technical specifications.
| | |
| --- | --- |
| 17 to 20-inch | 17-inch monitors are mostly a thing of the past, unless they are bought with portability in mind. Usually they have only a 4:3 aspect ratio, which is far too small for those used to dealing with widescreen displays. 19-inch monitors are the smallest monitors to approach widescreen, typically having aspect ratios of 16:10; though when it comes to pixels they can't get beyond a resolution of 1,366 x 768. At 20 inches, monitors begin to be capable of dealing with HD films in their natural aspect ratio (16:9), and usually boast a pixel resolution of 1,600 x 900. Naturally, the monitors in this size range are cheaper than others. |
| 21.5 to 23-inch | More than adequate to meet the demands of the general user, 21.5 and 22-inch monitors have pixel resolutions of 1,920 x 1,080. This category is also the point at which monitors begin to include useful additional connections, such as a HDMI port. These sizes can differ widely in price, depending on the panel type used. |
| 24-inch | A good choice for gamers and those who watch films via their computers, 24-inch monitors offer a significant technical leap forward from those of a smaller size: most monitors of this size can handle pixel resolutions of both 1,920 x 1,080 and 1,920 x 1,200 and are the only kind to be able to do so. |
| 27 to 30-inch | Usually not necessary for most users, 27-inch monitors can run at 1,920 x 1,080 and 2,560 x 1,440 pixel resolutions. 30-inch monitors function around 2,560 x 1,600 pixel resolution and are the costliest models. However, with 27-inch monitors now capable of extremely sharp definition, 30-inch models are beginning to fall in price. |
2. Panel Type
There are four types of panel technology used in LCD monitors, all of which have their strengths and weaknesses depending on the demands of the user.
| | |
| --- | --- |
| Twisted nematic (TN) | TN panels are extremely fast, with response times of less than 2ms, and are the cheapest type of panel technology. On the other hand, they offer only narrow viewing angles, along with fairly low brightness and not-too-accurate colour reproduction. |
| Vertical alignment (VA) | VA panels are a generally upgraded version of TN panels: they reproduce colours with greater accuracy, have wider viewing angles, and are capable of reaching a much higher level of brightness. But, as a result of these benefits, VA panels also have a slower response time than TN panels and are fairly costly by comparison. |
| In-plane switching (IPS) | Monitors that use IPS technology are, on average, the most expensive and slowest. But they are also a lot better than monitors with VA or TN panels in terms of viewing angles and colour reproduction. |
| Plane-line switching (PLS) | A relatively new technology, PLS offers a width of viewing angle on a par with IPS as well as higher brightness with less power consumption. Eventually, it may also be cheaper than IPS, though as it is still in its early stages, it is the most expensive type of panel technology. |
3. Connections
Most laptops larger than 21 inches come fitted with a range of connections. Generally, the more connections, the higher the price. However, while some connections are essential, others are mildly useful extras at best.
| | |
| --- | --- |
| DVI | DVI (digital visual interface) looks to be a neglected feature on many new monitors, though it's hardly an obsolete technology. At least one port is always recommended. |
| HDMI | Essential for using a monitor as a television, a HDMI connection allows the monitor to be connected to a HD source (e.g. a Blu-ray player or set-top box) and will transmit both video and sound. Almost all monitors now come with this technology. |
| DisplayPort | Set to be a replacement technology for HDMI and DVI, DisplayPort is only recently becoming a staple feature on monitors. It should be considered a high priority when looking for any new monitor. |
| Audio | By no means an essential feature, a monitor-based audio jack is useful mainly for users interested in gaming. |
| USB | With USB connections required for many external devices, extra USB slots are always a welcome addition, but monitor-based USB connections should not be considered essential. |
| Media card reader | A rare feature, media card readers usually feature only on the high-end monitors, and allow users to read memory cards such as SD, Compact Flash, and MS. |
4. Inbuilt Extras
In addition to having a wide range of connections, it is now common for large monitors to be fitted with in-built extras, from television tuners to webcams.
| | |
| --- | --- |
| Television tuner | Some monitors come with built-in tuners which allow users to receive a digital reception. This is extremely useful if the monitor is to serve as a replacement television. |
| Webcam | In-built webcams can either be a welcome addition, as they allow for less cable and desktop clutter, or they can be unnecessary, as they are rarely able to match the image quality of standalone webcams. |
| Speakers | Built-in speakers are useful, but as they cannot match standalone speakers in terms of sound quality, they often go unused. |
5. Monitor Aesthetics
The way a monitor looks is important for many consumers, though it has no bearing on the quality of the monitor. Monitor styles generally do not differ much: Most are black, with silver details, though some companies have colourful touches, such as red detailing or a case made of aluminium rather than plastic. A thin bezel (around 1cm is the thinnest) offers the sleekest look. Also ensure that when buying on eBay, attention is paid to the quality and quantity of the seller's images in order to make a fair assessment of the monitor's outward appearance.
6. Warranties and Support
Ideally, buy from a seller with a returns policy of at least 30 days. A returns policy of 90 days is preferable, though most monitors reveal any problems as soon as they are used. Also check for parts-and-labour warranty, and read the warranty small-print thoroughly. Technical support, though it may be included, is rarely necessary for monitors.
Conclusion
The best monitor is the monitor that suits the needs of the user. Most people remain faithful to the monitor that comes bundled with the rest of their hardware, but this is rarely the best option. Monitors, like many other aspects of a computer, offer different features and specifications to suit different users. It is therefore important for consumers to look at a variety of products in order to find the most suitable monitors at the best prices.