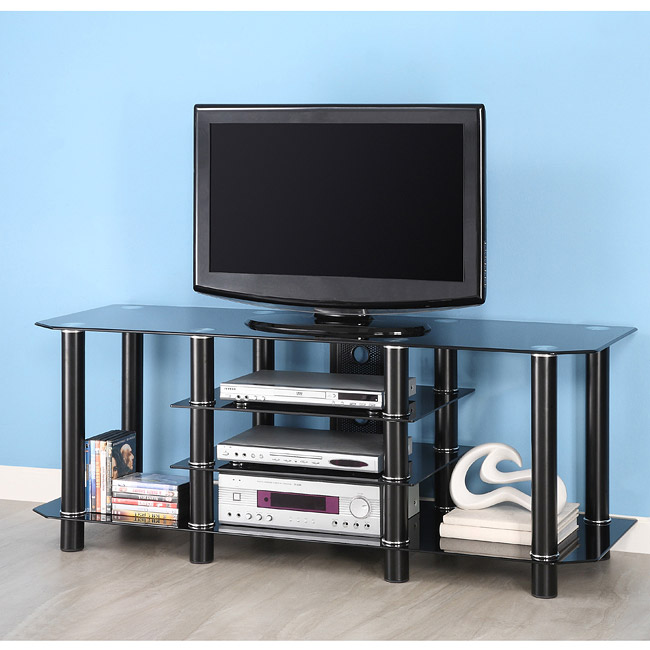 A TV stand is a piece of furniture on which a television set and associated home entertainment equipment is stacked. Generally the type of TV stand is chosen to suit the style and size of the television itself and also to complement the current furniture and decor of the room. TV stands vary widely in price depending on the material from which it is constructed and also whether it is self-assembly or pre-assembled. TV stands are stylish and functional, and are a practical addition to any home.
About a TV Stand
TV stands have evolved almost as much as television sets have over the last eight decades. The first televisions, sold as early as the 1930s but exploding in popularity after the Second World War, were tiny black and white screens contained within a console. The console itself was usually a fine piece of natural wood, such as walnut or oak, and became as much a conversation piece as the television itself. Those early classy TV stands have often survived and become family heirlooms. Today's choices of TV stand may not have the longevity of those early pioneers but the craftsmanship and design of the TV stands on the market now are perfectly suited to modern lifestyles and to the new style of television sets, from flat screens to LED, making them an in-home necessity. There are many cheap and affordable TV stands on the market but an important consideration when purchasing one is longevity – a cheaper one may not last long while a more expensive investment may provide the home with a TV stand that lasts for years.
1. Matching a TV Stand to the TV
It is essential to choose the right TV stand to the television screen that it is to house. Televisions range in width and depth – older models are deeper while flat screens, LCD and LED televisions are wider but narrower. For an older model, the TV stand needs to have a wide base that is sturdy and strong enough to hold the set without buckling. While state-of-the-art screens are lighter, they too require a sturdy base that gives them the right support to keep the screen steady and safe. Before choosing a TV stand, measure the complete width and depth of the television to ensure the stand is big enough to accommodate the set. Another factor to take into consideration is what other equipment is to be stored alongside the television. Most homes will also have some kind of set-top box for satellite, cable or Freeview, along with a DVD or Blu-Ray player and games console, all linked to the television set.
2. Matching a TV Stand to Its Surroundings
The style of a room and the available space will dictate the size and style of the TV stand chosen. Rooms decorated in a modern, minimalist style may benefit from a glass and stainless steel TV stand, for example, while more traditional decor may be complemented by a TV stand in solid or veneer wood. Available space is crucial – take into account not only the size of the stand itself but also of the set and the equipment it will carry. For example, a corner unit – shaped either as a triangle or hexagonal – can be utilised in a small, awkward to fill area, allowing the set to be placed as far back against a wall as necessary to free up more space.
3. The Different Styles of TV Stand
There are several style options available in TV stands. Each has something different to offer in terms of looks, functionality and cost. Here are some of the most popular choices.
| | |
| --- | --- |
| Glass | The most contemporary of TV stand styles, glass stands are available in clear or black finishes with leg supports more typically in brushed aluminium, chrome, silver, or black. Ensure that the stand only contains toughened, safety glass. Some glass stands come with castors, allowing the stand to be moved easily necessary. One disadvantage to a glass stand is that it leaves unsightly cables and wires in full view but a cable tidy can conceal these easily. |
| Cantilever | A cantilever TV stand is an innovative new design that combines the functionality of a glass stand with the flexibility of a wall-mounted television. The stand features a base with additional shelves, but the television set itself is bolted on to the central spine of the stand and can be moved up and down to suit viewing preferences. The benefit of using a cantilever instead of wall mounting a television is that there is no drilling required and the set and stand can be moved anywhere in the room at any time. It is essential to buy a cantilever stand capable of holding the weight of the set over a sustained period of time. |
| Cabinets | The modern equivalent of the original television consoles, cabinets are a very stylish and sophisticated addition to the home. The cabinet will enclose all of the home entertainment equipment, cabling, and wiring inside its doors, making it a neat and tidy storage option. |
4. Different Materials Available for a TV Stand
The material chosen for a TV stand will also dictate its cost. Here are some of the most popular.
| | |
| --- | --- |
| Real wood | Oak, pine and walnut are among the most popular of real wood TV stands, often chosen because the finished effect is stylish and enduring. |
| Wood veneers | A glossy or satin finish on wood veneers such as walnut and oak is an affordable alternative to real wood. |
| Glass | The most modern and sophisticated of styles, glass TV stands are the contemporary choice. |
5. Storage in a TV Stand
TV stands are highly functional and practical pieces of furniture, particularly when they also come with extra storage. This storage takes the form of drawers and shelving, sometimes enclosed by doors or drop-down flaps. A TV stand with storage can accommodate equipment such as DVD and Blu-Ray players, satellite and cable receivers, DVDs and games, remote controls, and games controllers.
6. Caring for a TV Stand
Care is an important consideration when choosing a TV stand. Glass stands will require regular cleaning with a dry cloth to remove the dust that gathers. Real wood can be cared off with furniture polish but check the manufacturer's cleaning instructions before using polish on veneers. Most TV stands are easy to care for and very low maintenance.
Find a TV Stand on eBay
To find a TV stand on eBay, go to the homepage and click on Electronics & Technology. Then open the tab for Sound & Vision and then click on to TV & Home Audio Accessories. Now click the tab TV Stands on the left-hand side. Use the search bar at the top of the page for a more specific search. For example, if looking for a glass cantilever stand with black supports, type "TV stand cantilever black" into the search field. The search can be narrowed down further by brands or style.
Conclusion
Choosing a TV stand will depend on several factors: the decor of the room in which it is to be placed; the size of the television set to be accommodated; the available space; what other home entertainment or media is to be placed there; and the buyer's budget. There are several different styles such as contemporary or classic and different types of material used, all of which must be taken into consideration when choosing the right TV stand. Corner units, triangular, or hexagonal, can be used to maximise even the most awkward of spaces while cantilever stands give the effect of wall mounting with the flexibility of being able to move the stand and television set whenever required. TV stands can include cable management to remove unsightly cables and wires from view, adding to the overall look of the room. When looking for a TV stand on eBay, take into account size, shape, style, and cost.