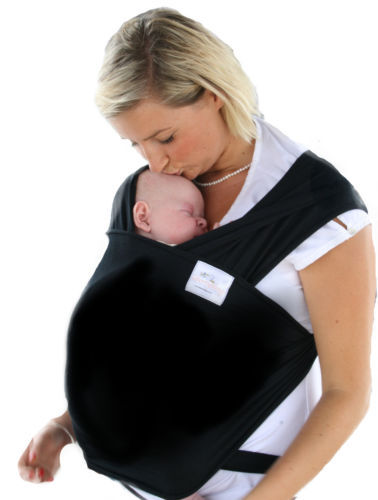 There are several ways to take babies along when out and about. When babies are small and light enough to be carried, they can be attached to the body of the parent or caregiver, leaving the hands free and thus offering flexibility. The carrier allows for travel to less accessible places where pushchairs would be a nuisance, so activities such as running errands and shopping can be undertaken with ease. Moreover, baby carriers allow for additional closeness to the baby, facilitating the formation of a lasting bond with the child while also making it easy to stay aware of the child's need.
Different baby carriers are available from high street shops that offer baby equipment, but they can also be ordered via online auction sites, such as eBay.Comfort is the main factor that should be considered when choosing the appropriate baby carrier, so it is wise to opt for a model that is size adjustable and can be customised according to individual needs. Other features, such as support and material, should also be taken into account before making the purchase in order to ensure that both the baby and the parent are comfortable.
Types of Size Adjustable Baby Carriers
Size adjustable baby carriers are, by and large, divided into two groups. These types are multi-way and soft baby carriers. The main difference between them lies in the number of ways they can be carried. Soft baby carriers offer fewer options. The soft models have a simpler structure and their uses can thus be learned more quickly.
Multi-Way Baby Carrier
As the name implies, a multi-way baby carrier can be used in many different positions, allowing the parents to choose the best position for their baby. Generally, multi-way baby carriers provide three positions. Besides the standard back and front positions, some models also offer a special position for breastfeeding. Sometimes, a fourth position is added, and the baby can be carried on the hip if he or she can sit up without additional help. This position should be used with care, especially in case of any back problems. Multi-way baby carriers are easily adjustable and last for a long period of time, from birth to toddler age. The weight limits are usually from 12 kg to 18 kg. They often look like backpacks. However, their correct use needs to be learned and may require some practice.
Soft Baby Carrier
The soft baby carrier is the most well-known carrier type. It is used widely because of its simplicity. Soft baby carriers position the baby in front of the parent, either facing the parent or facing outwards. Thanks to its adjustability, the soft baby carrier is suitable for both parents. A soft baby carrier is good for the back because the baby's weight is distributed evenly on both shoulders. However, this carrier is not optimal for breastfeeding. The baby is held in an upright position inside the carrier, and very young babies, who cannot support their heads, require a padded headrest. Usually, the headrest is already included in the body of the carrier. As the baby gets older, the headrest can be folded away, but it is worth noting that babies sometimes like to chew on the headrest, and a dribble bib may be a good choice with this carrier.
Most soft baby carriers can be used from birth until the baby reaches a weight of 12 kg, although some models can support babies who weigh up to 20 kg. For safety reasons, it is advisable to choose soft baby carriers that have the BS EN 13209 Part 2:2005 safety mark imprinted on them.
Features of a Size Adjustable Baby Carrier
Today, the best size adjustable baby carriers are comfortable and come with advanced features that make the life of the parents easy. When looking for a baby carrier, it is worth considering the level of comfort, the weight limit, the material, and additional storage spaces.
Comfort of the Size Adjustable Baby Carrier
Carrying a baby puts a strain on one's body, and people with spinal problems need to take extra care, especially as the baby gets older and heavier. Padding is always important, because it helps to prevent friction. Many baby carriers offer padded lumbar support for the lower back, because this part of the body tires easily when carrying the baby and walking around. This support helps to transfer some of the baby's weight from the shoulders to the hips for better weight distribution.
The baby's comfort is another factor to consider. A baby carrier should be soft and padded in some places, such as the back and head areas and the leg holes. Some of the models that are shaped like backpacks have metal frames. As metal can get too cold or hot, it should not come into contact with the baby's skin.
Weight Limit of the Size Adjustable Baby Carrier
Although a size adjustable carrier is designed to be suitable for the baby for many months, baby carriers do have weight limits. The limits should be checked before purchasing the baby carrier. The carrier itself weighs somewhere between 0.4 kg and 1 kg. If the carrier is to be used only indoors, then it can be bulkier than a model used outdoors, and the weight does not play a significant role.
Babies gain weight as they grow. By the sixth month, they have doubled in birth weight, gaining on average about 175 g to 225 g per month. After this period, the weight gain slows down, but the baby is still growing. The following chart presents the average weight of babies at different ages.
| | |
| --- | --- |
| Age (months) | Weight (kg) |
| Newborn | 3.6-5.4 |
| 0-3 | 5.7 |
| 3-6 | 7.4 |
| 6-9 | 8.8 |
| 9-12 | 9.9 |
| 12-18 | 11.3 |
| 18-24 | 12.4 |
Most baby carriers are designed to support babies who weigh up to 12 kg, although some models can handle even more. If the baby weighs over 12 kg, he or she may already be able to walk, and no carrier may be needed. Parents should avoid straining themselves, and should not carry their children when they get too heavy for this.
Material of the Size Adjustable Baby Carrier
As the material of the baby carrier touches the baby's skin, and as babies often chew on the straps of the carrier, it is best to choose fabrics that do not contain any harmful substances. A globally uniform testing standard, Oeko-Tex 100 O 00-91 Swerea IVF, is widely used to mark the fabric as free from any known substances and chemicals that might cause health issues. The material should also be durable, as the size adjustable baby carrier may be used for a long period of time.
Storage Spaces on the Size Adjustable Baby Carrier
Some baby carriers feature hidden storage spaces where parents can put things they may need when out and about with the baby. Such spaces are not very big, but may provide a spot for a mobile phone, a wallet, or home keys. As long as this does not add too much extra weight, a carrier with a storage spot should be considered.
Adjustability of the Size Adjustable Baby Carrier
Size adjustable baby carriers are the best choice when different people are going to use them to carry the baby, because they can be adjusted to suit individual needs. Some carriers are harder to learn to use, but the time invested in doing so pays off, and many parents can benefit from carriers with more complex designs and better features. For those who have no extra time on hand, it is wise to opt for a simpler carrier that needs a minimum of adjustments. It is important to be able to get the carrier on and off on one's own, and it should come off easily enough to get a crying baby out quickly if needed.
Ease of Cleaning the Size Adjustable Baby Carrier
Babies drool and may also vomit on the baby carriers, so it is worth opting for a carrier that is easy to clean. A carrier should be both sponge-cleanable and machine-washable . Some carrier models come equipped with dribble bibs for the area under the baby's chin.
Buying a Size Adjustable Baby Carrier on eBay
There are many size adjustable baby carriers available for purchase in today's market. If you are looking for one, you can start your search on eBay by typing in the simple keywords " baby carrier " into the search bar at the top of any eBay page. If you already know that you want a specific type of a baby carrier, for example, a front or back carrier, add these keywords in your search terms as well. After you are presented with the initial search results, you can click on related searches to see similar results and get closer to the kind of baby carrier you are looking for. If you do not have a specific idea of a baby carrier in mind, browse through the results for inspiration.
You may also sort them by auction time or price. The baby carrier should fit you perfectly, so you may want to contact the seller about refunds and exchanges in case the carrier does not fit. Contact the seller before you make the purchase in order to avoid any issues later on. You may also ask the seller about the carrier's specific features, delivery, payment methods, and packaging.
Conclusion
From birth to early toddler years, babies are small enough to be carried conveniently on a parent's body, leaving the hands free for other tasks and helping parents to form a close bond with their child. Size adjustable baby carriers can be easily customised to fit anyone's needs, and they are suitable for both parents to use.
There are two main types of baby carriers, namely, multi-way and soft baby carriers. Multi-way baby carriers offer up to three or four carrying positions, front, back, and on the hip, while soft baby carriers are simpler and allow the child to be carried in front. A good size adjustable baby carrier is easy to operate and comfortable both for the parent and the baby. Padding and lumbar support are well worth considering when buying a baby carrier. The material of the carrier should be free from harmful substances because babies tend to chew on the straps. The carrier should also be easy to clean and preferably machine-washable. When it comes to a baby carrier, the baby's weight should also be taken into account, because baby carriers do have weight limits.