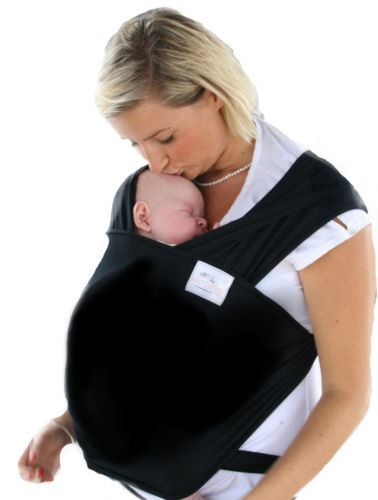 The term baby sling refers to a type of baby carrier that is essentially a piece of cloth with the primary function of supporting infants and young children against the bodies of the people carrying them. 'Babywearing' is a term that is often used to refer to the use of baby slings and other types of carriers. It has been practised for centuries around the globe and has regained popularity in recent decades. Advocates of 'attachment parenting' have had a significant influence on this re-emerging trend.
Baby slings are extremely popular with new parents, as even the most excited and dedicated parents need a break from carrying their babies in their arms. Slings are particularly beneficial for infants who lack the ability to hold their heads up on their own. Introductory-level knowledge of the various types of carriers and types of baby slings is necessary for a buyer to make an educated purchasing decision. Size-adjustable baby slings and other baby carriers can be purchased from brick-and-mortar baby stores as well as online. As far as online sites go, eBay features a large variety of size adjustable baby slings in different variations.
Types of Baby Carriers
Some of the prominent types of baby carriers arepadded and unpadded baby slings, cradleboards, front strap-on carriers, hip carriers, baskets, backpacks, front-pack baby carriers, and Asian-style baby carriers. Some of these types, such as front strap-on carriers, hip carriers, and slings, are categorised as soft baby carriers. All of these types have their pros and cons and serve a common purpose of giving busy parents a breather from carrying babies in their aching arms. This is one of the reasons the use of baby carriers is on the increase globally. Parents can perform little chores while keeping their babies close to them, and this can save some valuable time.
Slings, padded or unpadded, are increasingly popular with new parents because of the huge variety of fabrics and styles. Some baby slings are size adjustable, while others are not. Both have their own advantages and disadvantages, but size-adjustable baby slings are often the preferred choice of modern parents.
Types of Baby Slings
Baby slings are one of the most popular on-the-body, non-wheeled ways of transporting babies. They have been used for ages across various cultures globally. Their use can be seen in Egyptian artwork that dates back to the time of the pharaohs. Although slings are sometimes used for older children, the various types of baby slings have the primary purpose of holding up the head of an infant who is not yet able to sit upright. Some of the common types of baby slings include ring slings, pouch slings, and wraps.
Ring Slings
They are called ring slings because of the presence of a ring that is usually made of nylon or a metal like aluminium. Ring slings are size-adjustable baby slings that were invented in 1986, and they are gaining more and more popularity every day. In ring slings, the phenomenon of dynamic tension is used to carry a child. Two rings are usually used in a single ring sling. One end of the cloth is sewn to the two rings, and the cloth is wrapped around the caregiver's body in such a way that it creates a pocket for the baby. The cloth runs from one shoulder to the opposite hip and back to the shoulder to complete the loop. The other end of the cloth is threaded through the rings, and a buckle effect is created.
Threading should only have to be done once, and the ring sling can be put on and removed without the need for any rethreading afterwards. To put on the ring sling, a user just has to put his or her head and one arm through the loop. Due to the weight of the infant, friction of body parts, and tension in the fabric, a locking effect is created when a baby is put in the ring sling.
Ring slings are size adjustable and can also accommodate various wearing positions. The caregiver can pull the cloth through the rings to loosen or tighten the ring sling. Ring slings can be padded as well as unpadded at the shoulder and have padded or unpadded sides. The tail of the ring sling can be worn open or closed. Some hybrid forms of ring slings have curved seats that are sewn into the fabric. 'Shoulder style' is a possible variation for how the rings attach to the cloth. Some of the basic shoulder styles include pleated, gathered, hot dog/centre fold, and pouch-style (folded in half).
Rings slings are one of the easiest slings to use once the user has mastered the ring adjustment and learned how to thread the fabric. They are also an excellent baby sling for breastfeeding, as they allow easy access to a mother's breast. Cotton, rayon, hemp, and silk brocade are some of the popular fabric varieties used in ring sling designs. Homespun fabrics and lightweight twills are the most widely used fabrics. Ring slings are appropriate for children from birth to two years of age.
Pouch Slings
Pouch slings are also known as 'pocket', 'tube', or 'ringless' slings. A wide piece of fabric is sewn into a tubular shape to create a pouch sling. Rings or other hardware are absent on simple pouch slings, but adjustable pouch slings may adjust using clips, snaps, rings, Velcro, zippers, buckles, drawstrings, or other methods. Pouch slings are easy to make and offer a great value for the money.
To hold a baby more securely in the pouch, most pouch slings have a curve sewn into the fabric. They are a great option for situations in which a baby is frequently placed in and taken out of the sling. Pouch slings go over the shoulder like a sash, and the baby is placed inside the pouch either on the front or on the back.
Pouch slings can be used for babies and toddlers up to two years of age. For kids under six months old, the use of pouch slings can be dangerous, as incorrect use can cause suffocation. Pouch slings restrict the caregiver's view of the child; therefore, the caregiver should make sure that the face of the infant is elevated and visible.
Wraps
Wraps are also known as 'wraparounds' or 'wraparound slings'. They are generally simple pieces of cloth, but they are considered to be one of the most comfortable and secure types of baby slings. For heavier toddlers, a buyer may prefer wraps over other types of slings or baby carriers because they better distribute the weight of the baby. Wrap slings are called this because they consist of stretchy fabric that is wrapped around the shoulders and waist of the caregiver. They are wrapped around the bodies of both the infant and the caregiver and then tied. Placing a baby in and out of a wrap is generally easy.
A toddler can be carried on the front, back, or on the hip. Carrying positions mainly depend on the length of the fabric. A one-shoulder carry, for example, is possible with shorter wraps. In most cases, in order to provide maximum support, longer wraps are used that go over both shoulders and around the waist.
The two main types of wraps are stretchy and woven. Knits like jersey and interlock are used to make stretchy wraps. Woven wraps, as the name suggests, are woven fabrics with varying thicknesses.
Buying Size Adjustable Baby Slings on eBay
An easy way of searching for a size adjustable baby sling in accordance with your preferences is to use the search bar on the eBay homepage. Enter a relevant query in the search bar to see the results. For some queries you might see some related searches that can be helpful in finding the right product. Some possible search terms in this case could be ' baby slings', 'size-adjustable baby slings', 'baby carrier', 'padded baby slings', 'ring slings', ' pouch slings', or 'wrap slings'. You can narrow down the results according to your own preferences by using the various filters, such as price range, brand, and so on.
Enter your postcode and look for local listings if you would like to avoid shipping charges. If you are lucky and the item is available in your locality, you should contact the seller to get approval for a local pickup before committing to a purchase. Going through the user reviews and the seller's history is also a good practice before buying.
Conclusion
Baby slings are pieces of cloth that are designed to support babies against the bodies of their caregivers. They are one of the most popular on-the-body ways of transporting small children. Most baby slings are size adjustable, and this includes the common ring slings, pouch slings, and wraps. Every type of baby sling has its own pros and cons.
A ring sling consists of two rings and a large piece of cloth. The cloth threads through the two rings and forms a loop that goes over one shoulder. It can be tightened or loosened by pulling the fabric through the rings. The baby sling in which the ends of a piece of cloth are sewn together and folded to form a pocket is called a pouch sling. The fabric goes over one shoulder like a sash, and the child sits in the pouch. A woven or stretchy fabric that is wrapped around the waist and shoulders in order to hold an infant securely is called a wrap sling.
Basic knowledge of the types of baby slings facilitates the purchasing process. Size-adjustable baby slings can be purchased from traditional baby stores as well as on the Internet. eBay features a large collection of size-adjustable baby slings in different colours, brands, and price ranges.