Hi All,
This is a very simple guide to installing a Satellite Dish in the UK.
The items shown are for a standard Sky Box, but replace the LNB with a Quad and the cable with 'twin' cable for Sky+
Items required:-
1. 43/48cm Sky Minidish + LNB
2. 75ohm Coaxial Cable
3. Sky receiver (anything will do; Grundig, Amstrad, Pace, Sony or Thomson) as long as it has a Sky logo on it.
4. SCART Lead
5. TV !!!
You can also get a "FreeSat" card from Sky for a one-off £20 fee by calling 08706 061 111. This card will enable you to view Ch.4, Ch.5 and Sky3 - all the other free channels can be viewed without a card.
Steps:-
1. Where to place your dish?
Point your dish approximately SSE (28.2ºE of South to be precise) - See our 'Shop' for links to our blog that details how to do this with Google Maps
2. Run the cable
Ensure that you use a wall plate or loop the cable down a couple of inches where it comes into the wall. This stops rain running down the cable and into your house!
3. Terminate the cable at both ends with screw-on F connectors and trim off the waste afterwards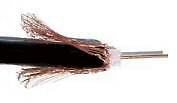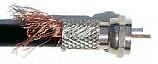 4. Plug into the back of your Sky Box, and connect the SCART Lead to your TV (Ensure that you use the SCART output that is labled 'TV' on the back of the receiver - it is not always the bottom one!)

5. Alignment.
Once you have it all connected, you should see this on your TV:-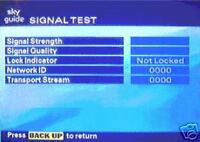 You should move the dish around (up / down, left and right) by a few millimetres at a time until you see this:-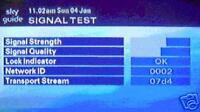 Note: Network ID 0002 and Stream 07D4 are the correct ones - any other value indicate the WRONG satellite is being pointed at! There are many in the same area of the sky!!!
Remember - don't move the dish too quickly, you need to give the receiver a few seconds to try and lock in.
Our full PDF guides can be downloaded from our Blog that is linked to from our Shop (ebay doesn't allow external links here)
I hope this helps you all out.
Regards,
Shelley