Skype will be everywhere soon if its not already
Its the market leader and very simple to use and set up so it will appeal to the majority because it WORKS!
Is the the Sexiest SKYPE Phone? It looks a million $$ and DST have UK stock with 24 month warranty NOT grey imports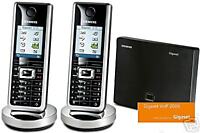 Read more about the SL565 Siemens Gigaset HERE
LOOK whats JUST arrived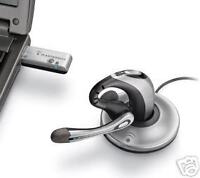 The Plantronics Voyager 510 USB will connect to your PC, Mobile, PDA and anything else with bluetooth ALL AT ONCE (max 4 devices) - no juggling headsets and connectors SUPERB (quality) KIT
We also think the uConnect is THE killer gadget for Skype - read why!
If your experience of Skype is with a freeby or low cost headset / mic and speakers then you may be less than impressed (we were), this is unfair to skype and we hope the following is of use.
Headsets with Digital Signal Processing are worthwhile with Plantronics the acknowledged market leader (see them here) they clean up the signal and we suggest the USB versions as they leave your soundcard alone. Check out the DSP400 and the .Audio 45 models. However we have a deal on the 3.5mm plug HiFi .Audio 90 series and if you can use your soundcard its worth checking out HERE
USB Phones are very popular with some at under £5 but the market leader is the Cyberphone by VoipVoice, they have just launched a new model the W and its a cracker with voice dialling, caller ID with recordable wav tones and a cool blue illumination. Its here
BUT we rate this beauty, plug it into your USB, plug your phone into it and hey presto your home (tone dialling) phone is your Skype phone for under £25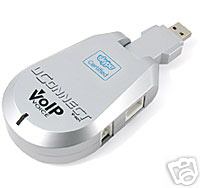 Want one ? we think you do, because this ingenious little box allows you to take advantage of VoIP technology using your existing phone - whether it's analogue, DECT or even cordless (as long as it makes tone sounds when you press the keys).
Your NOT stuck to your PC, your NOT hauling two handsets around, you ARE using one of the coolest communication devices around.
Send one to your partner for free phone calls on normal phones - every time at any time!
Attach uConnect to your regular phone line and your computer's USB port, load up the included software. It's completely idiot-proof and easier than picking up the phone.

How does it work? uConnect takes the analogue signal from your traditional phone and converts it into digital data for transmission over the Internet.
You'll ideally (essentially) need Broadband to get the best from uConnect and your computer has to be switched on to take advantage of the VoIP function. Once hooked up, your phone will work just as it always did, but pressing the * key twice will immediately activate Skype, allowing you to natter away for hours on end.
Have a look HERE
Caller ID - YES its on SKYPE!! the phones display is telling you if you're getting an inbound Skype call and who it's from: 'S' for Skype followed by their Skype username - for example 'S-Robbie'.