A new or previously owned sleigh bed transforms the decor of your bedroom whilst offering a comfortable place to sleep. The interesting form, curved lines, and warm woods used in these beds can enhance the look of any bedroom. Available in many different styles, stain colours, and sizes, sleigh beds are a good decorating choice that provide years of service.
Sleigh Bed Characteristics

Originally, sleigh bed designs slept only one person; however, you can now find them in all sizes from children's single beds to king size choices. One of the most noticeable design features of sleigh beds is that the headboard is usually taller than the footboard. In the early years of the 19th century, designers modified the look of sleigh beds into the characteristics we see today, starting with double beds. While early sleigh beds curved either outwards or inward, modern version feature outward curls almost exclusively. Some lack a curved headboard, opting for the curve only on the foot of the bed. However you like the sleigh bed to curve, there is an option available to suit your individual requirements.
Space Requirements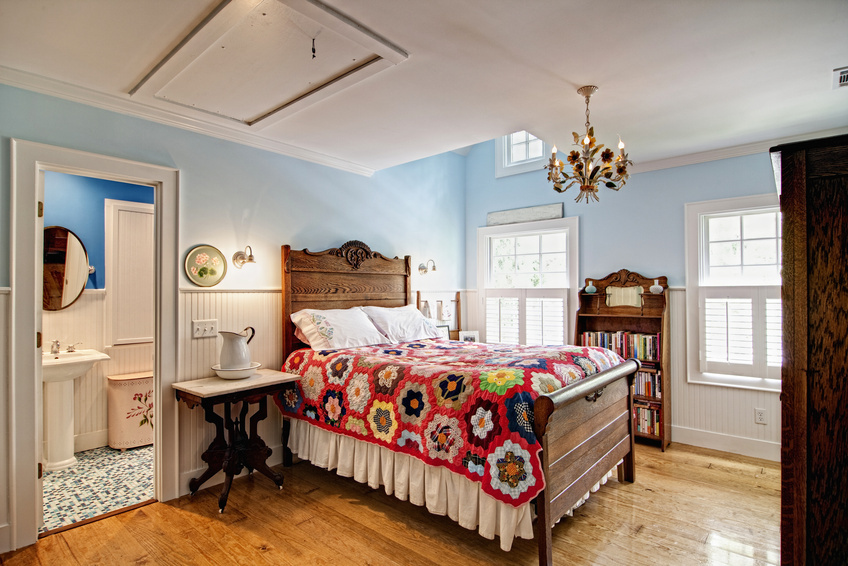 Sleigh beds, by their design, are big and take a large footprint in the bedroom. Before making a purchase, measure the space where you plan to put the bed. Once you know how much space you are able to dedicate to the bed, you can determine the appropriate size. Be sure to take into account other bedroom furniture like dressers and wardrobes not only for space requirements, but also for style and decor, being sure the bed works with the other furniture.
Sleigh Bed Construction
Wood is the most common material for sleigh beds and offers the widest variety. Mahogany is the most popular choice of wood for sleigh beds, followed by oak and pine. Leather sleigh beds have gained in popularity with the advent of more modern home construction techniques and designs. Another option is faux leather, which is more budget friendly and can look very much like leather while being easier to care for. Metal sleigh beds have a very modern and contemporary design and, mixed with chrome, afford a glamourous and sleek look.
Decorations and Decor
By tradition, manufacturers decorate sleigh beds with extensive carvings and pediments. Most shoppers seek hand carved beds with special characteristics and complex designs. With heavy woods, solid construction, and fitted rather than screwed construction, antique sleigh beds offer the most value for money if they are in excellent condition and well cared for. Dressing a sleigh bed with traditional patterns on the sheets, comforters, and pillows shows the bed to its best advantage. Because a bed is a major investment in both decor and sleep quality, purchasing the best bed you can afford is budget sensitive over the long term.