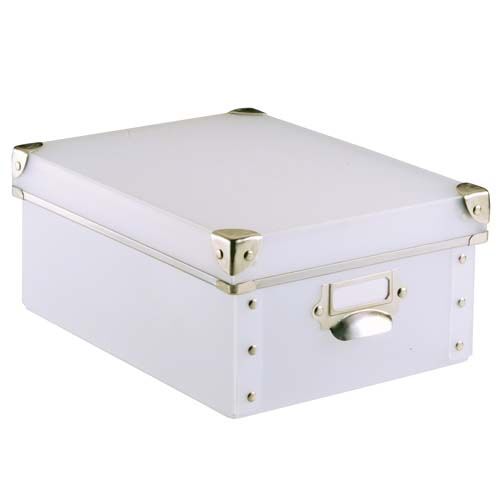 From the smallest beads to office essentials, in the home or for professional use, small storage boxes can keep items, safe, tidy and accessible. There is a wide variety of different styles available. Most boxes are ready made, although some cardboard boxes are offered as flat packs which require self-assembly.
Tidy, Safe and Space-Saving Small Storage Boxes
They can be purpose-built for particular crafts, professions and businesses and may be stackable, with integral drawers and compartments as options. There are different levels of durability, and considerations such as waterproof or airtight properties will determine whether it suits the intended function. Lid types may be hinged, lockable, grip-clip, lift off, or slide. Some boxes may be open containers without lids for easy access to the contents.
Materials
Small storage boxes can be made out of the following materials. Each have their own advantages and disadvantages.
Plastic
Plastic is ideal for small storage boxes as it is lightweight, waterproof, can be airtight and offers the possibility of transparency so contents may be viewed. It may be moulded to shapes which make small boxes stackable and the construction can offer a variety of lid types. Canister boxes for use in the kitchen or small craft boxes are often made of plastic. Depending on the thickness of the plastic and the design shape it can be durable, though weaker boxes may dent and crack if a heavy or sharp object comes into contact with the panels or lid.
Cardboard
Cardboard is commonly used for small boxes because it can be cut and folded to shape with ease. A surprising amount of strength can be incorporated into a cardboard box design by reinforced sides and bases, so the box is not easily crushed or battered out of shape. It is ideal for postage boxes, jewellery boxes and general storage of small items. Cardboard can be prone to damp absorption.
Papier Mache
Papier mache is often used in the construction of small trinket style boxes as it can be moulded to shape for interesting designs such as treasure chests. It can be a durable material because the paste which glues the papier mache adds strength to the construction and helps to provide an element of moisture repellent.
Wood
Most small storage boxes made from wood are plywood, which is lightweight, thin and keeps its shape well. Its template can be cut and assembled similarly to cardboard, with glue to secure the edges. It may present splinters if damaged after a fall. Other woods for ethnic trinket boxes or pirate chests are also used.
Metal
Metal, such as aluminium, tin or steel, is used for some small storage boxes such as tea caddies and for security boxes of different varieties. It is robust, durable, waterproof and keeps its shape well.
Dimensions
Small box sizes range widely. What might be regarded as small in one category might be regarded as large in another. Craft boxes will usually have the smallest dimensions for an individual box, whereas a storage box for industrial tools would be much larger. The size of the items intended for storage is relative to the size of the box required. In many cases, small storage boxes house items from broken down lots so that space is manageable. As such, anything which suits the space might be used for non-hazardous contents. The type of mall storage box required might be for a temporary solution while sorting through things, and if so, any type of inexpensive boxes could serve the purpose. Longer-term usage or permanent solutions can be served by custom-designed, fit-for-purpose, boxes, which, if on display benefit from standard size and appearance. Suites of matching boxes provide a terrific solution to storing variously sized products and retain a uniform look.
Other Names for Small Boxes
| | |
| --- | --- |
| Caddy | Small container usually associated with storage of tea. These types of caddies have lids to secure the contents. Other types of caddy have compartments for storing discrete items and may be lidded or not. |
| Skip or Bin | Usually a large open-top container with a lower back/front to accept rubbish. However, because of its shape, this style is often used in stockrooms and stores on a much smaller scale because it allows easy access to stored items |
| Tin | A cube or cylindrical shaped container, usually with a lid, often used as a small storage box. Many vintage items used tins for storage. |
| Chest | For storage purposes, a chest, or coffer, usually has a deep hinged lid. |
| Canister | A thin-sided container/ small lidded box primarily used to store loose dry ingredients in kitchens. |
| Case | Can refer to the jewel case boxes for storing CDs or DVDs. May be a box of novelty design for jewellery displays. Usually made from transparent material such as clear plastic. |
Where Small Boxes Might Be Used, Who Might Use Them and What They Might Store
Unless there is a safety reason, the choice of box for storage is up to the user. Many people make use of small storage boxes from the office for items at home. Similarly, kitchen containers can be used for storage of small items at work. Different people use items for different purposes and, as long as it functions, it doesn't matter who supplied it or which umbrella name the product might be listed under. Below are just a few examples of both domestic and professional uses of small storage boxes.
| | |
| --- | --- |
| Kitchen | For food in fridges or cupboards, for spices, biscuits, tea bags. |
| Office | Small stationery items, product packaging, promotional material, cash boxes, key holders. |
| Bedroom | Jewellery, loose change |
| Bathroom | Make-up, cotton swabs, |
| Stock Room | Stationery storage, admin and archive paper storage, computer discs, first-aid items |
| Arts and Crafts | Glitter, sequins, glue, scissors, spare blades, templates, threads, needles, pins, buttons, bobbins, tape measures |
| Surgeries, Salons | Bulbs, sharps, syringe types, screws, vials, nail extensions, tablet housing |
| Fishing | Bait, hooks, wire, flies |
| Tool shed | Tools, nails, nuts, bolts, wires, cables etc. |
Find Small Storage Boxes on eBay
To find small storage boxes visit eBay's homepage. All Categories will be displayed beside the blue search box, simply click on it and look for Home, Furniture & DIY. By clicking on More, the list will expand. Choose the link labelled Storage Solutions. On the new page, look through the categories listed on the left and click on Storage Boxes. Here you choose the features you require by checking the boxes, for example 'lidded' and 'plastic' which will open this page and then choose Storage Boxes: Lidded, Plastic where the search can be refined by typing 'small storage boxes' and it will return a selection of small, lidded, plastic boxes. If preferred, simply use the search bar at the top of any eBay page and type in 'small storage box' and click Go.
Conclusion
Decide which type of box best suits its function. The space available for the box, along with its intended contents will determine the suitable size range. Specialist boxes may come in standard sizes, such as stationery sizes, and tool boxes. If the box is intended for short term use, appearance and condition may not matter. For permanent solutions it might be worthwhile making a purchase of multi-size boxes to meet storage needs. Where space is important, stackable boxes or boxes with front access rather than top lids might serve the purpose more effectively. Loose lightweight items will be safely stored in small boxes with lids. Security items will require a lockable lid. Liquid items will need to be stored in plastic containers. Refine searches as necessary, exploring different categories to find the most suitable small storage box solution for function, price and appearance. If there is no hazard or safety requirement to be met, alternatives may be available in surprising places.