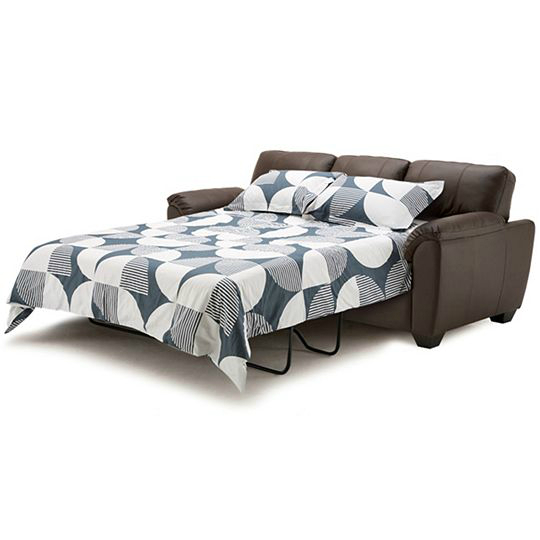 The two-in-one sofa bed is a useful piece of furniture that can turn from a sofa into a bed and vice versa. It is the saviour of small studio apartments and homeowners with a lack of spare bedrooms. Like sofas themselves, sofa beds come in many different styles. Buyers can shop for sofa beds at furniture stores and spend their time driving around from store to store comparing prices. Savvy shoppers, however, elect to just stay at home and buy sofa beds from an online website such as eBay without ever having to leave their computer. A bed can be a critical element that really ties a room together and purchasing the right one can seem overwhelming at times. When buying a sofa bed, one should compare different sofa bed features in order to select one that is right for them.
Sofa Bed vs. Futon
Yes, there is a difference between the two. When it is in its sofa form, a sofa bed looks and feels just like a normal couch. It has thick cushions, plush armrests and covered upholstery. The mattress of a sofa bed is actually hidden underneath, deep in the sofa frame. To turn the sofa into a bed, the sleeper removes the top cushions to reveal the top of the bed frame. Users must pull out the bed frame to reveal the mattress underneath. Once the mattress is laid out, and the supports of the frame are set into place, the sofa becomes a bed. In the morning, the frame and mattress can be put back to turn the bed back into a sofa.
A futon, on the other hand, uses the same cushion either as a sofa or as a bed. Futons look different from sofas. For one thing, they do not have armrests. For another, they use only one large cushion for the entire futon. Some buyers elect to buy futon covers that can be placed over the cushion to make it look and feel more comfortable. In a sitting position, the back of the futon is folded up. To turn the futon into a bed, users simply need to press the back of the futon down. This flattens out the futon, and the cushion becomes a mattress.
Sometimes, the line between sofa bed and futon becomes blurred by manufacturers. For example, IKEA markets its collection of futons as sofa beds when in essence they are truly futons because they use the same cushion for both the sofa and the mattress. Despite what the manufacturer calls the product, customers should be able to recognise a sofa bed from a futon based on its form.
Choosing Between the Two
Choosing between a sofa bed and a futon depends on one's personal preference. Futons are smaller and work better in small spaces. Many people also find them easier to operate than sofa beds, since it sometimes takes a lot of muscle work to pull out the bed frame inside a sofa bed. However, other people just don't find futons comfortable. They choose a sofa bed because in its sofa form it is just as comfortable as any normal couch. Furthermore, especially with high-end sofa beds, the bed itself feels just like a traditional bed. If the buyer is unsure which style he or she prefers, visiting a furniture dealer is recommended. This lets the buyer try out the different futons and sofa beds before making a decision. Once they feel the difference between the two styles, they can purchase a sofa bed or a futon for a cheaper price from online vendors.
Sofa Bed Sizes
Sofa beds come in all different sizes so that they can fit inside any room. The size of the sofa bed is determined by the mattress underneath. Smallest of all is the twin sofa bed, sometimes called a sleeper chair or a sleeper loveseat. A twin sofa bed holds a twin mattress inside. Children fit nicely on a twin mattress, but some adults may find sleeping on one uncomfortable. Full sofa beds, or double sofa beds, hold a full-sized mattress underneath. They are the same size as small couches in their sofa form. A single adult will prefer the extra room of the full mattress, but some people would still find this mattress too small for sleeping two people. That's where the queen sofa bed is needed. Holding a queen mattress inside, the queen sofa bed is the size of a large couch. When the mattress is folded out, it is large enough to comfortably sleep two adults.
Finding the Right Size
When buying sofa beds, customers need to consider who is going to be sleeping on the sofa bed, and how much room is available. For example, a queen sofa bed might sound like the best option, but not everyone has room for a queen bed. Even rooms that can hold a large sofa may not be long enough to hold a queen mattress. Therefore, before buying the bed online, pay attention to its measurements. The product should state how wide it is, and how long the frame is once the bed is extended. Measure out the area where the sofa bed is going to go and see if would fit. If the area is too small, then choose a smaller size or find somewhere else to place the sofa bed.
Sofa Bed Frame
Sofa beds actually have two frames. The wooden frame is used to shape the sofa. The metal, mechanical frame is used for pulling out the bed and supporting the mattress. There are a couple things to keep in mind when looking at the frame. First, buyers need to choose a sturdy wooden frame. Some types of wood, like pine, are sold cheaply, but they are not particularly durable. If the wooden frame splits, then the mechanical bed frame has no support, rendering the sofa bed useless. Choose a high quality wood, and if possible, try to find a sofa bed made out of kiln-dried wood. This wood has almost no moisture content, so it is highly durable and resistant to splintering.
The metal frame needs to be strong enough to support the bed, but light enough to open easily. Before buying any sofa bed, a customer needs to test out the opening mechanism. Visit a local furniture dealer and look at the different sofa beds. Try to open and close the bed inside the store, keeping in mind which ones operate more smoothly. Then, go online and find the exact same sofa beds at a cheaper price.
Sofa Mattresses
Sofa mattresses are not as thick as other mattresses. While some manufacturers do make thick sofa mattresses, remember that this alone does not determine comfort. A well-made, supportive mattress that is thin works better than a thick mattress with no support. Again, it is recommended that buyers visit a furniture dealer and test out the different sofa mattresses by lying down on them. Keep track of which ones are the most comfortable. That way, when the buyer starts searching online, he or she already knows which mattresses and brands are preferred.
Sofa mattresses use all different types of materials. There are traditional innerspring mattresses and luxury memory foam mattresses. Many people find the innerspring mattress uncomfortable because it is so thin that they can feel the coils digging into them while they sleep. A memory foam mattress made by a brand like Innerspace is softer. Those who prefer a harder bed should consider a latex mattress. Finally, normal foam mattresses lie at the low end of the price scale. Buy a dense foam mattress; it lasts longer than the thin ones. Additionally, if the sofa mattress is still uncomfortable, consider purchasing a mattress topper. This adds an extra layer of cushioning to the bed and can help guests enjoy a pleasant night's sleep.
Buying Sofa Beds on eBay
Due to personal comfort reasons, trying out a sofa bed in the store is always recommended. However, as smart shoppers already know, buyers don't need to pay the premium prices at the dealerships. The exact same sofa bed found at a dealer can be bought for less money online. Many people choose to use eBay to buy their sofa beds because of the extensive selection. Since eBay is made up of thousands of sellers, most people will quickly find at least one vendor selling the bed they want at a price they can afford.
eBay also takes its commitment to the Internet marketplace seriously. Buyers should always feel secure when shopping on eBay. There is a strict privacy policy that eBay enforces, so personal information stays private. Do not take a risk with other websites; use eBay's trusted method of buying and selling instead.
Finding Sofa Beds on eBay
There are two ways to find a sofa bed on eBay. Customers can either use a broad category search, or do a direct search with eBay's search engine. Doing a direct search works best if the customer already knows what brand and size sofa bed to purchase. For example, if a customer is looking for a convertible sofa bed, all they have to do is go to eBay's home page and enter this phrase into the search engine box. Only results that match the search terms will be displayed.
Conclusion
Buying a new sofa bed is a large purchase. Like all pieces of furniture, customers need to select a model that is both comfortable and stylish. Oftentimes, the best way to decide which model is comfortable is to visit a furniture showroom and get a feel for a particular brand. Make sure to practise opening and closing the bed frame while inside the store. Also, lay down on the mattress to gauge how comfortable it is. Keep note of any brands or models that stand out, but don't commit to buying a piece of furniture from an overpriced dealership. Instead, go back home and check out what types of sofa beds are available from online stores like eBay.
In the end, if a customer follows all these guidelines, he or she will end up with the best sofa bed money can buy. Selecting furniture relies largely on personal tastes. Take the time to browse sofa beds before making a decision, and try out all the different options. Those who do so are rewarded with a relaxing piece of furniture that fits their own personal style.